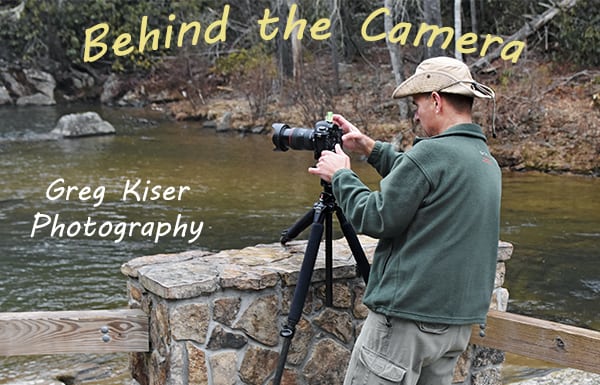 Welcome back for another installment of my Behind the Camera series.  In this monthly feature I typically tackle a question that deserves a lengthy answer or discuss something that has been on my mind recently.  This month, however, I am going to take the opportunity to do a quick update on my business and how things are going.  In case you you are new here, I made the announcement back in September, 2019, that I was leaving my full time career as a police officer to pursue photography on a much larger scale than before.  Since that time, I have decided to do quarterly updates so that I can keep track of how things are going along the way and to allow the reader a little insight into what goes into doing this full time.  My first quarter update came at the beginning of the year and was largely positive.  Things were progressing about like I had expected and I was happy with that.  My second quarter update followed around April 1st and was a little bit different in tone.  Things were not going as well as I had thought they might.  I had lost my Grandfather about three weeks before and I was still trying to recover from that, but we had also seen the beginning of the global pandemic which systematically started shutting down many aspects of society.  I was still on track though for most of the quarter, but was beginning to cancel workshops by the close of that quarter which didn't bode well for the upcoming three months.
I'll just go ahead and get these phrases out of the way now.  COVID-19, Corona Virus, Pandemic, Social Distancing, Self Quarantine, Economy Shut Down!
That has been my last quarter along with so many other small businesses.  There really isn't much to go through for the previous three months.  I have had to cancel the Spring Waterfall Workshop, the Spring Decay Workshop, as well as the Spring Landscape Workshop.  I had tentatively planned for my Intro to the Art of Photography class to take place later this month, but with businesses just starting to open up, there was not going to be any time to market it and to try and sell seats, so that was canceled also.  As we have discussed, the workshops are my primary source of income right now so that was a devastating blow to say the least to cancel four workshops in a row.  As it stands right now, I have three Fall workshops on the calendar that I am hoping to make a go of starting in later October.  However, with the chances of round two of the pandemic looming with new stay at home orders, I am not marketing them too hard at all right now.  The last thing that I want to do is to have to refund ticket prices again if we can't go forward with the workshops, so I would rather just keep it slow right now to see how things go towards the end of Summer.
With my main source of income blocked, I have been relying on print sales.  Surprisingly, that has been going better than expected.  To be fair though, I have only sold four prints in the last three months.  Obviously, that is not enough to survive on, and didn't even cover the cost of operation for the quarter.  The two art galleries I work with currently have been relatively quiet through all of this as well which is to be expected.  Although, I have heard from Hampton House recently about a possible commercial job that might need some of my prints.  These orders are usually volume in nature so I am looking forward  to that order should it come through.  I have sent in a proposal containing about 45 images to see what the designer says.  My fingers are crossed, but I won't hear anything about it until next month probably.
My affiliate links have been a mixed bag over the last quarter.  B&H Photo and Amazon haven't yielded more than just a couple of dollars in affiliate revenue, but Singh-Ray has continued to be strong which I am quite thankful for.  These were never designed for a source of major income, but I am about to the point where I am going to declare the former two as a waste of time and just concentrate on the latter as that is the only one that I am seeing any real benefit from.
I had discussed a project that I was going to be involved in for the Special Olympics where I was going to help put an automotive calendar together for a fundraiser but due to the pandemic, that project has been put on hold.  Sadly, there won't be an opportunity to pursue that project until next year due to scheduling for photo sessions as well as calendar production.  I had really been looking forward to working on that project and starting another offshoot of my photographic style for the show and shine crowd.  I can only hope that next year will provide another opportunity for this project.
Something that has been going very well considering the hurdles is the presentation aspect of my business.  I had started with Singh-Ray doing webinars a while back which kind of opened the door into some public speaking for photography clubs and even schools.  Just about the time I was getting rolling with public speaking engagements, the state was shut down.  That didn't stop many of the meetings from happing though.  Thanks to software like Zoom and Web-X, the meetings were able to go on virtually and I was still able to do my presentations which was wonderful.  I have spoken to three different photography clubs at this point on several different topics.  In fact, I am going to be speaking with the Sandhills Photography Club later this month on the topic of Decay Photography.  This is always a fun topic for me to speak on because it is something that not too many photographers know much about and it is one of my favorite subjects to shoot.
While the public speaking is going well, it is not really paying the bills though.  Most of these speaking engagements only bring in a little bit of income, but the virtual meeting format is much better because there is no travel expense involved.  It is fun, and it helps to get my name out there which is worth the time and effort to me, plus I really enjoy the public speaking end of things and sharing my passion for the art of photography.
So, where is the good news for this quarter?  Well, Toni and I have found a new house and we are currently in the process of getting it ready and gradually moving in.  But you already knew that, if you have been keeping up with my recent Alaska blog entries.  What this will mean for my photography is I will have a dedicated office/studio at the house and the space is large enough that if I want to continue doing classes inside for different aspects of photography, I could realistically hold them in my studio rather than having to rent a location.  There is plenty of parking space for the class size that I would anticipate and plenty of woodland subjects for practice outside.  Whether this part becomes a reality has yet to be determined, but the space that I have to work with should really help in several areas of my photography.  It will also put me about an hour closer to the Blue Ridge Parkway, so I would only be about 20 minutes from two different access points to the scenic road.  I foresee many more trips to the mountains each year for new images and I am really excited about that.
I wish that I had better news on the business front, but I'm afraid that things have pretty much stagnated since April.  I'm not sure what the coming months will bring, but I am hesitant to say that my workshops will be back in play like they were intended to be.  If I'm lucky, I will get to conduct the remainder of my 2020 workshop schedule with at least a couple of participants in each of them.  I will be at the mercy of state mandates as well as general fear for whether I can have the workshops and if anyone will want to sign up for them.  There is also the question about another shutdown of businesses if the numbers start to spike again.  It is just too early to tell, and I am trying not to jump the gun and commit to either direction just yet
So, what can you do to help out a photographer that is flailing about trying to make a go of his art?  Consider purchasing a print of your favorite scene.  I have literally thousands of images ready to be produced in tangible form.  What I feel are the best of the best are in the different galleries here on my website, but anything that is found in the blogs is fair game.  The prices haven't been changed and I think they are very reasonable for what you get.  I have not run into a single unsatisfied client with any of the prints that I have sold.  Most are very happy with their decision.  I would love to bring more of my work into homes and offices across the US, and you are the first step in that journey.
Thank you for joining me for this rather short update.  I will have a full year end business evaluation on October 1st, so look out for that.  I do hope that I have some good news to share by then about my photography business.  At this point, much of what I had set as goals just simply won't happen.  I know that my intention to update my gear this year won't take place as I have not earned enough with the tools that I already have to justify the expense of growing in the gear department.  I had hoped that I would be busy with regular workshops where I tried to guide other photographers in the directions they wanted to go.  Just when I had started to build a momentum with that, I had to pull the plug which will take months if not years to recover from.
It is too early to tell if my choice to go into photography was the right choice to make, but I can say that as of right now it really isn't looking like the smartest of moves from a business aspect.  Without the pandemic, I suspect that many things would have been much different and I would be in better shape financially with the business.  I'm going to stick it out and see where things will lead, but I have a feeling that I will not see the success that I had envisioned when making the plans for this career change.  There was just no way to know what was going to happen six months into the building of a new business.  I know that there are a lot of photographers (and other trades) that are suffering and having to call it quits during this so I still count myself as being quite lucky in the grand scheme of things.  I just wish that things had gone a little bit different up to this point.  We shall see where we are in another three months and I will have a final report then.
Until next time…