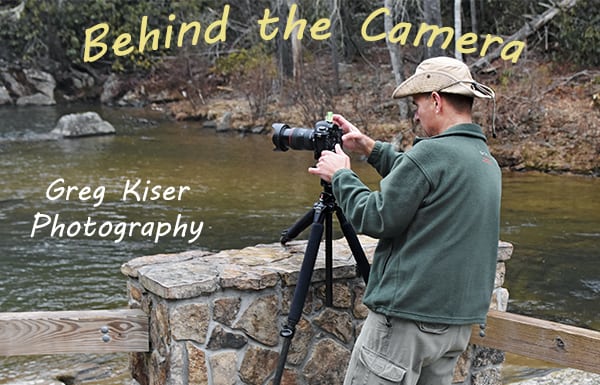 Happy New Year and welcome back for another Behind the Camera feature!  In this monthly feature I typically go into detail with a question from the past month, or something that I just want to talk about.  This month is a little different as I have always used this first feature of the year as an opportunity to wrap up from the previous year.  It is a great way for me to look back on where I was when I started and where I am now.  It is also a chance to share some things in the blog that I might not have mentioned during the year.  You will remember that 2018 was definitely a roller coaster of a year with the surprised passing of my Mother, but that set in place a chain of events that really dictated how 2019 would go.  I saw a great deal of business success with my photography selling through Hampton House Art and Framing in the closing months of the year as well as my first workshop taking off.  I even alluded to the chance that I would be going full time as a photographer during the course of 2019, which actually happened this past September.  Was this year all that I was expecting it to be?  Let's look back over some of the highlights of 2019, and I will be doing my first quarter update at the end of this entry in regards to how things are going for me as a full time photographer.
The beginning of the year went really slow for me.  In fact, I was a little shocked and disappointed when I hadn't made a single entry in my notes through the month of March.  I mean nothing at all of significance happened.  I was going out and shooting pictures every chance that I got which was good.  I had a great deal of learning opportunities arise from those treks, but still nothing worth writing about.  I was spending a lot of my time and energy really figuring out if I could leave my job as a Police Officer in favor of pursuing photography full time.  I think that kept me very occupied in the first few months of the year.  The decision was made gradually during the months of February and March that I would plan on leaving in the middle of September.  It was probably the most conflicted I had ever been with a decision.  I had a lot of work to do with my personal finances to make it even possible, but I still had months before I would be leaving which helped ease the stress…a little bit.
I did start using up my sick days as quickly as I could since I wouldn't get any credit for the two thousand hours I had amassed over the years when I resigned.  I used those days for photography when I could, and for preparation for the separation.  I guess that was why my little note pad was empty for the first 90 days of the year.  There wasn't time for me to work on anything significant in the short term, I was focusing on the long term at that point.  But things were progressing in a direction that I was pretty sure that I liked.
By the time April rolled around, I was getting settled with my plans and things were starting to happen once again.  The first bit of notable news came from Singh-Ray which has always been right there in support of my work.  I was contacted by Laura who had a couple of new proposals for me.  First of all, she wanted to offer a chance for me to have a gallery within Singh-Ray's website.  No need to ask twice on that, I would love to have my work on display there!  I put together a collection of images and sent them to their web developer to be posted.  I now share a very impressive space with the likes of Galen Rowell, George Lepp, Bryan Hansel, Jennifer King, and Tony Sweet just to name a few!  It might have been a slow start to the year, but when the motor kicked in, it really started off with a blast!
The second thing that Laura wanted to talk with me about was a add campaign that they were working on.  It was for their Color Combo Polarizer and they wanted one of my images for a poster.  Hah, and you thought it wouldn't get any better than the gallery offer!  The image that they were wanting was Schools Out which was a very gritty image that I had shot in 2018 that embodied the decay theme in my photography.  That has been my calling card with Singh-Ray from the beginning and what grabbed their attention when it came to my photography.  They were wanting the rights to use this image as a poster for their displays to showcase the Color Combo Polarizer which I used for this image.  Of course, I needed no time to think about this and we worked out the details in short order.  I then sent them the full sized file ready for their print shop to take care of it.  I had some momentum built up after this little exchange with Singh-Ray and I was ready to face the rest of the year with a newfound comfort that I could make it as a professional photographer after all.
Right on the heels of talking with Singh-Ray, it was time to host my second ever workshop which just happened to be themed in Decay.  This was my last free workshop before I would start to charge for the experience.  The workshop went better than I expected, and much better than the previous waterfall one largely because I was in a better mindset by this point.  For the first time, I really felt at home hosting a workshop and the participants really enjoyed it.  I also got a good bit of feedback that would allow me to make the next workshops even better.  Probably the best bit of advice that I got was to spend more time with each of the participants one on one through the course of the workshop.  At the time, I just had one more scheduled for June, but was already feeling better about how that one would go.  The lessons that I learned here would hopefully make my first paid workshop in the mountains that much better.
Rounding out the month of April, I spoke with a member of the Sandhills Photography Club in Pinehurst, NC.  He had read about my recent Spring Decay Workshop and wondered if it would be possible to do another workshop there for his photography club.  That was easy enough thanks to Dean who owned the shop which was the venue for this workshop.  He has been very open to me having access to the property, so I agreed to put together a workshop for his group.  The more we talked about it, the more sense it made to put it off until 2020 when I had a bit more time to get it all organized.  That would also give me time to be a guest speaker at one of the meetings that they were going to have and talk a little bit about decay photography.  That was set up for the month of July and I was excited about the prospect of speaking to a photography club.  Doing public speaking was one of the things that I enjoyed (strange I know) about my job with the Police Department and this would give me the ability to continue with that skill.  We got that scheduled and started to put together the rough plans for a workshop to follow that presentation in the early Fall possibly.
Things were really on a roll now, and it was time to come back down to Earth for a bit.  I needed to go legit if I was going to conduct my photography as a business.  It was fitting that Small Business Month was in May because that was when I put everything in motion to become a business owner.  I registered the name Greg Kiser Photography with the State and County and established myself as a business owner with the IRS.  I was now responsible for keeping track of the money that went in and out of the business as well as paying sales tax quarterly.  This was a whole new ball of wax for me and I would be lying if I didn't say I was a little scared at what it all might mean to my future.  I was really getting committed at this point to the goal of becoming a full time professional photographer.
As I was getting a little nervous over my decision, I had a call from Hampton House Art Gallery which I hadn't heard from in a few months and they were needing a large panorama for a commercial client that they were working with.  I was told that my King of the Mountain image had been selected and that they needed it in an eight foot long canvas.  Fortunately, my panos are very good at being printed large since they have a much higher resolution than a single image capture.  I just double checked that I would be able to enlarge it to that extent…I mean EIGHT FEET LONG is a big print!  I was happy with the image quality at that size and we worked out the price.  I had the file delivered to him the very next day and ready to send to his printer.  That is what I love about Hampton House, I only deal with the single use license for the images and they take care of the printing, mounting, and hanging.  It is very simple for me, and I think I make it simple for them as well.  As I learned later on, this large print was going to be at the main entrance to a new building for Baptist Hospital here in Winston Salem, NC.  It was the first thing that you would see when you came in through the door.  I just don't know what to say about that…it was a very humbling experience for me.  I was also really starting to feel the part of being a professional photographer.  I was steadily making new images while my catalog of past images was yielding sales.  My work was working for me, and that was the whole idea behind being a professional photographer.
What came next furthered that feeling for me.  I remember it well, I was actually vacuuming out my Police Car on one of those odd days that I went to work.  My phone rang and I didn't recognize the number so I expected it to be a scam call, but I answered it anyway.  On the other end was The Art Shop in Greensboro, just down the road from where I was cleaning out the car.  To make a long conversation short, the owner of the gallery was wanting several of my prints for a commercial client that they were working with and was wondering if I worked with art galleries like that.  Of course the answer was a resounding "YES!"  He started to try and tell me exactly what he needed, and said that he could email me some information so that I would get the right pieces together.  I decided I would make his life easy and I told him that I was about 10 minutes away and could just come talk with him face to face.  He loved that idea and I was on my way.
When I got there, he told me about a job with Wesley Long Hospital and a new building that they were opening up.  He had to source a large amount of local artwork for the designer and they had selected five of my pieces.  They were needing them printed around 40 inches in size, but didn't need them until October.  He needed to know if I could print at that size which I was able to do, but just barely.  They were looking for quotes on the job, so I gathered my notes and went home to see what prints would cost me at that size.  I was really wishing that I was dealing with Hampton House at this point, because it would have been a digital exchange and a single use license involved.  Now, I was having to actually oversee the printing as well which I kind of prefer to make sure that the final print is up to my satisfaction, however, it did add a great deal more work for me.  I did get the quote and submitted my proposal to The Art Shop to see if they would be using my images in the final design.  I was going to have to wait to hear back from them until the following month after they had submitted the entire estimate for the job.  One of the images quoted was Coastal Mohawk which is the image above.  It seemed that the majority of the order was with the very pastel like colors and there were a mix of mountain and coastal images selected.
In the meantime, I had other things going on like a workshop in the mountains.  This was going to be my first paid workshop and I was kind of nervous about it to say the least.  The attendees slowly signed up for it, so after thinking that I was going to be doing a long term one on one session I ended up with a total of six participants which was miraculous for my first paid workshop.  Sadly though, I lost two of them on the first hike of the day before the sun was even up.  I was down to four and had two refunds to deal with when I got home.  Granted, I know that I was under no obligation to refund the money since they left the workshop early, but I felt it was the right thing to do.  The weather was horrible with bright sunny skies, but at least we got a good sunrise captured first thing that morning.  The group was great and we hunted areas where there might be a picture or two to capture.  There was some success through the morning, but things didn't start getting interesting until the middle of day when the clouds started to come in again.  At the end of the day I was left with just a single participant.  Don't worry, I didn't lose any photographers, they just decided to call it a day a bit earlier than Joe was ready to.
I had been feeling rather defeated through the day because I wasn't able to provide great locations thanks to the weather providing very harsh light.  However, Joe changed my attitude very quickly with a couple of very simple questions there at the end of the day.  Now I had a direction to teach which was what I was looking for all day long.  I helped him work through some of the issues that he was having getting used to digital capture and all of a sudden there was purpose to my day here and I left with a very good attitude about how the workshop had gone despite the less than ideal conditions.  It was the closing hour or so of the workshop that provided the much needed feedback for how my workshops needed to go in the future.  I wasn't a tour guide nearly as much as I was a facilitator of learning.  I became more confident about my ability to teach, and I realized the importance of questions in a workshop.  This became my most valuable piece of information that I was to garner in regards to my workshops.
It was also suggested by another one of the participants that I offer a short Lightroom tutorial on all of my workshops, not just the decay one which I had done previously.  I incorporated that bit of information and decided that the remaining workshops of the year would include a basic tutorial on Lightroom.  it was not the easiest thing to do, but if that was what the participants found helpful, then that was what I needed to be doing.  The workshops are for them much more than they are for me.
At the close of June, it was time to put on my business owner's pants and pay my taxes.  This was where I had to laugh just a little at myself.  I had all of my invoices spread out all over the office with my calculator all wound up.  I spent several hours figuring out the forms that needed to be submitted to the state and how all of the counties were divided up in their special tax rates.  I read all of the online help tips to figure out how to compile the information and just confirmed that I had been collecting sales tax correctly through the previous quarter.  I filled out all of the blanks on the form and did all the math.  I took into account wholesale clients that didn't pay taxes, and out of state clients that didn't pay taxes.  Everything worked out right to the penny and I had the amount that I was needing to pay the state.
$7.00
I had to pay the state seven big ones (literally ones) in sales tax collected.  I had just spent the better portion of a morning on the floor to figure out that I owed 7 bucks.  It cost me more in time than I paid out.  Oh well, it was what I needed to be doing and I felt a huge sense of accomplishment getting that done and approved by the state.  Now that I knew better how to collect the information through the quarter, I would be able to do the form in much less time in the future.  I was also hoping that the number would be bigger as that would mean that I was selling more products.
Early in July, I heard back from The Art Shop about my proposal and they said that all of the images were accepted.  They gave me a purchase order and I was set to get the images to the printer and ready for delivery.  The turnaround time was really quick on these images and I was able to bring the final prints to the gallery in less than five days.  That impressed them greatly and when I told them that I was very focused on client satisfaction they paused for a moment and said that I was a designers dream.  Because of that, they pulled me aside and showed me two other pieces that had been slated for the same job photographed by another photographer.  They said that the price wasn't sitting well with the client and the photographer was not easy to deal with on top of that.  They asked me if I had anything in my collection that would work along the same colors as the two images in their books.  I knew that I did and would be able to get a proposal together for them that night.  The one catch was they wanted one of the images to be 60″ in length.  I knew that was going to be a long shot with the resolution that I was shooting at, so I asked if they would be ok with a panorama since I had extra resolution built into those by their very nature.  He said that would probably be OK and to propose both single shots and panoramas.  I made a proposal of the pano shown above as well as another single shot for the second image which was needed at a smaller size.  Within a week, my images were approved and I had a purchase order in hand.  I sent the new images to the printer and had them delivered within a week to the gallery.  I truly had my hustle going with this client and I was so happy that I was getting the work here
During this time, I was also getting more orders from Hampton House which I was filling as quickly as they were coming in.  Again, that one is an easy account to work with since it is all done digitally.  There were also several individual client sales going on and this all really came together to make me feel more comfortable knowing that I was going to be leaving the security of my career in just a couple of months.  I was still creating new photographs at an ever increasing rate, and even added a whole new direction for my photography, at least in the form of another genre that I was photographing.
I had started to do cityscape photographs along with some abstract geometrical shots using the downtown buildings.  Since these images really didn't fit into any of my categories of photographs, I decided that I would just open up my horizons and create a new gallery room in the website.  I chose to name the room Architecture since it was going to be more focused on the geometry of the buildings rather than on pure cityscapes.   I think that this was received with mixed reviews among my fans and I can't really be upset at that.  I had built an audience based on landscapes at first and then introduced the rural and rusty subjects which were slowly adopted.  Now I was going with a modern direction dealing with hard lines and man made subjects.  It was what I was feeling at the time, so I went with it.  I will find an audience for that work eventually I think, but it is a fun distraction from my typical subjects when I need a fresh look on things.
Keep in mind that I was still working at my day job through all of this and it was a very busy time for me.  I was actually feeling like I had two full time jobs between being a police officer and a photographer.  It was great!  As August came around I got another call from Singh-Ray  asking if I would be interested in doing another webinar for them.  Heck yeah!  I really enjoyed the last one that I did, and was looking forward to another attempt at it.  We knocked around a couple of topics and we settled on something that I had been working on for a Behind the Camera feature dealing with finding subjects close to home instead of traveling all across the world for photographs.  I already had the basis for the webinar done, I just needed to put together the presentation which would be a lot of fun to do.  I had the presentation done within a couple of weeks and submitted for their approval.  The webinar director liked how it was looking and we decided on the scheduling.  You can sign up for this webinar here, and it is scheduled for February 20, 2020!
The rest of August and most of September were pretty quiet for the most part around here with the notable exception of my resigning from the Greensboro Police Department after 20 years of service.  I broke the news in a Behind the Camera feature and kind of described my plans that were going to lead me into the future of being a full time professional photographer.  That transition took most of my time, but I still had enough energy to host yet another workshop for the year which was the Summer Decay Workshop at the same venue as I had been just a few months previously.  I was hoping to regain my workshop mojo with this after a lackluster trip to the mountains a couple of months before.  This one went very well, and was probably my best workshop to date.  Not only was the group very good with a lot of questions, I also learned a bit more about how I wanted to do my workshops.  One of the participants suggested that do a handout to the group with some of the basic camera settings and reminders.  I thought that was a great idea and after the workshop was over, I put that handout together for use in my future workshops.
By the end of September, I was slowly transitioning into my new role, and one of my first official acts as a full time photographer (within the first week of that happening) was to drop off two prints to the Dixie Classic Fair here in Winston Salem for the photography competition.  As always, I had entered in both the color and black and white categories.  The selection of the images was not easy at all this year because my heart really wasn't in the competition with all the other things that were going on currently.  However, I did manage to make my black and white selection with the least amount of worry.  I chose a barn shot of an old Buick that really showed off the tonal range of a black and white photograph and I thought that the judges would probably appreciate that aspect of it.  My color submission was a bit more difficult as I was really wanting to showcase a landscape image because that was where my mind was currently at.  However, I knew from past experiences that my landscape images don't typically do as well as my decay images in this particular contest.  I reduced my choices down to a handful of Old Iron subjects and found one that I had a special place in my heart for.  It was an image of an old Ford truck that Mom had enjoyed a previous image of, and I liked this new one even better than that one.  I wanted her to be able to have a part in this competition so that was the image that I chose.
I wouldn't know the findings until a few days into the Fair when a friend of mine, Bill Neagle, went and scoped out the winners of the various competitions.  He let me know that night that both images had brought home top honors with two blue ribbons.  This was something that I had not managed since 2016.  I've always had strong showings at this contest, but it was really humbling to bring home two blue ribbons once again.  I took this as a sign that I was doing the right thing with my choice to go into photography on the level that I had just done.  I felt that I was on track and just wanted to continue in this direction for as long as I could.
Quarterly Update
At this point, I would like to shift gears just a tad in this entry.  The remainder of the year is pretty much the first quarter report for how things are going as a full time photographer.  That has been where my focus has been since the fair, and pretty much everything that I would be sharing at this point is pertinent to the business end of things.  I will start off by saying that my first quarter as a full time photographer wasn't as strong as I had hoped it would be.  Sales across the board seemed to have dropped off almost overnight.  I knew that there would be ups and downs when it came to sales and that was just the nature of the beast.  That was why I had a few different avenues of income sources that I could rely on in regard to photography.  However, my affiliate income from the retailers that I have partnered with had dropped off as well.  The surprising twist was where the income was actually coming from.  I was doing pretty well at the workshops, but the participants were all waiting until just before the workshops to sign up.  That always frightened me a little bit as it was always looking like I would have a group of just one. That was the case with the last two workshops of the year which included a Fall Foliage Workshop and a Winter Waterfall Workshop.  Those took place in later October and early December respectively.  Both had me concerned right down to the wire, and then they filled up quickly.  Both of them ended up being great workshops and provided me with the needed prompting to continue offering the workshops which I keep going back and forth with.
The workshops have taken a lot of my time this past year, and that was with only five workshops offered through the year.  There is a good bit of time dedicated to planning these events to have them take place at opportune times of the year for the subject matter.  There is the marketing for it and the scouting for it as the workshop gets close.  There are always questions that need to be answered prior to anyone signing up, and then there is a full day that I am out with the group teaching and not concerned at all about my own images.  There is always the follow up from the workshops afterwards as well.  The way I figure it, I usually have about 30 hours minimum invested in each workshop with the goal of making it a great value for the money that I am asking for.  With this realization, and after the feedback that I have gotten from each of the workshops in 2019, I have chosen to raise the admission price just a little.  The feedback that I have heard back from the previous workshops has put a fair price between $200 and $250 for a full day.  That is the sweet spot that I would like to be in for what I am offering.  With my current workshops running at $150 for a day, I didn't want to make a huge jump, so I split the difference and priced them at $200 with the exception of the decay workshops which include an extra $25.00 so that I can show some appreciation to Dean for allowing us to use his property for the day.  With all that I am offering, this is still a great bargain and I just hope that many will take advantage of the 2020 workshops.
In support of the workshops, Singh-Ray has graciously provided me with a very handy workshop filter kit which includes the filters that I find most useful with the subjects that we are covering in these workshops.  I have a Color Combo Polarizer, several Galen Rowell ND Grads, and a Daryl Benson Reverse ND Grad.  I also have a Mor Slo 5-stop ND Filter to round out the collection.  To make sure that all of my participants can take advantage of these filters I have invested in a collection of step down rings so that I can fit all of the filters to all standard sized filter threads.  I also will loan out my filter mount for the slide in filters until I can invest in a second one for the workshops.  This new offering with the workshops is one that I am really excited about and has already provided an experience that has prompted a participant to figure out how to get those landscape images that she has been after for so long.
This was a cell phone shot I took while at the Stone Mountain Fall Foliage Workshop while one of the participants was learning how the Galen Rowell ND Grads would help to control the sky in her photographs.  For me, this is the kind of stuff that I love to include in my workshops.  It is not about a guided adventure for folks that know everything about photography.  My workshops are meant for those who are wanting to learn different ways of capturing the images that they are trying to get.  I provide that experience, and now with the filter kit, I can add a whole new level to the education, so I am extremely appreciative to Singh-Ray for giving me that opportunity.
As an interesting side note on this particular workshop, I was approached by another hiker who asked what we were doing out there.  When I told her that it was a workshop she expressed interest for one of her friends attending a future one.  I gave her a card and she looked at the name.  She recognized the name and said that she had seen my images on Facebook.  It was silly, but that made me feel really good.  There I was standing on the bald of Stone Mountain, teaching other photographers some tricks and I was being recognized by somebody outside of the group for my images that they had seen.  I don't know if this makes me a household name or not, but I am reaching a lot of people and making an impression apparently.
The biggest takeaway from my experience with the workshops is that one of my primary sources of income is looking like sharing my knowledge with other photographers.  When I first started thinking about becoming a professional photographer, I always thought that my "product" would be the pictures that I was capturing.  It really surprised me to find that it was my take on photography which would become the source of my success early on.  I'm not arguing with that at all as I know that there is a need for different types of teaching for different people.  I'm very fortunate that I have been able to teach myself the craft of photography, but so many just need a little practical experience to pull it all together and I am in a position to where I can offer that.
While the workshops have been constituting the majority of my income here in the first quarter, I wasn't only focusing on that.  I had actually been working on a technique that I had done over the years, but was doing it with a new purpose now.  Light Painting was a new twist on my decay photography and now that I had a little more time to work on my personal portfolio I started really getting into this type of photography.  After a couple of sessions at Outlawed Restorations, I had enough images in my collection to justify expanding the gallery space to include a new Light Painting Room where I can showcase just those images.  They might be the same subjects from my daylight shoots, but when you remove the natural light, the entire feel of the image changes.  I try not to stagnate as an artist and there are always different techniques available to create images and different subjects that can be seen different ways.
Speaking of night photography, while I was discussing the workshop kit with Singh-Ray, Laura asked me if I would be interested in doing a review of their new Astro Vision Filter.  We had discussed that briefly back in the Summer and I had declined because…well, I hadn't done any astro photography and felt like my opinion on the filter wouldn't really be worth much.  After having a brief attempt at shooting the Milky Way in Late Summer, I felt that I might have a little more insight that might be worthwhile in a review of the filter.  I agreed to do the review and they sent me a filter for evaluation.  I admit that I took a long time to do this review and it wasn't released until December, but I wanted to do a very thorough review and learn as much as I could about the process of night photography as I went along.
Something else that I started to do in October was some presentations.  You might remember that back in April I had been booked by the Sandhills Photography Club.  It turned out that was only the beginning.  I was approached through Facebook about the possibility of using a few of my images in a classroom presentation at UNCG.  I was thrilled to have my images used in a classroom.  Since Mom was a teacher I felt that she would have wanted me to agree to that anyway.  As we were discussing the use of the images, I mentioned that if my images were pertinent to her class, then she might be interested in having me in as a guest speaker.  That went over really well and we worked out three different classes that I could do presentations for.  We discussed several potential topics that would fit the themes of her classes and ended up deciding on "Self Actualization Through Photography."  This was a topic that I had already done a presentation on a few years back for a therapy class which I would be able to rework for a classroom setting.  It took about a week to put together the new presentation which actually turned into a completely different animal when I was done with it.
I gave the presentation three different times and each time it went better than the last.  I really enjoyed sharing not only my photography but some of the motivations behind it while letting those that were getting ready to embark on career paths know how much art can help to keep them balanced.  It was also an opportunity for me to see how doing an art related presentation would flow rather than one based on crime prevention, personal safety, or active assailants.  I was great at those presentations, but I have to admit, I have more fun talking about photography.
With my first month coming to a close as a full time photographer, I was realizing that I was going to be very busy in this new direction.  Sadly, the income wasn't quite matching the workload that I was seeing, but that was expected.  I was still building and expected that was going to be the case for much of my first year.  I was bringing in a little bit and it was more than my outflow for photography at least. I was living on my savings at this point, but again, that was part of the plan.  I had added a potential new income source with the presentations which I was kind of excited about and hadn't really given that a bunch of thought previously in my original business plan.  My new plan was to embrace it and put together as many different presentations as I could so that I could pull them out of the collection at any time to do any number of presentations with a minimal amount of preparation in the future.
November would also see some more income potential for the upcoming year.  I started working very hard on putting together the 2020 calendar of workshops.  I had wanted to have five to eight of them scheduled through the year to keep them coming regularly and give several options to those that wanted to take part.  While putting the calendar together I had the idea of incorporating a classroom session in the cold and hot months to make it more appealing for folks to attend rather than doing an outside one.  The idea of doing an introductory class for the art of photography had been knocked around for a while but I wasn't quite sure how I would do it.  Since I was getting really good at doing Powerpoint presentations, I saw the chance to incorporate that technology into a workshop.  Since this would be a pretty intense learning experience, I opted to set these for only a half day so as not to overload anyone with information.  It took a while to find a venue for this which wouldn't break the bank but one of my contacts through Facebook answered that need.  The White Rock Civic Center which is just down the road from my house came to the rescue and provided a reasonably priced venue.  I just needed to get presentation supplies.  This was where I was going to gamble a little bit.  I needed a projector and a screen for the presentation which weren't going to be cheap since I was going to need something to be able to run for a full day without issue.  I had a laptop which was marginally effective, but would run a presentation well enough so at least I had that working for me.
I bit the bullet and purchased a projector and screen for a few hundred dollars and rented the Civic Center for another few dollars.  I was now all in, and knew that I would have to sell about three tickets just to break even for the expense.  The presentation that I put together for this classroom session has taken me about 23 hours (to this point) to get to a relatively polished version which means that I will probably not see any profit in this particular workshop until the following Summer class when I can use everything that I have already put together.  It is all about investing in the things that should yield a payout later on, and I really think that this is a good gamble.  As of the time of this writing, I have two signed up for the class, so that is a very good start and I am rather excited about it.  There has been a lot of interest expressed in it, and I am optimistically hoping for about 8-10 to take advantage of this class.
November also brought about a very new avenue for me when it comes to photography.  As I mentioned, my print sales had all but dried up the minute I went full time which had been a very good source of income earlier in the year.  Without that, I needed to have another avenue of income open up.  Something that I have been very steadfast in through the years has been not photographing people.  I tried it about 10 years ago and it flopped really quickly.  It was not the photography that flopped, it was how I was conducting the business end.  It still left a very sour taste in my mouth for doing any type of portrait work in the future.  Since that experience, I have turned down more work than I can count from folks wanting portraits done.  I would actually send them to other photographers happily.  That maintained until I was approached by my middle daughter who wanted graduation pictures done.  Lexi has been a fan of my work for a while and really likes when I shoot abstracts.  She wanted me to come down to Greenville, NC and take a few pictures of her.  I really didn't want to, but I was having a hard time saying no on this one.  It could be a good experience for me, it would be low stress (compared to a paid shoot), and it would give me a chance to see if portraits could enter into my wheelhouse in the future.  I agreed, but with one condition.  I was going to have to bring Toni along.  She has always been the driving force in my portrait work and is really great at doing the direction end of the shoot.  We work well together when it comes to people photography and I needed her on this shoot.  Of course, this all worked out and Toni and I went to ECU and spent a few hours doing a photo session that was unlike anything that I had done in a very long time.  I was actually using reflectors and a flash, and all kinds of things that I had purchased years ago with the camera, but never really had a need for.
The session went well…I was hoping.  It was very hard to see if I had nailed the focus on the back of the camera and since I was working with an ancient body, I didn't have all the newfangled Auto Focus features that would lock onto the eyes.  In fact, I hadn't really worked with Auto Focus much with this camera on any level.  I gave myself a crash course in how it all worked, and even decided to incorporate the back button focusing which is apparently all the rage these days.  I do admit, for this type of work, it does make a lot of sense now that I've done it.  When I got the images home, I realized that I had nailed the focus on probably 85-90% of the images which was a much higher hit rate than I had expected.  As I did the edits on them I was increasingly happy with how they turned out.  I could actually do portraits, and that kind of surprised me to be honest.  I wasn't ready to start drumming up portrait work, but I knew that if I was approached, I could consider the job where I would have automatically turned it away before this experience.  For the most part though, I expected it to be life as normal for my camera with decay and landscapes filling the lens.
Well, that didn't last long.  Almost before the last images were completely saved on the hard drive I was contacted by another family about the possibility of doing a senior portrait session for their daughter.  The timing couldn't have been better since I was still feeling pretty good about Lexi's shoot.  I reluctantly gave a price for the session and just left it at that.  I figured that if he went for it then it was meant to be.  If he passed, I wasn't going to lose any sleep over it.  I explained what I would provide for the price and he said that he would talk it over with the family.  A few days went by and I heard back from him saying that they were going to go with me.  Oh boy, what have I gotten myself into now?  I now had a paid portrait shoot with an actual list of things that had to deliver on.  I set the shoot date for a day when Toni could join me because lets face it, I needed her for this one.
The business model for my portrait shoots is a little different than most you will find.  I operate completely in the digital realm for this and will base my price on the length of the shoot with a minimum number of edited images from that time frame.  My base is an hour shoot with a minimum of 10 edited images, and I can go up from there.  The idea is I don't get caught up in the print packages that get so cumbersome for me and the client.  I deal completely with digital images and licensing.  Once you get the full resolution images, you are free to have them printed however you want, and you will have digital images which can be shared across any online platform.  The only restriction is the images can't be used for commercial use or for any financial gain.  It is the way of the future as nobody wants 75 wallet sized pictures any more, and most of the print images that you end up buying stay stored in a bookshelf anyway.  This way, you get all the images, and print the ones you want as you want them while having the ability to share across social media.  It is a simple way to run a portrait business I think.
This second portrait shoot started in Downtown Greensboro around Center City Park which was the best place that we could figure since our model for the day was an artsy kind of soul.  We started out slow and then as I got to know her a little better we fell into a nice groove and ventured out from that park to some neighboring locations.  We found some really neat spaces to work with and one of my favorites was this painted store window that I had her stand in front of for the image above.  I took what I had learned from Lexi's session and tried to build on that with these images.  They were a little harder to do considering the venue had less open areas that could be included.  I was trying to keep the other people and unconnected visual clutter to a minimum for these images.  I was having to work quickly and that is not the easiest thing for a landscape photographer to do, but I was rising to the challenge most of the time.  I did miss a lot of shots that I wanted to get, but I will get better on that end with more practice.
When I got the images home, I had a much higher hit rate when it came to nailing the focus on the eyes which I was really happy to see.  The images were also quite good for only an hour and a half session.  I ended up with twice as many images as I had promised that I thought were good images.  The client and I were happy with the experience.  So happy in fact, I am mentioning the whole portrait thing here in the quarterly update because it is now responsible for some of that first quarter income and I suspect it will lead to more down the road.  I'm not sure how I am going to market this just yet, or just how actively I am going to try and seek the jobs.  I'm just happy that it is a viable avenue for income for me which is needed at this point.
The day before this last portrait shoot, I had been at Hanging Rock with my Winter Waterfall Workshop which was much more my speed.  I had really enjoyed this one a lot, and actually had one of the participants joining me for his third landscape workshop and another one joining for his second.  I believe that having repeat participants is a testimony to the quality of workshop that I put on.  It was a great day in the woods and I think that everyone learned a lot and had a good time.  I've seen quite a few of the images that have come from the group and they are all wonderful.  This last workshop of the year was actually at the same place that my first ever workshop took place and I have to say that the way it all went down was so much better this last time.  I could really see where my improvements had taken place.  After this workshop, I can say that I was truly excited to see what 2020 would bring.  I know that I have a quality product now and I just need to get the word out to other photographers so that they can partake in the experience.
It was also in early December that I decided to make a seemingly random post on Facebook just putting it out there that I was available for presentations.  Hey, if I don't let people know, how can I expect anyone to book me.  I wasn't really expecting anything to come of it as it was intended to just put the word out there so that it might pay off later on.  In short order, I was contacted by the Capital City Camera Club asking if I would be available in January for a presentation as their planned speaker had to back out due to unforeseen circumstances.  They wanted me to talk about the benefits of shooting close to home rather than always needing to travel far and wide.  This was going to be relatively simple since I was working on a very similar presentation for the Singh-Ray webinar in February.  After getting the booking fee agreed on I was on the books for January 20, 2020!  I started to work on the presentation for them as well as updating the webinar presentation at the same time.  I found that this wasn't going to be as easy as I had hoped since the purpose of the two presentations were greatly different even though the theme was the same.  I embraced it and created a completely new presentation loosely based on the webinar.
While working on that, I was contacted by the Carolina's Nature Photography Association (CNPA, North Carolina Chapter) which I had been a member of for a couple of years when I was getting back into photography.  They were working on their 2020 speaker schedule and wanted me to come back and talk about my evolution as a photographer.  I could definitely talk on that topic, but I didn't have anything really prepared for that.  Since the meeting date was to be on March 9th, I would have some time to put that together.  I've still yet to finalize that one, but I chose to go with the angle of "The Evolution of My Personal Style" which will incorporate much of my background and creative path.  If I made it a simple road map of what I've done through photography I'm sure it would bore even me.  Seriously, it is a very slow story, but if you add the concept of personal style into it, that will appeal to other photographers because they can see their own personal progressions through my story hopefully.  The goal with this presentation isn't to make a big deal out of what I've done, but rather to inspire other photographers in their own craft.
Something else worth mentioning is that within the last six weeks or so of the year, my print sales have been coming back online and I have been connecting with new clients almost weekly now.  This was a very nice transition from the drought that I had been in for quite some time after announcing the full time deal.  I have had the opportunity to sell my first metal print to a client that turned out excellent.  At the time that I am typing this entry, I am waiting on a 30″ canvas to be delivered out to a client in Washington State, and I have a 13×19″ print as well as an 8×10″ print sitting in the office which will be picked up by a client in just a couple of hours.  It is hard to plan for print sales in this business as there is always an ebb and flow to the market.  I'm thrilled to say that I have a total of eight prints sold in this first quarter of being a full time photographer.  These are all direct client sales as I have had no wholesale business this quarter.  The wholesale end had been the backbone of my print sales for much of the year leading up to my leaving the Police Department.  While I am missing that income, I do know that I have a project coming up in the Spring with Hampton House and Baptist Hospital which should be another half dozen large prints or so.
So, how are things going in this first quarter?  Well, they are going good, although not nearly as good as I am needing to be able to sustain my business on a financial front.  This was expected though, so I'm not worried about it.  I am seeing growth in the areas that I have recently put in place, and the earning potential is very high for 2020.  When I take my living expenses out of the equation and focus just on my photography cash flow, I am in the black coming up on the end of the year.  That is only the second time I have been able to say that with my photography.  Last year was the first and it was only by a couple of hundred dollars.  This year is a bit more significant that that, but I can say without a doubt, I need to ramp up my income quite a bit to make this business successful from a financial standpoint.  I don't think that I will have any problem doing that, especially with the aggressive workshop schedule for 2020 and the speaking engagements that are coming in.  If the portrait sessions become a hit then that will potentially become one of the biggest sources of income for me along with the workshops, although I suspect that won't gain much traction until the Spring.
My predictions for the second quarter are kind of grim with it being winter.  I will be out doing my decay photography for the most part and building on that portfolio.  I will be doing speaking engagements as well as my first classroom based workshop.  I'm hoping that print sales will pick up, especially with the commercial clients through the two art galleries I work with, but this is typically a slow time of year for me and I see no reason why that should change this year.  It is my third quarter report that I am most excited about.  That one should be a really good indicator of whether or not I have made a good choice in my career move.  Time will tell, and I am enjoying the ride along the way.
I am also figuring out the direction of my equipment at this time.  I had hoped to have chosen the replacement for my aging 5D Mk3 by now, but Canon has been dragging their feet on releasing the camera that I am interested in.  My short list for replacement is to go with the Fujifilm GFX-50S with three lenses, or to stick with Canon for their upcoming EOS RS (predicted name) with the RF trinity of lenses to go with it.  I will have greater flexibility with the Canon setup and will be better able to do portraits as I have Canon flash equipment that will work on the new body.  The Canon will also have a better auto focus system which I have found to be a very needed thing for portraits.  The Fuji camera will get me into the world of medium format which has positives and negatives to it, but it will be more of a dedicated camera for all things still.  The price will be about the same between the two platforms which makes the decision even harder.  I'm leaning towards the Canon kit for the lighter approach which will make hiking easier, and for the ability to use my same flash gear that I have now.  If I do go with the Canon, it will be February before they announce it, and probably in the Summer before I can get my hands on one.  I hate waiting this long to get a new camera, but at least they did right and have the glass in place to really make the body sing.  I could adapt my current glass to the new body, but the RF lenses are getting even better reviews than the EF glass that I have been using.  It is worth the update considering the age of my current gear and the fact that I have been getting a number of requests for very large prints which I am really straining the files to make happen.  The cameras will either double or triple my resolution which is a significant argument when I am being asked to produce prints in the 40″ realm regularly.
When I made the announcement to go full time, I talked about the possibility of getting published.  I have been working on that off and on for the first quarter and have to say…this is going to be harder than I thought.  I have reached out to several different magazines with not even a response.  I was actually all set to start working on my book and had figured out a way to self publish a coffee table book.  I had even worked out the pricing that I would need to charge for it.  I then decided to pose the question on Facebook about interest in a book since I would be responsible for the distribution of the book.  Facebook would be my biggest audience, and also the audience that had been asking for the book the most.  The responses that I got from that one post really put a damper on things for me when it came to making a book.
Here is the problem.  For me to put a book together with the right images as well as a supporting narrative, I would be looking at probably several months worth of work just to put it together.  That is time taken away from all other aspects of my life and my photography so there has to be a price assigned to that.  Then, I would have to pay to make the books out of my pocket with the hopes and assumptions that I would be able to sell all the books that I had made which probably wouldn't work out, but I would have to accept that risk.  Then I would have to pay for the books, which I would want hard bound and filled with high quality photo paper since this is a coffee table book, and not a crime drama novel.  The cost per book to me was going to be around $65.00 each, which I would have to pay out of pocket.  That becomes my starting price for the book, and then I have to add the fact that I have around 100 images in that book which all took time to capture and edit which I intended to make money off of, and then my time to put it all together.  I would have to charge at a bare minimum of $100.00 per book.  That price was met with a less than cheering response.  I got the feeling that the most anyone would pay for a coffee table book, if they were willing to buy one at all would be around $60.00.  So, for me to do a book, I would basically be throwing in my time as well as the artwork for free, and leaving all of the profit to the publisher of the book.  That hardly sounds like a good deal for me, when I am only standing to make a small $35.00 a copy to begin with.  Such is the struggle of an artist though, nobody wants to pay for the vision and work it takes to create, they just want to pay for the material that it is displayed on.  It is a fact that I am getting used to sadly.
One wildcard that I've been thinking about is how I participate in social media.  My Facebook page has really taken off this year and has grown to around 7,300 followers from 2,900 at the beginning of the year.  This is mostly due to my posting in many groups on a daily basis.  That has started to really pull a lot of my time as I spend roughly three to four hours a day dealing with just Facebook.  I've been toying with the idea of not posting to the groups anymore and just posting to my photography page.  This will reduce the draw on my time and it will also get rid of the headaches that I get from folks asking to paint my pictures, or if they could print them out for their own personal home use.  Both of which I can't allow to happen and I get tired of those questions popping up.  Since the groups are mainly designed for folks to share whatever pictures they have, I'm starting to see a cheapening of my images when posted that way.  It is a trade-off though because I have generated sales and other contacts through these groups in the past.  I just don't know if it is worth the time investment to me any more.  I have so many other things that are pulling at my watch hands each and every day.  My Instagram account is much smaller and requires much less time.  I would like to see it grow a bit more, but it seems to have topped out at around 2,000 followers where it has been for quite some time.  Again though, with me wanting to create an image for my photography and have it garner the respect that I am wanting, I might have to move away from social media a little bit in order to achieve that goal.  I'll be toying with that idea and seeing if I can justify one direction over the other here in the coming months.
Another question that I will be having over the coming year is the direction that my photography will take in regards to subject matter.  When I started with photography, I was all about the landscape and wanted nothing at all man made in my images.  Over the years, I have been including more and more rural scenes and decay images.  Up until this past year landscapes have always ruled supreme in my collection.  For the first time since 2005 when I really started with photography, the rural and decay scenes have actually dominated my favorite images from the year.  My list of twelve significant images from 2019 really drove that home as I had not seen that strong a showing from those genres in past years.  Does that mean that I will possibly leave landscape photography.  I seriously doubt it, but I am seeing a little different slant on my images developing and I kind of like it.  I've always tried to make images that stand out from the crowd, and lets face it…the crowd is huge with landscape photography.  There is a much smaller niche in terms of the rural and decay which I like to shoot.  I'm not going to push myself in one direction or the other, I just want to see where my photography goes organically through the coming year.  I might surprise myself with the outcome.
Thank you so much for joining me for this very special year end wrap-up.  It is always fun to see where things have gone during the year and I think that this year has seen more changes than any other year I can recall.  I hope that this is just the beginning of great things to come.  Every bit of my success is thanks to those of you reading this blog because without your support there would be no Greg Kiser Photography.  So thank you all for being there with me through my journey.  I do hope that I continue to create photography that you will enjoy.