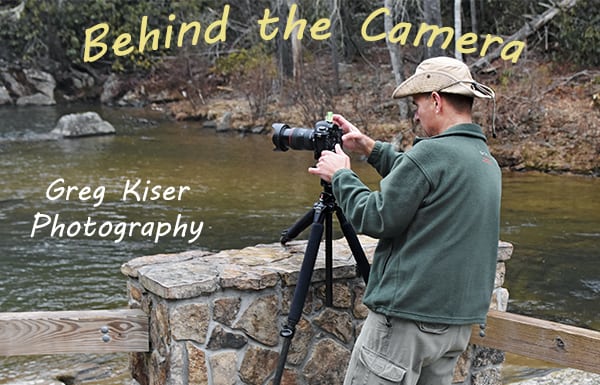 Welcome back to another installment of my monthly Behind the Camera feature.  In this feature, I pick a topic to discuss that deals with certain aspects of my photography, or my thoughts on different photographic topics.  Normally, I will get my inspiration from a question that has popped up during the previous month.  This month is a little bit different though.  I have been looking forward to this particular topic for several months now.  I have teased it off and on and knew that I would be covering this very topic on this particular day.  I'm excited about this announcement, and won't keep you waiting any longer.
As of August 26th, 2019, I have tendered my notice that I will be leaving my career of 20 years in law enforcement.  I started with the Greensboro Police Department on September 16, 1999, at the ripe old age of 25 years old.  I had dreams of making the world a better place, and giving back to my community.  During the years that followed, I spent 16 of them in patrol answering the calls for service from the citizens of Greensboro and seeing parts of humanity that few get the chance to experience.  It was an education, but it truly weighed on my heart and mind.  In 2005, I started going to photography as a form of stress relief and an avenue where I could see the prettier side of the world around us.  It worked for a number of years and Four Forty-Six Photography was born as my "retirement plan."  This was always a conversation piece as folks wanted to know what the number was all about.  Of course, it was my badge number, and one that I wore proudly on my uniform.
After 16 years in the field, I was asked to come "inside" to work as a Community Resource Officer which I resisted at first because I was comfortable where I was in the field and didn't want to lose that niche' that I had carved out in my little corner of the city.  However, with some prodding from Toni, I made the switch.  It was a very good switch as a matter of fact, and allowed me to do so much more in the communities that I served.  I jumped into that job with my typical enthusiasm and I made it my own.  Over the next four years, I would forge connections in the community, and even was awarded the 2018 Officer of the Year which was a huge surprise to me.  It did validate the job that I had been doing and I was thankful that I was being recognized for doing the job the way that I thought it should be done.
You would think that I would be in a great place and want to stay with this position for a very long time.  I might have, but having been a police officer for so many years had taken its tole on me.  I was getting sarcastic and cynical…even more than normal.  While I didn't hate going to work, I really wanted more time to focus on myself, my family and my photography which was coming along very well by this point.  My Mom had always been one of my biggest supporters over the years and could see this inner struggle developing in my life.  One of her wishes for me was that I could leave police work and start doing photography full time and even have a gallery where people could walk in and purchase my work.  Granted, this was also the lady that bought five additional refrigerators just to display my pictures as I would bring her prints every now and again.  I kid, there was only one fridge, but her walls were full, and that was an understatement.
She would keep pushing me, in a Motherly way, to pursue my dreams of being a photographer.  I would shrug it off knowing that there wasn't going to be a way to make that happen until I was able to retire from the department….in 2029.  Man that was a long time away!!  I've always said that the last 30 go by the slowest in this profession.
Well, Mom has a knack of always getting her way it would seem.  For those who have been around here for a while might remember, Mom left us suddenly last October. None of us were prepared for her death, but it started ripples that have yet to fully be realized.  One of those ripples was the fact that she had never really enjoyed her retirement having been diagnosed with Multiple Sclerosis several years before she was due to retire.  That diagnosis prevented her from being able to enjoy the life that she had planned for all of those years.  In short, we are not guaranteed tomorrow.  I couldn't help but wonder what the next ten years of law enforcement might bring.  It is not the safest of professions, and there is no telling what I might end up being involved in.  Would I make it to that 2029 retirement healthy and in one piece?  There was no way to know.  Would I ever realize my potential with a camera?  Who knows?
As I mentioned, the photography was going quite well by this point with workshops getting started and partnering with both Hampton House, and shortly after, The Art Shop galleries.  I was also selling prints regularly from my website.  I could see that I was poised for things to really break loose with my photography, and I was starting to wonder if I had enough time to really put into my craft to take advantage of these fortunes.  The answer was…no, I wouldn't be able to realize my full potential by carrying a Monday-Friday job with hours that were all over the place.  With some other ripples that had been started by Mom's passing, and with a good deal of prodding from my beautiful wife Toni, I started to consider other options.  I still had 11 years to go before I could retire with full benefits from the Police Department, but as I really looked at things, there might be another option.  With some very careful financial planning, and focusing more on the income from photography there might actually be a way to make this happen.
Around the Spring of 2019, the decision was made to resign my position at the Police Department by the end of the year.  Since my 20 year anniversary would be on the 16th of September, that was the date that was picked.  It would give me enough time to get my finances in order for this huge leap of faith, and to get a career wrapped up.  I also needed to make moves to get my "business" off the ground and make it official.  I could not have done this without the love and support that Toni has shown me during this decision making process.  She gets to benefit too with the fact that her husband will no longer have to wear a ballistic vest to work to help keep him alive in the event he gets shot.  I also won't have to don weapons every day to go to work in the event I have to effect an arrest or protect myself.  There are benefits to being "just a photographer" for my family, and Toni has helped me to see those benefits.
The Planning
I had been doing photography as a hobby for quite a while and had never really focused on sales or income.  It was all about getting established in the different art communities and having my name become familiar.  The time had come to create a legit business from this hobby which I started doing in April.  By May, which happened to be Small Business Month, I had established Greg Kiser Photography as a business name and had gotten all set up for taxes and all the other associated things that go along with businesses.  I will say, North Carolina doesn't make it that easy to do this and I needed a bit of help to make sure I did all the steps and filed all the forms.
I was still working, but at the same time, I was also now a business owner.  I needed a plan for how this was going to go.  I took some time and looked at all of the sources of income from photography and did a lot of studying on what I wanted to do with my time.  There were things that seemed to be very beneficial to other photographers, and other things that didn't quite make sense when you looked at the time involved vs the payoff.  There were a couple of things that I knew going into this that scared me a little bit.  Photographers rarely, if ever, make enough on print sales to stay afloat.  There needs to be multiple sources of income which will all ebb and flow as the years go on.
Something that I had considered getting into a while back was stock photography.  For those that don't know what exactly stock is, it is online agencies that store tons of images that are licensed out to the end users.  These are images that cover a wide range of subjects and can be used for websites, billboards, brochures, various other marketing, and so many other places where a user needs an image.  The benefit of these stock agencies is that the usage fees are usually very affordable and the selection is grand.  The downside to this is, the photographer gets paid a very small pittance from each sale…usually a matter of cents.  This is a numbers game and the idea is to have hundreds, or thousands of images in the different stock agencies which are getting sold many times over.  Sounds great right?  Well, not exactly.  It takes a very long time to build that collection in the stock agencies, and each image has to be approved to be added.  The photographer ends up spending an inordinate amount of time and effort to prepare an image to sell for a few cents.  Looking critically at the subjects that I shoot, those markets are very saturated in stock, so it would be very hard to stand out with my type of photography unless I opted to put my top tier images in the game.  For my time and effort, I really didn't think that stock was an avenue that I needed to pursue.  It might come into play later on down the road, but for now, I want to focus my attention in other areas.
Another route that I don't plan to be going to any time soon is a brick and mortar establishment.  Despite that being a dream of Mom's, I can't justify the overhead of having a physical location to sell out of.  That is not to say that I would reject the opportunity to have my work displayed as part of a collection somewhere though.  In fact, that is in the plans for the future as I have a good deal of framed pieces in my personal inventory which I have for just such an opportunity.  So, if any of you have any connections with display galleries, I would appreciate the opportunity to have a showing!
Something that I am trying out but haven't fully decided on is my workshops.  I was hesitant to get into them a year ago and really didn't want to do it.  However, after a good deal of prodding by a friend of mine, I ventured into the game with the best of intentions.  To date, I have conducted three different workshops, and have another one happening in a matter of days.  They have all seen varying levels of success and I am still considering the overall benefit to them.  They are very time consuming for me, which I know will be easier to deal with being a full time photographer, so I will be holding my final judgement on the workshops till I have a couple under my belt where I can really dedicate the energy to planning and preparing for them.  They are a great source of income though and possibly will represent a substantial part of the income pie as my career moves forward.  I would like to do about six a year with them happening every couple of months or so and covering everything from landscapes, to waterfalls, to decay topics, and possibly do a classroom setting for one in the winter for post processing or even a beginning photography class.
Along the lines of workshops is my One-on-One Instruction which I haven't done much with since offering it.  These sessions should start taking off now that I can dedicate more time thanks to a much more flexible schedule.  These are sessions that are a minimum of an hour, and as long as needed where I will work with a photographer on any number of skills and techniques in order to help them progress.  This is much better than a workshop and something that I actually enjoy doing more than workshops.  It is an opportunity to work on specifically what somebody needs help with, and not a predetermined location on a random day with a broad topic to cover.  If you have a location that you are wanting to shoot, I will just meet you there and we will work out the issues that you are having with the images.  It is affordable and very customizable which I think will make for a very popular offering.  It also doesn't have to be restricted to field work.  I also offer instruction with Lightroom processing if that is where you need help.
Something else that I have been doing for a while that seems to be working is being an affiliate with different companies.  This all got started with a connection with Singh-Ray Filters early in 2018.  I was very fortunate to get hooked up with them and have already done a webinar for them on my Wabi Sabi style of photography.  There is actually another one that is in the works which is going to be scheduled in February, 2020, dealing with where to find those images you are looking for without going on long trips.  It was actually inspired by my last Behind the Camera!  They also support my workshops, and have given me a discount code (KISER10) which helps you save 10% on their filters, which I highly recommend.  I have also partnered with B&H Photo as an affiliate where if you click my links (that are usually peppered throughout my blog entries) you will be taken to that product or page.  If you purchase anything there, I will get a small amount of money, but it doesn't cost you any extra at all.  I also have a few other affiliate programs set up, so I would encourage you to check out the links that I provide for your own shopping needs.  It doesn't cost you any more, and will help keep me afloat so that I can continue to bring you new images and content.  Also remember, you don't have to purchase the exact product or even in the category, just access the websites through my link and that is all that is needed.
In a surprise twist, I have found that a fair amount of income will come from a wholesale business to large commercial clients through different art galleries.  So far, I have been approached by the two galleries that I have mentioned earlier for large jobs that they have both been working on.  My longest standing relationship, with Hampton House Art and Framing, has seen many repeat orders for their different clients.  I have put a lot of effort into the art gallery relationships and have made them a priority in my workflow.  This has already paid great dividends and has awarded me repeat business from both of them.  I am hoping at some point to have a showing at either of the galleries, but neither of them displays much photography in the gallery.  However, I keep hearing things like "You are so easy to work with", and "You make the designer's job easy."  This is the reputation that I want to foster with these galleries as they are doing all of the selling work which just leaves me to providing the prints.  I consider myself very fortunate to be able to work with these galleries which have clients all over the world in some cases.  It was just a stroke of luck based on being visible online that created the connections here.
Speaking of prints, my favorite way to earn a living through photography is the actual sale of prints to clients.  It is one thing to have large commercial clients, but I still really get a kick out of individuals that develop a connection to a certain photograph and decide that they want that photograph on their own walls.  There is no greater thrill for me than getting that order and seeing the image printed out the way I always envision my images at the time of capture.  It is at that point I feel most like a photographer.  In fact, for those clients that choose to purchase prints through me, I have started to include a page-long story about how the image was created which is included in the package.  These descriptions are done on a client by client basis and are personalized for that client.  It is just a small way that I can say thank you for supporting my work.
Getting into photography, I always knew that print sales wouldn't be my get rich quick scheme.  In fact, in the genre that I have selected, to sell any prints at all is a real feat.  There are just so many fantastic landscape photographers out there, and it is a very saturated market.  Because of that, when I can sell two or three prints in a month, that is a very special event for me and makes me feel very fortunate.  It is the biggest motivator that I have right now when it comes to the business end of my photography.  I wish it could support my endeavors completely, but I don't think that would ever be the case with any photographer.
Something that I am wanting to get into now is public speaking on photography and related subjects.  This might sound odd with photography being a visual medium, but there are a lot of opportunities out there for presentations.  Since part of what I have been doing with the police department for the last 4 years has been public speaking, I have honed a certain talent for that and actually really enjoy it.  I will be looking for opportunities in classroom settings for all ages to talk to students about in importance of art, and how they perceive the world around them.  There are always photography clubs which have guest speakers come in for their members which I would enjoy doing.  I've already started doing webinars for Singh-Ray, and would like to see that continue as well as grow into actual seminars.  One thing that I have learned about photography is that there are a lot of people out there that are trying to learn about different aspects of it (me included) and that learning can only happen when somebody with that knowledge is willing to share.  I've always been willing to share what little I know with others no matter what the topic has been, and I am truly passionate about photography which makes it a pleasure to talk about.  So, keep that in mind if you, your club, your school, or anything else would like a speaker to come in.  I will have to figure out a replacement for the Taser which usually got everyone's attention in the after lunch presentations.  Yeah, I try to make these a lot of fun when I do speaking engagements.
There is also the hope that I will be possibly putting together a coffee table book dealing with some of the rural areas of the state concentrating on the barns and old cars that I have come across.  There seems to be a lack of that particular subject matter in print from what I have seen which makes this a logical direction to go when I think about getting published.  I have been wanting to do a book like this for quite some time, but since it demands a lot of time to compile and organize, I haven't really been able to devote the attention to it until now.  With my time freeing up, I should be ale to make something happen along those lines.  At the very least, I am thinking that I should be able to submit a short article to a magazine or two that might be interested in the piece.  Either way, within the next year, I hope to have something like this out, or well in the works.
One final area that I want to get into as I settle into the full time aspect of photography is doing client shoots of their automobiles.  since I love shooting the old rusted ones so much, I have kind of honed a certain style of capturing the automobile.  I would like to take that style and put it to use with some pristine rides and have a little fun with some actual shiny paint.  This would be kind of like a portrait shoot, only for vehicles.  It would be outside at any number of locations that would fit the character of the car.  I haven't completely worked out the business plan for this, but I am liking the one price gets it all approach.  I would set a price that would include the location shoot, processing, and you would be provided digital files at full resolution with a limited license to have them reproduced as you see fit, either digitally, or in print.  The only caveat is sales, or anything for financial gain would be prohibited.  I would retain ownership of the images and the right to sell prints.  It is a nice and simple way of doing it, and eliminates all of the package pricing and whatnot the client would have to endure.  This way, they pay me one time, and they have X number of images that they can do with what they choose.
Where Do I See Myself in a Year?
When making a big change like this, it is always a good idea to have a goal in mind.  So what is my goal?  I'm going to be a world famous landscape photographer that travels all across the globe and every picture that I create will instantly become the talk of the art community.  People will follow behind me in my travels just to watch me create magic and stand there in awe throwing their money at me for a chance at a limited edition print.
You can stop laughing now
Really, you don't need to laugh that much!
You are going to hurt yourself…breathe.  Catch your breath…there you go.
OK, now that you are composed again, I was only kidding about that.  I've never had delusions of adequacy in anything that I've done.  That was always my answer when I was asked why I never went for any promotions in the Police Department.  In all seriousness though, I know that at the end of the day, the best that I can hope for is being the best landscape/decay photographer that I can be.  I will hold out hope that what I offer is enough to provide for myself and my family and make it a worthwhile decision to leave my career as a police officer.  I would like to be known in some art circles and have my work sought after by some collectors within the year.  I would like to give back to the art community by teaching and motivating young artists so that someday they could achieve more than I have.  But mostly, I want to continue capturing the world around me in the way that my eyes, brain, and heart see and interpret it.  My photography has always been about what I like, and I don't want to water that down in any way.
As I mentioned before, I would like to have some publication experience by the end of the first year with either a book, or a magazine article completed.  This is not a priority by any stretch and more a bucket list item for me.  I have always wanted to put a book of some sort together, and it would be easy enough to do one as a self published enterprise.  The caveat with that is the cost that I would have to absorb in order to get the book out there.  Since I am wanting a coffee table book, the publishing costs will be rather high with the high quality paper that will be needed and the size of the book.  Without knowing what the potential circulation of the book will be, I just can't commit to doing a print run and hoping to be able to sell enough of the book to break even.  My hopes are to find a publisher willing to take on the expense.
The first year of me being a full time photographer is going to be a difficult one.  I'm hoping that the plans that I have already put in place have set me up for a smooth transition, but I know there will be hiccups along the way.  In fact, I am not even planning on actually making any money in the first year.  As I have been doing since making the decision to go full time, I have been reinvesting the money that I have earned into the business.  That means the travels that I have taken this year have been paid for exclusively through my photography income.  That actually is a bigger deal than it sounds, and something that has amazed me.  The next step will be doing some equipment upgrades around the beginning of the year.
I'm a little bit of a gear junkie, I like new gear, but with photography I have been really good about picking the right equipment at the time which allows me to future proof my setup.  What I am shooting with right now was purchased in 2013 and has been in steady service since that time.  It still works, and still produces really great results.  I'm not looking to upgrade because I need a certain "look" to go with being a full time photographer.  Actually, I would be happy with what I have until the camera gave up the ghost and I was forced to replace it because it is just that good.  The only reason that I am looking to upgrade is because many of my print orders for Hampton House and The Art Shop are very large prints.  These prints that are usually around 40 inches wide, and have gone larger are pushing the envelope of my venerable 5D Mk3.  I have managed to massage the images to where they look acceptable, but I can see a great benefit to going with a larger resolution camera.  I'm patiently waiting to see what happens with Canon's mirrorless offering at the pro level next year because I am very comfortable with Canon, but currently, they are offering nothing that excites me.  If they don't come to the party with something decent, I will be switching over to the Sony Alpha platform in the form of an A7RIV more than likely, but that will represent quite a bit more money for me.  Either way, by the end of this first year, I will have a more capable platform by which I am capturing my images.  That will represent the profit from the year, and it will be an investment in the following year.
My plan right now is to do quarterly updates on my progress through this adventure here in my Behind the Camera series.  I don't want this to turn into a stock report or anything like that, but I think it is important to chronicle this move as others are always contemplating it and weighing the options.  I know I have gotten a lot of inspiration from Mark Denney's videos that he has done on the subject.  I just want other photographers to know that they aren't the only ones that struggle with this decision.  I also want to keep folks aware that I am doing this as a career now and the images that I have online are not there to just garner likes and comments on social media, but to be enjoyed in their intended tangible form through print purchases.  Also, I want to keep a record of how this went for myself as most of this blog is ultimately a "Dear Diary" for myself as little notes along my journey so I can remember everything that I went through to get wherever it is that I am.
You might remember this image from an early morning trek I took into downtown Greensboro a couple of weeks ago.  When I was shooting it a phrase came to mind, which ultimately made it as the title of the piece.  It is an old phrase and basically means that when you are good at something, you will start a business or profession based on that skill.  It was ironic that I was drawn to shingles in the very city that I have worked for the last 20 years while thinking about how nice it will be to be able to travel and capture the images that I want to without having to fit it around my work schedule.  I'm a big believer in signs, and I think that this was one of those signs that said that I was going in the right direction.  With this blog entry, I am officially "hanging my shingle" as a professional photographer.  My success or failure will be my own.  I'm really hoping that it works out well enough to where I can maintain life as a photographer though.  All I ask is that if you see an image that really speaks to you, consider purchasing a print of it to support my endeavors.  It will be greatly appreciated, more than you know.
Thank you for joining me for this very special edition of my Behind the Camera Series.  I hope you enjoyed this announcement and are looking forward to the future of Greg Kiser Photography as much as I am.  Let's see where this adventure takes us!!