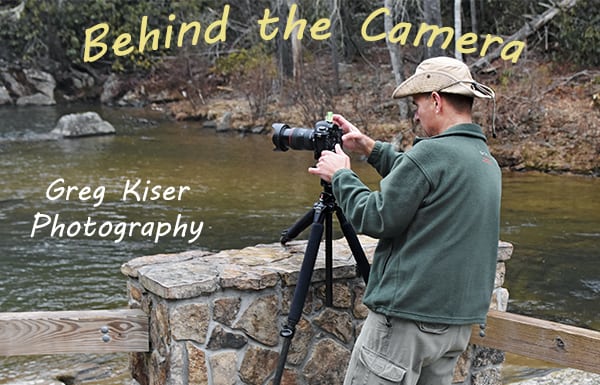 Welcome back for another installment of my monthly Behind the Camera series.  In this feature, I will typically discuss a question that has come up during the past month that deserves more attention that just a simple answer.  I might also use this time to discuss things that have been on my mind recently.  This month, however, I am going to do my quarterly update on how things are going since I left my career as a Police Officer back in September.  I just skimmed my last quarterly update which I did at the beginning of the year which represented the second half of my year in review.  It was kind of ironic to read some of what I wrote about my expectations for this next quarter.
"My predictions for the second quarter are kind of grim with it being winter.  I will be out doing my decay photography for the most part and building on that portfolio.  I will be doing speaking engagements as well as my first classroom based workshop.  I'm hoping that print sales will pick up, especially with the commercial clients through the two art galleries I work with, but this is typically a slow time of year for me and I see no reason why that should change this year.  It is my third quarter report that I am most excited about.  That one should be a really good indicator of whether or not I have made a good choice in my career move.  Time will tell, and I am enjoying the ride along the way."
I don't know if I had a moment of clairvoyance here or what, but I pretty well nailed how the second quarter has gone…Grim.  It hasn't been all bad though, and I would like to start off by talking about the positive things that have happened through the quarter.  I did get off to a great start with my public speaking engagements which started at the Capital City Camera Club at the end of January.  I spoke on one of my favorite topics which deals with shooting local instead of feeling like you have to go to distant destinations for photography.  It went very well, and seemed to be well received by the attending members which was actually a very large group.  This opportunity turned into a contact with the Chapel Hill Camera Club as the two are closely related.  After speaking with some of the board members with that club, I have been signed up to do another presentation with the same topic here in a couple of more weeks.  There will be a slight curve ball thrown in for that meeting though with the Covid 19 Pandemic that is spreading currently (more on that later).  They have done a great thing to address that by making their meetings into a virtual format so that everyone can attend from the comfort of their homes.  I am already set up for that platform and will be doing my presentation from home which is quite convenient for me.
I've often said that the hardest part of photography, when it comes to the business end, is the actual selling of prints.  Unfortunately for me, that is my favorite part of the whole thing.  For the most part, print sales are sporadic and haven't really represented much in the way of income until this quarter.  That is not to say that I have done well this quarter with print sales as I really haven't.  However, I was fortunate enough to make contact with a new client through Facebook that turned into a very large order for five 13×19 prints which I hand delivered.  This client was also interested in some of my existing framed inventory as well so I brought some examples of those which yielded three more framed prints added to that order.  Hands down, that was the biggest sale of the quarter and it was all based in prints which was exciting to say the least!
While talking about print sales, I feel it important to mention that I had a single order on the commercial side of things from The Art Shop in Greensboro, NC, to round out a previous large order that they had made for a new hospital which was being opened.  This was a single image, but it was a significant one.  This was a panorama that I had shot during the previous Summer at Hawksbill and they were wanting it as a canvas print at 100 inches wide to be on display in a very prominent location in the new wing.  That was a tall…well, wide order to fill and it was larger than my off-site printer could handle by a few inches.  I worked with the gallery for about a week to get thing figured out to where it made sense for them, the designer, the client, and myself.  We finally came about a solution to the different issues at hand and I provided a digital license for the image so that they could have a print made through a printer that they deal with that could do the size that they were after without having to ship it across the country.  It made it into the new wing in time for the official opening which was my main goal.
I went to the grand opening of the new birthing center in the hopes of seeing all of the images that I had provided, but the tour was restricted to certain areas and I was only able to see one of my prints on the walls.  It turned out so well and fit with the theme of the area.  A little side story here was at the beginning of the tour; they were telling us how the art was sourced from local artists and they had representations from everything from sculptures to quilts to photography.  I saw a lot of really great work that had been chosen for the new building, but within my tour group there was only one piece that caused somebody to step away from the group and investigate.  That picture was Clouded Reflections which was hanging on the wall.  I would be lying if I didn't say that it made me feel good to have somebody take notice of my work like that in the midst of all of the other artwork that was on display.  It also stood to reason that the majority of the folks that were here had more of an interest in the hospital and the features that it had rather than the decorating.
I hated that I didn't get to see the rest of my prints hanging on the walls, but seeing the one and seeing the reaction made it all worth going.  I was proud to have been a part of this project and I was very thankful for the opportunity afforded by both the designer and the gallery.  I would love to get into more projects like this in the future, and I had been kind of hoping that this type of work would be continuing through this quarter.  However, it seems that the commercial projects have dried up for the time being.  That is just part of the game I think.
After talking with Mark at Hampton House Art and Framing a few times I am remembering something that he has said a number of times in the past.  He said that he has noticed that the designers all tend to follow trends together and he will see a pattern developing on the demands for photography versus paintings, or crafts, or something different.  In the short time that I have been with Hampton House, I have seen supporting evidence in that myself.  It is usually either feast or famine when it comes to the commercial clients.  Right now, I am in famine.  Had it not been for the single panorama for the hospital, I would have absolutely no commercial clients to mention for this quarter.
It is worth mentioning that while I don't make a lot of profit off of the wholesale clients like this, the orders are usually large enough to where they do affect my bottom line rather positively.  The absence of these commercial clients has been felt quite significantly this quarter.  That is where diversifying my income potential comes into play.  I've talked about my public speaking which is starting to take off slowly.  That is not a huge source of income, but it does represent a little bit here and there.  It is my workshops where I see my best return, or at least I have in the past.
You will remember that I have set myself up for a very aggressive workshop schedule in 2020 since that has been a great source of income in the past.  I have also bumped the price up just a little bit to fall in line with what everyone is saying that the value of the workshops have been.  My first workshop of the year was actually a classroom based workshop and it was the first of its kind for me.  The theme was "Introduction to Photography" and it is a topic that has been asked for many times over the years.
When I started to put this together, I really thought that I was going to have something special to put out there with many people set to benefit from it.  I spent probably 80 hours putting together the presentation which I was very proud of.  I was expecting a class of about a dozen or so attendees so it was going to be a pretty big deal for me.  In the end, I had three people show up for the class which was just enough to offset the purchase of equipment needed to run the slide show and book the venue.  The 80 hours spent on the presentation were all donated at that point.  To be fair, I could have prepared less and had a shorter presentation because it did go quite a bit longer than I had anticipated and practiced.  I knew that would be a possibility, but I really missed the mark and didn't have the time for the practicals that I was hoping to have.  For that, I fully claim responsibility and regret adding some of the topics and details that were discussed.  It was a learning experience for me, and I took a lot of good lessons away from that class.  I'm still not sure about doing a second class though since I had seen so much interest in the first one, to only have three people show up to take the class.
With my first classroom session out of the way, I was looking forward to getting back out into the field to do my regular workshops which have gone surprisingly well over the past year.  I ran into some difficulties with my first field workshop scheduled for late March which was going to by my Spring Waterfall Workshop.  This was going to be my first attempt at doing a waterfall workshop in the spring and I was really looking forward to it.  However, the excitement wasn't shared by other photographers as I only had one participant sign up for it.  I was all set to go forward with the workshop for the single attendee as has always been my intention in cases like this.  Then I got another blow to that workshop and found out that Hanging Rock was going to be doing a prescribed burn in the park through the first few weeks of the month which would effectively close down sections of the park for safety at different points during the month.  They were not able to tell me if they would be done by the last weekend of the month so I could not be sure of what waterfalls would be open.
I started to look at alternatives which would work for my single attendee which put us further West in the state which was fine with me, but it was hard to beat Hanging Rock for having multiple falls in a short hiking distance from each other.  We had our alternative planned out just as the Covid 19 virus was starting to really affect the US.  As the month wore on, I had to really look at things differently than I had expected to.  Granted, I wasn't going to have a large group for this workshop, but social distancing was the key phrase at this time and I was starting to think along the lines of a responsible citizen.  As I was coming to terms with the fact that I really should just cancel the workshop, I got word that Hanging Rock was closing its gates because people were not respecting the social distancing aspects of the CDC recommendations.  That was the final straw and I pulled the plug on the workshop.  The positive thing was that it only affected one person and I'm hoping that we can work something out for the follow up Fall Waterfall Workshop which will cover the same material.
Looking at my workshop schedule, my next one was scheduled towards the end of April and was going to be my Decay Workshop which has always been a lot of fun and has attracted photographers from all over to attend.  This event had seen nobody sign up for it, and I can really attribute that to the virus since historically I would have been seeing workshop sales for this starting in March which was when things were looking rather uncertain.  A few days ago, after realizing that the statewide lock down was going right up to when the workshop was scheduled, I knew that sales would be iffy, and honestly, it would be iffy to even run the workshop that close to the state opening back up for business.  Since I had nobody signed up for the workshop as of yet, I went ahead and cancelled it as well to cut my losses.
That brings me to my Spring Landscape Workshop on the Blue Ridge Parkway which was scheduled for mid May.  I already had a single participant signed up for this one so I am reluctant to call this one off.  I hope that things are back to normal by then, but at this point it is a gamble.  I will leave this one open and hope that I can fill some more slots, but am having a hard time thinking that promoting it now will be beneficial.  I do know that if I can, I will conduct the workshop for the single participant even if it will be at a loss for me financially.  This workshop is usually around 10 hours long, plus quite a bit of driving to get there and move around.  A single ticket sold for this workshop doesn't begin to cover my time and materials involved, but I can't put forth a lot of effort to sell tickets at this point with the very real possibility that I might have to cancel if the spread of the virus can't be contained by then.
On my other earning fronts, my affiliate partnerships with Amazon and B&H Photo have pretty much stagnated with nothing happening there.  Singh-Ray is my one affiliate relationship which is still doing well.  I was able to do my second webinar with them in late February which went very well.  The topic was "Shooting Local" which I'm actually getting quite a bit of mileage out of since writing about the topic originally here in my Behind the Camera series.  Singh-Ray continues to support my workshops as well with the filter kit that they have provided in order to have demo filters available to try out.  I very much value being able to work with Singh-Ray and continue to look forward to the future with them.
Something else that is in the works that has come up this quarter is working with the Special Olympics to create a calendar for them to distribute to raise funds.  The concept will be an automotive calendar featuring local vehicles found at various local car shows.  The planning for this took place early in the year and we should have been starting the contacts for the featured cars by this point, but with the virus taken into consideration that has been put on hold until things settle down.  I'm really wondering if the project will get off the ground this year with this delay at a very crucial time.
I had mentioned previously that I was starting to get into portraits with my last update as a source of income to help pad that bottom line.  It had started out fantastically with two shoots back to back.  However, largely as expected, this quarter has been very slow when it comes to portraits.  I was expecting it to start picking up right about now with Spring in the air.  However, at this point portraits are all selfies made with a 6-foot selfie stick.  There are no portrait sessions going on right now anywhere I would suspect so there is no surprise that I don't have any lined up.
So, how are the numbers looking for me this quarter.  I've taken about a $6,000.00 hit compared to last quarter in terms of gross income.  That is not due to anything in particular, but the lack of wholesale clients through the quarter has been felt here as well as the low attendance to my classroom workshop.  The canceled Waterfall Workshop has affected me more than anything I think along with the sales of tickets for the now canceled Decay Workshop.  Fortunately though, I haven't had nearly the expenses involved for this quarter so my net profits are within a hundred dollars from last quarter.  I'm always looking for a silver lining, and the fact that this quarter has been dismal as expected but yet I still saw a small profit is encouraging.  It is far from where I need to be, but at a time when many local businesses are in real financial trouble I consider myself fortunate to have turned a profit at all.  However, to put it into perspective, I am still looking at this as photography only and am not considering my living expenses which I really should be considering with this being my full time source of income.  I'm nowhere near being able to live off of photography at this point and am still living off of savings.
So, where does that leave us for the next quarter?  I wish I knew the answer to that.  The last couple of weeks of March have brought concerns that have never really entered into my equations before.  With the state on full lock down, along with the rest of the country, and even the world for the foreseeable future, there are several things that will result here.  First of all, my workshops will all be put on hold until things can get back to normal.  I am working on figuring out how to do virtual workshops and classes from home, but that is not all that easy for me and I'm having to lean on my techy friends to figure that part out.  During the learning process, I will doubtfully charge for access to these sessions so that will not really affect my bottom line at all.  Print sales will be down without a doubt as many folks are not getting a paycheck during this time.  The art gallery sales will likely be unaffected, but I haven't been seeing much out of them for a while now so I don't expect that to change any time soon.
What was supposed to be one of my best quarters to date is looking almost as barren as this past quarter and depending on how long the social distancing/quarantining goes, it will surely be much worse.  Something else that I must consider during this time is that my portfolio will suffer as I am not able to get out for the sake of photography much at all at this point.  While I can still "technically" get out as long as I stay away from other people, there are very few places open that I can photograph.  The parks that I like are all closed down.  I could go to the Blue Ridge Parkway, but they are having to systematically close that as well because of all of the crowds that are flocking there.  I could do my rural photography, but so much of that includes knocking on doors and getting permission.  With all of these stipulations to the experience, I am better off just staying here at home and getting projects done around the house.  It feels good to be a responsible citizen, but at the same time, I am wondering what the impact will be down the road as my gallery won't be updated nearly as often as it has been in the past.  At least I do have a sizable portfolio and I am not trying to round out the rooms as I have been doing for the last few years.
It goes without saying that we are all in uncharted territory here.  Nobody knows what is going to happen, but I'm very happy that I have my police experience behind me to know how the world works at times like this.  I know that while this is not a good situation on any level, it is one that will pass and is being made out to be much worse than it is to sell ad space with the various media sources.  The solution is simple, and if folks would heed the warnings and do the self isolations then we could get a handle on this virus sooner than later.  How long that takes will fall on voluntary compliance from citizens across the world.  I'm doing my part while watching my photography dreams fade away in the hopes that I will be able to recover the momentum that has been lost for the next two quarters which will bring me to a full year as a full time photographer.  I wish I could go into these next two quarters with the same gusto that I had during the Summer of 2019 when I was gearing up to leave my career.  Everything was falling into place just as it needed to then, but since that point I have not seen the growth that I had anticipated.
My goals for the next quarter will be to try and break away from being a social media photographer and start focusing on the print more than the likes and shares across Facebook and Instagram.  While online accolades are nice, they don't pay the bills and I'm really needing to step up my game over the next few months as I am needing to upgrade my equipment which is now almost seven years old and limited in terms of size output.  One of my camera options will be delayed in being released due to the virus which is good for me I guess.  It will likely be in late Summer or early Fall when the Canon R5 is available for sale.  I'm also looking closely at the predicted R3 which will be a high resolution still image maker which is what I am more interested in than an all around camera with great video specs.  However, I have decided that if my income from photography can't support switching to the new Canon mirrorless system then I don't need to be doing it.  I'm at that stage in my photography where I have to look at what money the camera brings in when it comes to investing money to further my craft.
If you are interested in helping me out, I'm not looking for charity, but consider ordering a print of your favorite image.  You get something out of the deal by adding a beautiful scene to your walls, and you will support my art and ensure that I will be able to continue producing more photography.  I can't maintain my investment of time and effort, not to mention personal money for the sole purpose of posting to social media.  That has always been a means to an end, but it has tuned into the last place that many of my photos are appreciated and I have never wanted that for my images.  They deserve to be held and appreciated in their tangible form.
Thank you for joining me for this installment of my Behind the Camera feature.  I wish that it was more upbeat but this has been a rough quarter for me on many different fronts including several personal and family issues that have popped up.  I am continuing with my plans for the rest of my first year as a full time photographer and hope that by the first of July, I have some better news to share with you as that will be my third quarter update.  Keep your fingers crossed and consider bringing my art into your homes.