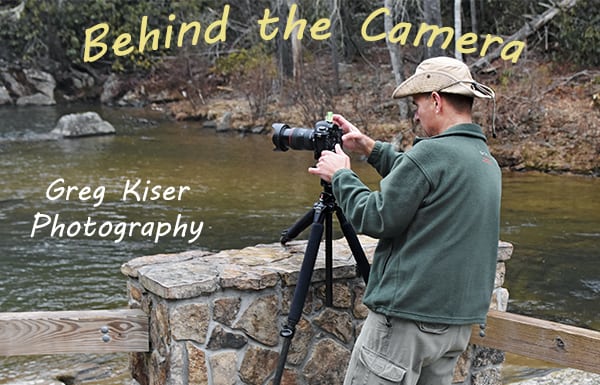 Welcome back to another installment of my monthly Behind the Camera feature.  If you are new here, this is a feature that I do that focuses more on my thoughts rather than my images and specific adventures.  I will typically take a question that has come up during the previous month and really delve into the answer.  Other times, I will just talk about what is on my mind at the time.  Photography is such an interesting art form because of all of the back story that happens in order to get the images.  The pure nature of photography is that we have to go where the images are at the time that they are photo worthy.  That leads to many ups and downs behind the images.  When we look at the pictures photographers create, it is very easy to come away thinking that they snapped a great picture of whatever the subject is and that's that.  It is in these features, as well as my regular blog entries that I want to dispel that myth bit by bit.  Every image that a photographer shoots is dependent on so many factors outside of their control as to whether or not it will be a successful image.  That leads to so much frustration in this field as well as a lot of time sitting and waiting for something to happen.  You can only imagine how difficult photography becomes when you are traveling a long distance for a finite amount of time when you are expecting to capture the hero images from iconic locations.
That is where this entry will come into play.  Sure, I do my fair share of traveling for my photographs.  I might not go out of the country, but I have been out of state several times and have plans for more travel in the near future.  That is not where I get my favorite images though, although I have gotten lucky a time or two in my travels.  There are two things really working against a photographer in these situations though.  First of all, you are rarely familiar with the territory so your only planning comes from researching on the computer.  This is very handy, and the likes of Ansel Adams never had that opportunity.  It is not perfect though, and will only give you the idea of how to shoot something.  Plus, you can only get the general location based on other pictures that you have seen.  This leads you to capture the same subjects as so many other photographers before and after you.  Again, this is not terrible, but it will narrow the scope of your activities.
On the other hand, you also will have to plan these types of trips well in advance, and even if you are lucky enough to be able to stay for a week at this locations, the amount of weather patterns that will occur are going to be limited.  Thinking back over the last week here, there has been only a single day that would have produced good images for more than just a few minutes in the morning and evening.  The chances of finding the right weather conditions at a destination shoot are left up to pure luck and chance.  Sometimes it will pay off, other times it won't.  This is the problem that I am facing with planning my workshops.  There is no way to guess the weather months in advance, so I just have to throw the proverbial dart at the board and hope for the best.
This is an example of one of those shots where I got really lucky on a destination shoot.  I had gone to Alaska for 11 days and found this scene off of Hwy 1 as I was heading to to the island of Homer.  The light was perfect on the mountains and the clouds were amazing.  This was just one of the handful of shots that I got which were representative of what I was looking for during my stay in Alaska.  Most of the images were decent, but not overly special.  In short, this was the exception to the rule for destination photography trips.  I am sure that there were other locations to shoot this from, but I wasn't familiar enough with the area to be able to take advantage of any other locations.  I just had to go with what I saw off of the road at the time.  I had the right weather, and I was able to react to it which was the saving grace for this image.
Obviously, traveling 4000 miles away for a single image is a little crazy.  Add to that, I actually made the trip with a fairly new camera, my first DSLR after shooting point and shoot cameras for a few years.  Honestly, I am really surprised that I made it home with any images at all.  There has to be a better way to do this photography thing!  What if your schedule only allows you a few hours here and there to go out with a camera.  Should you wait until you have a vacation from work?  Should you wait until you are retired?  Do you really have to commit to a destination trip for your photography so you can capture those hero images you have always wanted?  Not at all…In fact, you are probably much better able to find your favorite images much closer to home with a lot less time and effort invested.  As an added bonus, you will get better conditions for your images as well as knowing the area much better.  I'm quite serious about this.  A photographer's bread and butter should always be what is close to where they live.
By sticking close to home, you have the opportunity to find subjects during your commutes, and while running errands.  You can visit them again and again to determine the best times to photograph them, and then when the weather strikes, you can be there in just a few minutes ready to go.  It streamlines the process and allows you to concentrate on a previsualization that you just aren't afforded when you have to travel thousands of miles to get to your subject.  Obviously, there is a place for both types of photography, but you just don't have to live under the assumption that you have to travel to get great images.  I hope to prove that to you with this Behind the Camera.
Walking Distance From Home
To really drive my point home, lets start with the ultimate in close to home.  This old house is only a mile (1.1 to be exact) from my front door.  I have shot it many times over the years.  It is not an easy composition because of power lines and other houses nearby, but having been here so many times, I know where to stand to get the right shot.  I also know what kind of clouds will look best as well as the time of year when the surrounding elements look right.  In the times that I have shot this image, I have found that the old white boards seem to be the brightest part of the image which takes away from the age of the wood.  As I thought about that problem, instead of muddying the siding in post processing to darken it a tad, I opted to wait until there was a coating of snow on the ground which would be more or less pure white and brighter than the house.  This would fix the exposure issue I was having with the siding and show the textures and age much better.  I also knew that the trees would be bare putting more of an emphasis on the sky.  This would mean that I would need some puffy clouds above, but I still needed a blue sky to show the coolness of the scene and to give some color balance to the image.  I was hoping for the majority of the image to be basically white and a cloudy day would have just continued that and left me with a relatively boring image.  I also knew that the aged wood would appear slightly warm against the fresh snow and then there was the bricks of the chimney that would bring more warmth to the image.  I needed that blue in the sky to balance it all out, but just not too much blue.
On this particular day, I woke up to a basically overcast day with very little interest in the sky.  However, shortly after waking up, the clouds started to break apart which I wasn't expecting.  I grabbed my gear knowing that this would be the time to get the image I had been after of the old homestead.  It didn't take long to get up the road and into position.  The clouds were right, and the light was perfect on the house with some added warmth from the low sun to the East.  In about 30 minutes I had the image that I had been after for quite some time, and hadn't even planned on going anywhere that morning.  This is the benefit to knowing the area and being able to react quickly to conditions.  I do this a lot with areas that are close by the house.  I keep a watch on the conditions outside and if I see something developing that will work with a particular scene, I can get there quickly and take full advantage of it.
Trying New Things Without a Major Time Commitment
When it comes to trying out new things, the last thing you want to do is travel hundreds or thousands of miles without knowing that you really know what you are doing.  That was the case with my recent foray into the concrete jungle.  I wanted to try some fine art architectural photography with the tall buildings downtown.  Winston Salem's downtown is not all that fantastic when it comes to architecture, but it does have some interesting buildings.  More importantly though, it is about 10 minutes from home and is on the way to several places that I go regularly.  It was nothing for me to stop off here one weekend morning and start experimenting with things.  I spent an hour or so  covering a couple of blocks where I knew that there was some interest for me.  Had it not worked out, I wouldn't have been out much at all.
It also helped that I had an idea of what I was going to get into before I went there.  I had driven through the area many times and I had been looking for potential compositions.  I knew the conditions that I wanted to have, and when the sky lined up with what I was after, I was able to be there in a matter of minutes and knew right where to go.  This is the benefit of shooting near home.  It might not be the Sydney Opera House, or some other amazing structure, but the techniques are going to be very similar.  Always learn your skills with a minimum of investment because you are not guaranteed to like the results.  Nothing hurts a photographer more than dedicating a full day to something only to realize that they should have done this or that different and all of their images are trashed.
There is an art gallery building in downtown Roanoke, VA, that I am working on photographing right now. I have only seen it twice before when going up to Natural Bridge with Toni a couple of months ago.  Since then, the shapes of the building have really captivated me.  Making a trip into downtown Winston Salem was much easier to stomach to learn some new techniques when compared to a two hour ride North to try something completely new.  I now had a good handle on the techniques involved, and some of the things that I will need in place to make the images work.  I have taken that knowledge and put it to use at the Taubman Museum of Art, just a matter of days ago (actually the day after writing this entry originally).  Not only was I able to use the techniques that I learned just down the road, I was able to expand on that with some different ideas.
By working the kinks out of the process close to home, I was able to really knock the images out of the park two hours away.  That is the true benefit to learning new things close to home.  That is why I do my workshops at areas that anyone can get to at any time.  Sure, epic destinations would be fantastic, but what is the sense of learning new things on a once in a lifetime trip?
Weather Reports are Hit and Miss, Take Chances Close to Home
This barn is about 15 minutes from home and I have shot it many times in all different sorts of lighting.  One of the visions I have had for it was a sunrise shot with the sun rising behind of it with the clouds lighting up above.  I have tried this many times over the years without success.  I was looking for a very specific set of conditions for this particular image and every time I went out there the conditions didn't meet up with my needs.  Can you imagine how frustrated I would be if I was traveling an hour away for something so specific that never materialized?  The fact that the travel time was pretty much removed from the equation meant that I could try it pretty much any time I wanted to, even before going to work in some cases.  It also meant that I didn't really mind if no images resulted (which was largely the case) since I had very little time invested in it.
I found myself going out to this barn on days when there was a chance for a good sunrise, but there were conflicting reports.  I save the hour and a half trip to the mountains for the "sure thing" sunrises most of the time.  The flip a coin weather reports I tend to stick closer to home in case nothing happens.  When I woke up on this particular morning the weather report was still leaning towards decent conditions, but the sunrise forecast wasn't all that promising.  With a mixed bag of clouds for the day, I was planning on doing a rural road trip, and figured that I would start with the barn that I had previsualized so many times over the years just in case the sky lit up.  If it didn't, I would be fine with that.
Actually, as the sun got closer to the horizon I was thinking that this would be another dud.  I stuck it out though since I was just going to be wandering around later in the morning anyway.  As it turned out, the gamble paid off finally and I got one of the best sunrises I have seen in a while in my neck of the woods.  Since I had been able to put so much thought into the image and how it was going to be captured, I was able to work out the exposure and compositions very quickly to take advantage of the light.  Being intimately familiar with this scene allowed me react quickly to capture the image that I have had in mind so many times before.
Another benefit shown here by sticking close to home is that you will find great subjects hidden from the rest of the world.  This barn is not on a major road, but on a dead end street.  You can't see it unless you pull off of the main road and travel about 100 feet down the side road.  This is not always the easiest thing to do when you are traveling as there are just too many side roads to be able to hit them all.  This barn is located in an area where there is a lot of new construction and even a school.  It is not on a road that I would typically drive down in search of an image, but since it was this close to home, I have used that to my advantage to explore all the little side streets over the years.  This allows me to create images of subjects that I don't think get photographed often, or even at all.  Unique images are more important to me than shooting the same scenes that have been shot time and time again.
Morning Commutes Can Turn Into Images
Yeah, like most everyone else, I have a morning commute to get to my job.  I hate that commute as it is so boring and repetitive.  I get a little variety in my life when I am taking Sierra to school though.  When I do that, my commute moves off of the highway and redirects through Kernersville, NC, as the quickest route to get to my day job.  For the most part, it is pretty normal, but there are a couple of things that I pass by which are still very close to the house which I have seen plenty of times over the years.  However, going by them several times a week starts to get my mind going as to how I might be able to photograph them.  I have to do something in the 30 minutes I'm driving, might as well be happy thoughts.
This particular building is located right in downtown Kernersville.  I have driven by it, and even ridden a bicycle past it more times than I care to count.  However, driving by it in the morning allowed me to see how the light played on the face of the building.  I could also see what effects the tree had to the rear with and without leaves.  It really started to spark my imagination and I started to put together an image of it in my head.  I had never once trained a camera on it and hadn't really put much thought into it up until now.  I had no direct plans to shoot it, but I knew the conditions that would work for it should I ever decide to photograph it.
As it turned out, I was out in the area with the camera searching for something to shoot one day during the winter.  The conditions were developing like what I had previsualized with the building.  The sun was out to the East and there were clouds covering pretty much everything else.  I could see sunlight would possibly be hitting the front of the building which was instrumental to the image that I had in mind.  I knew that the tree behind the building would be bare, and the clouds would add interest to the sky.  I had a general idea of how I wanted to shoot it, but hadn't really worked out exactly where I would be setting up.
Being very familiar with this subject allowed me to pick the right time to try and photograph it.  I had a general idea of how the image should look, so it was just a matter of getting out there and finding where to shoot the image from.  It only took a few minutes to get there, and then I had some time to find that proper vantage point which I was able to do from across the street.  The first time I actually shot this location I nailed the image that I had in my mind.  This would not have been possible had I just come across it in my travels and shot it right then.  Well, it might have been, but the chances of that are very slim.  I had probably dedicated three hours or more in thought to this subject before I even brought a camera to the party.  By the time I was ready to shoot it, I had all the hard work done with the composition.  This is a real benefit in using your regular commuting routes to come up with great images.  Pay attention to what you are driving past and it will pay off big down the road as this image did for me.
Being Able to Get the Shot When you Aren't Even Trying
What about those times when you are content with staying at home and relaxing?  Yeah, I have those times occasionally.  This particular day I was sitting in my office watching Youtube videos about photography while it was raining outside.  I had no intention at all of going out and taking any pictures…it was raining after all.  However, some interesting forces started to come together.  I was watching a video about photographing in less than ideal conditions and using long exposures.  As I was watching, I could see out of the office window that the rain was stopping and the clouds were actually getting rather interesting.  I still wan't planning on going out with the camera, but the more I watched the video, the more guilty I became because if he could go out in lousy conditions, why couldn't I go out when the sky was starting to look really good?  The real dilemma was choosing where to go in order to take advantage of the sky?
Well, I had been watching about photography around lakes, and I was about 20 minutes away from Salem Lake which I had shot before.  I knew what kind of compositions I had at the marina, and figured that I could get something to work out well under the clouds.  I grabbed my gear and headed that way.  It was a good thing that I was close because the clouds were continuously breaking up and when I got there they were almost gone.  I went with the compositions that I had in mind which saved me some time and went with a series of long exposures in order to take advantage of the remaining clouds as they moved across the sky.
I was actually making images here probably less than 40 minutes from getting the thought that I should probably go out and shoot.  Most of my images represent hours of work before the first exposure.  Since I was shooting close to home, I was getting images that would turn out to be rather incredible with really no investment of time.  Having a bunch of locations close by gives you so much flexibility to react when the weather changes unexpectedly.  The forecast was still showing overcast and rain when I was shooting this, so there would have been no way to predict this and to travel any real distance in order to capture these scenes.  It was all because I could look out of my window and see the conditions developing that allowed me to react.  Being able to be in the field capturing images within minutes allowed me to take advantage of what I was seeing unfold.
Staying Close Allows You to be Able to Capture Images After Work
There are times when those of us that have to have jobs outside of photography really want to capture images, but work gets in the way.  During the shorter days of the year you don't have much time to travel anywhere to get images.  This is another advantage of having some locations close to home that you can lean on.  In the case of this image, I was wanting to get out after work and shoot some Autumnal images at Old Salem.  This happens to be about 5 miles from my house, so it was nothing at all to stop here on the way home after I got off of work.  I only had a short time to take advantage of the remaining light of the day which meant that I couldn't travel far at all.  Having something like Old Salem so close to the house allowed me to spend a couple of hours out there to take advantage of the Golden Hour and also the Blue Hour.
This image was one of the more dramatic from the evening and it took place after the sun set.  I was actually thinking that the sky would render as nearly black when I was shooting it.  By going with a longer shutter speed, I was able to pick up color and definition in the sky that I really couldn't see with my own eyes.  Had it not been for a place like this close by, I would not have been out shooting this particular sky and would not have realized just how effective my old camera was at capturing details that my eyes would miss.  It was on this short trek to Old Salem that I learned a technique that I still use to this day in order to bring dramatic skies to images from time to time.  This close by location not only yielded a great image, but also a valuable lesson in my photography.
You Can Spot Subtle Differences in Your Subject Matter
There are times that you see something that you really want to shoot, but it just isn't quite to that point in how it looks just yet.  If you were hundreds of miles from home, you had better go ahead and capture the image since you will not likely be back for a while.  On the other hand, those areas that are 10 miles from home are much easier to casually look at when you are out and about.  Case in point is this old Buick stashed away in an open face barn.  It is not far from home, but it has been covered by the tarp for many years.  Not exactly the stuff of great images, but I knew that it had potential with the tarp moved.  Sure, I could have moved the tarp, but that would go against everything that I believe in as a photographer, and a respectful neighbor.  I just patiently waited to see if anything changed with this scene.  It took several years, but I finally drove by it one day and was stopping to shoot some trucks behind the barn, but realized that the tarp had blown off of the car.  This was the subtle change that I needed to happen in order to make the image work.  Having this subject close to home allowed me the ability to capture it in an amazing way after years of knowing it was there, and having actually forgotten about it since it had stayed covered up for so long.
You just can't underestimate the value of having places to shoot that are close by home.  Sure, we all want to travel and get amazing images, but the roots of those amazing images come from the lessons we learn when we go to the local spots over and over again.  That gives us the tools that we need to take the full advantage of our adventures to places far and wide.  If you are a photographer, I would strongly suggest that you spend a lot of your time close to home.  You will be more familiar with those areas and can shoot them in many different conditions.  I dare say you will also find yourself with images that just aren't seen everywhere online.  That will make you a very unique photographer among a huge peer group.
Don't be afraid of building a portfolio of "local" images either.  Even if you are not in the most picturesque location, there are certain areas which you will learn to photograph very well in time.  Those images will become more valuable to your audience in your area as well.  I'm finding that out more and more this year.  I have had more sales of images this year based on the fact that I am a North Carolina Photographer than any other factor.  I've been dealing with two different art galleries locally because of this fact.  Businesses like putting up local flavor to appeal to their clients and show off the state where they are based.  Both Hampton House Art and Framing in Winston-Salem and King, as well as The Art Shop in Greensboro have been keeping me busy because of my local appeal.
Don't be afraid to think small when it comes to your photography.  You don't have to go to epic locations to get epic images.  You only need epic conditions for epic photos.  If you keep your eyes out and are able to react to those epic conditions quickly, you are well ahead of the game.  Travel has its place, but unless you are extremely lucky, you won't get those epic conditions on a single visit to a location.  It will usually take many times to get the images that you want.  Do you want to spend a ton of money in travel, as well as time to get these images, or would you rather be able to get the same epicness for a fraction of the time and expense?  I thought so.
When travel does happen, you will be much better able to read the light and react quickly when you find that right location.  Every time you capture an image you are learning about yourself and your gear.  You might not realize it at the time, but ideally after hundreds and thousands of exposures close to home, you will be able to spot a scene off of Hwy 1 in Alaska and react to it quickly.  You will get the epic images when you travel because you have gotten so good at finding the epic images at home.
Thank you for joining me in another episode of Behind the Camera.  Be sure to join me next month as I make a very important announcement that will have a pretty big impact on my photography in the future.  You won't want to miss this one.  Until next month, enjoy the beauty that is around us all, near and far.