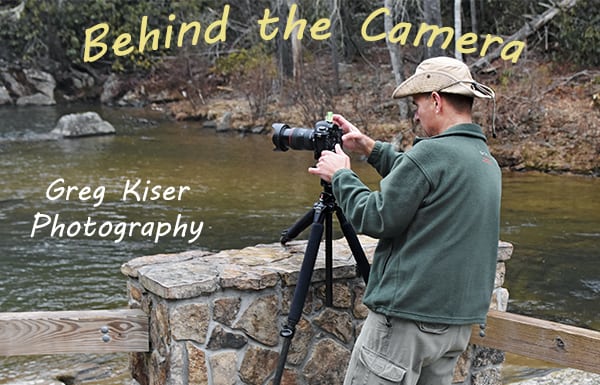 Welcome back for another installment of my monthly Behind the Camera feature.  It is here that I will usually take a question that has come up which deserves more than just a comment in return, or I will use it as a platform to discuss something that has been on my mind recently.  This month, I am going to use it to make an announcement.  I think that the last time I made an announcement here was two years ago when I officially announced I was going full time as a photographer.  That is still probably the biggest news that I have ever had to share here and will likely always hold that title.  However, there are things that happen along the way which I also feel warrant a bit of a special moment here.  That is what we are going to talk about this month.
When I set out to go full time as a photographer, my business model was pretty simple.  I was going to focus on doing my landscape and decay photography with the intent of selling prints to both wholesale and retail clients.  I was also going to spend a lot of time teaching the craft through workshops and eventually individual instruction.  There were going to be affiliate programs which would bring in some extra income as well.  In short, I had a lot of different ways of bringing in enough money to keep me afloat through my photography.  I was actually on track to see that happen as the second half of 2019 was rolling along.  Everything was going well, and I was right on track for where I imagined I would be.  I'm sure that many new small businesses shared my excitement for the future which were starting up around the same time.  I'm sure you are all aware of what happened in the early months of 2020 though.  With COVID-19 quite literally taking the world by storm, there was no way to know just what kind of effect the pandemic would have on pretty much all aspects of life as we knew it.
Looking back, we all know what has happened with the lockdowns, loss of jobs, businesses having to close the doors, and pretty much the end of the economy that we used to know.  Inflation is now the buzz word and businesses are struggling; whether it be getting products to the consumers, staffing positions, or getting the raw materials from vendors that can't keep up with production.  We are living in a world that is completely opposite from what the United States has always been about.  That has affected large and small businesses alike and it would be silly to think that it didn't affect me as a photographer as well.  In the now two years that I have been a full time photographer, I have seen my workshop attendance drop from half a dozen participants per workshop down to just a pair, and in some cases just a single participant…and those are the ones that weren't cancelled due to no interest at all.  My individual instruction sessions are few and far between thanks to the ongoing mask mandates and social distancing.  Print sales are down and continuing to drop through most of 2021, even though I started the year out very strong.  In short, my income streams are drying up and they are starting to force my hand.
I had seen this coming at the end of my first year as a full time photographer, and even said that as a "business" this venture has failed.  In the back of my mind I really thought that things would start to come around as restrictions would ease up with the pandemic scares fading.  That kind of started to happen this year, but then the Delta Variant hit and we were right back to where we started and everything ground to a halt.  I was left with some hard decisions.  I could just keep struggling on and producing content for social media while getting paid with likes and shares, or I could adapt and evolve which has always been in my back pocket.
I chose the latter and decided to delve further into people photography which was something that I used to do primarily at Toni's request.  She had gotten me into doing portraiture and family pictures more than a decade ago.  That is her cup of tea, and she really enjoys the subject matter.  For me, an introvert, it was always a very scary activity and quite stressful.  Add to that, the human element which was now the main subject in my photographs.  I've said it for many years now….."a tree will never complain about how it looks in a photograph."  Photographing people meant that I had to create images that not only I liked, but that my subjects liked as well.  Then came the business end of it, which to be fair, I had overly complicated.  I would charge a sitting fee, and then sell the prints on top of everything else.  It was ala cart so that you only got what you wanted with the hopes of keeping the prices down and the printing manageable for me.  That translated into getting paid for the sitting fee and then seeing my clients posting the proofs on social media, but never to buy the prints.  I know that they were the proofs because there would be a watermarked stamp across the front of the images that I added to keep that from happening.  Essentially, for the cost of a sitting fee, they were getting the images that they wanted.  They just wanted to share them on social media anyway.  I saw portraiture as a way to lose money and time in photography and not even have the end results appreciated as I was hoping for.  To put it mildly, I had a very sour taste in my mouth from that experience.
That eventually brought me to the end of my people photography days and I chose to stick with my inanimate subjects and create photographs that would be wanted as prints which I could then sell.  It was a much slower way of doing photography as a business, but one that I was much more comfortable with.  It was a simple thing to go out and capture something that I loved and then wait for somebody else to love it.  That was how I functioned for many years with varying levels of success.  However, as our kids grew up and started to reach milestones, Toni started to throw my hat back into the people photography realm.  When our middle daughter graduated ECU I got tagged to do the graduation photo shoot and while I was very nervous about it, it came out quite well.  So well in fact, when a coworker of mine asked me to do his daughter's senior photos from high school, I actually agreed to do that as well.  That session went pretty well and I learned a lot more about how this type of photography went.  It was also the first time that I tried a new business model which I had seen through another photographer I had met recently.  The model was simple and consisted of a flat fee for his services, within reason.  For that one price, you would get the session and then digital copies of the edited images which were the best from the session.  There would be a license attached to the images so that the client could have them printed in whatever way that they wanted.  It was simple and elegant, but more importantly it got me out of that trap of waiting to sell prints to make enough money to justify my time.  That was how I handled my first paid portrait shoot in over 10 years and it went fantastically from a business perspective.
With two recent successful portrait shoots under my belt, I started to think about doing them officially once again.  Of course Toni was happy with that thought, but I knew that I wasn't quite ready to make that leap.  There was still way too much that I needed to learn.  I was hoping that I would get a few more jobs booked on the heels of those two to learn more about this, but that never happened.  I was now dealing with the ramifications of always being quick to say that I don't do people pictures.  For years, that was my response when asked and that message had gotten around.  The pandemic happened during this time as well which pretty much ensured that I wasn't going to be doing anything else with people pictures so I pretty much shelved the idea.  It wasn't what I was looking to do anyway, so there was no harm in that at all.  It allowed me the time and energy to focus on my landscape and decay work.
I almost forgot about doing portraiture because things were going so well with the photography that I had become known for.  That, however,  has changed during this last quarter as I have mentioned.  My income streams have all but dried up.  I had some profits squirrelled away since I had started this full time venture.  It wasn't much, but there was enough there to gamble with.  I knew from my experience with portraits earlier on that I was way out of my depth when it came to my gear.  Everything that I had available to me was pretty much purpose driven for landscape work.  I had a single speedlite with a remote transmitter and a reflector.  That was all that I had for portraiture.  While it was enough to get me by for the little bit that I was doing, if I was actually going to put it out there that I did portraits, then I was going to have to be much better prepared to capture the photographs that people were expecting.  I was going to need a little bit more than what I had, but I didn't want to just throw money at this and hope that I got the right stuff.  I needed to figure out what I actually needed in order to get this off the ground.
Fortunately, out of the blue, I was contacted by an acquaintance from Greensboro who needed a couple of portraits done.  She knew I was a photographer and reached out to me.  My first inclination was to respond that I don't do people pictures, but I caught myself.  This could be the opportunity that I was looking for to see what I needed to make life easier for me.  I took the job, although I probably should have set the expectations a little different.  I went out there with my bag of camera gear as well as my one flash and flash trigger.  I had my 5-in-1 reflector with me and I just hoped for the best.
Well, I wasn't just hoping for the best here.  I had done a lot of research on how to do portraits with this kind of bare bones gear.  Surprisingly, there was a lot that I could do with this and I got reasonably proficient with the techniques.  Of course, all of that got thrown out the window when I arrived, as the working area she wanted to use was basically a hallway.  Everything that I was prepared to do in order to get the softest and most flattering light possible required twice the room at least.  I had to figure things out quickly as I worked through the situation.  I managed to get it worked out using a bare flash and a reflector opposite of the flash.  It wasn't ideal, but it had worked.  More importantly, I had a much better idea of what I was going to need to go forward.
I made my first order through B&H which upped my game to a dual flash setup by adding another Canon speedlite to the mix.  For the two lights, I wanted to get umbrellas with diffusion panels so I opted for a pair of softlighters that were compatible with my speedlites.  Of course, there was no way I was going to be able to suspend them from the sky so I had to get a couple of stands for them as well with cold shoe mounts.  Because I had been looking at grabbing Strobistrips for another project idea that I had, I went ahead and got two of them as well.  With that order in, I was feeling pretty accomplished because I was going to have my lighting set up pretty much in order.  That wasn't too bad.  But wait a minute…I could light the subject, but what about background?  Yeah, I was going to need a background for portraits in case I was doing more indoor shots like I had in Greensboro.  After a bunch of research I found that gray was going to be my best bet for a background and I opted for a large collapsible backdrop from Kate with gray on one side and black on the other.  Both were textured and looked like a painted backdrop so that would give me some options.
I was now all set to do portraits as a side gig to my normal photography so I reached out to a client of mine that had expressed interest in having a headshot done for work.  When I spoke with her initially, she wasn't really wanting to do it and was hoping that the request from her employer would fade away.  I had said that I would potentially be able to do it, but that it would make more sense for a photographer closer to her to get the picture since she was in High Point.  I gave her some names and that was that.  Not long after that that I was much better set up for headshots, I contacted her once again and said that if she was still in need, I was game as long as she was fine putting up with me figuring it all out as we went along.  She agreed and we set a date.  I was expecting things to be quite unorganized so I set things up the night before and did a bunch of test shots on a small statue that I have.  Once I had the light roughly figured out, I had Toni come down and I double checked things on a live subject.  I probably spent a collective two hours getting things all figured out beforehand, but it all paid off in the end.  I just had some very small fine tuning to be done when my client showed up and we were done with two headshots and two outfits in just about 30 minutes.  I was stoked and was really thinking that I could do this portrait thing.
I had the final digital images in her mailbox about the time that she got home and she was thrilled with them and expressed that she almost enjoyed the experience.  She really did enjoy it, but she hated to have her photograph done.  I guess that means I wasn't too bad of a photographer.  It was a quick session, but I learned so much from it and I found out some areas where I needed some more gear to fill in some holes.  First and foremost, I needed to have another reflector because my one large one was used as a fill light while my second flash was used as a kicker light.  The new smaller reflector was going to be for a bit of fill from underneath my subject's face which I found was something that I was needing potentially.  It was cheap and reflectors are a good thing to have.  I also found that propping the background up on the wall was a bit restrictive in terms of where my hair light had to be positioned, so I bought a stand for my collapsible backdrop.
One of the best purchases that I made during this time was four books from Amazon on portraiture.  You can see my recommended reading at the bottom of my Gear Page for the titles and I've added these specific books at the bottom of this entry.  These books were great learning tools and they gave me a lot more insight into what I was doing and how I could control my results better.  One thing that I figured out from the books was that the bar stool (with back) from the kitchen was not the best posing prop that I could use.  The back gives the subject an excuse for poor posture so I wanted a basic stool to sit on.  I found one on Amazon that came with a posing table which I had read would be a beneficial thing as well.  I wasn't quite done with the ordering just yet.  Seeing a lot of benefit to using a snoot as a hair light or even a background spotlight I decided to get a Bowens compatible snoot along with a Godox S2 speedligt bracket so that I could work the snoot with my speedlites.  The snoot came with a few gels and that got me thinking about using gels on my flashes.  I found a cheap kit from Rogue that would allow me some creativity with the flashes.  The books were really giving me a lot of ideas of things that I could do relatively easily in the studio.
I had to be all set up at this point.  I had two lights, modifiers and even gels.  I had stands and backdrops.  What else could I need?  Well, there is always something else.  I had started to read about using flash to balance ambient light and found that a speedlite just wasn't the way to go for using a flash outdoors unless the light was getting dim.  I wanted to be able to bring in fill light while still capturing ambient light so I was needing to boost my power with the flashes.  The studio strobes and monolights were all just so expensive and that had scared me away from going in that direction.  I was also now heavily invested in the Canon flashes which kind of made it difficult to look for a third party strobe.  A little research introduced me to the Phottix Indra500LC which was a 500 watt second strobe which was fully compatible with the Canon speedlite system with the Odin receiver built into the flash.  That appealed to me on a lot of different levels, but it was around $1200 for just one light.  I could almost justify that expense in the name of a three light setup with the big one being my key light, but that price was just very high to deal with since I was trying to keep the costs down as much as possible.  I started to consider mounting multiple speedlites which I found would increase the power output, but it was a clunky setup and the cumulative price would be higher than a studio strobe.  However, if I went used, I could save a ton of money.  I started to do research on that end and found a guy selling three of the higher end speedlites similar to what I had started with.  The price was about what a new one would cost and the wear on them was minimal.  For $700ish dollars I was going to have about a stop and a half more light than just a single flash.  It was still going to be a slow system as speedlites need time to recycle between flashes.  I was also concerned about all of the AA batteries I would be going through.  I made a last visit to B&H to see what they had in used flashes as a comparison and saw in my wishlist that the price on the Phottix strobe had dropped…quite significantly in fact.  For $650, I would have a much more powerful flash that was capable of overpowering the sun if needed.  It would be totally compatible with my Canon flashes and was just about what a new speedlite would cost.  How could I go wrong?  It also used the Bowens mount for modifiers so finding accessories for it would be simple since I had already started with that mounting system for my speedlites.
I ordered that light as well as a beefier stand to support it.  While I was at it, I wanted to get a softbox for this light so I opted for an Angler deep parabolic softbox which came with a free grid.  I also decided that I wanted the ability to do low key portraits as well as high key so I was wanting to get the basic black and white backgrounds as well.  I went back to Kate for another collapsible backdrop that had both of those colors.  I think it was at this point I was really starting to question if I needed help for my newly diagnosed GAS (Gear Acquisition Syndrome).  I knew that I was making mindful choices and hopefully logical ones that would help me in my portraiture.
By this point I was well aware that I was spending money like there was no tomorrow and I was needing to get some practical use out of my purchases to evaluate just how smart I was being about my purchases.  I started to reach out to friends and family to see if I could get some to come in for some free portrait shoots for practice and to build up my portfolio.  Hey, its a thing, I wasn't just giving away portraits.  It is called TFP, or trade for pictures.  It is usually done with models, but I figured that the same would apply with regular folks.  I get the practice, and they get the pictures.  I was able to get a couple shoots lined up and one of them wasn't too far in the future.  I started to really evaluate how the shoot would go and tried to figure out where the holes in my plans could be.  I determined after doing some more reading that a staple lighting modifier I needed to have was a Beauty Dish, so I got one of those coming as an alternative lighting modifier if I wanted a slightly edgier look.  The one that I found at B&H came as a kit with a grid and a diffusion panel so I could fine tune the light to my needs.  I had also just recently received my Impact boom stand which I found to be much nicer than the stands that I had bought for my speedlites originally.  While I could still use the smaller stands for the speedlites, having a boom stand was a big plus in a studio environment when it comes to positioning lights.
Fortunately, that order came in before my first test client showed up.  As I had done with my previous portrait shoot, I had the studio all set up before he got here in order to move things along much faster and keep from wasting his time while I got things going.  The shoot went very well and it was a great learning experience for me in order to give direction.  It was also my first male portrait session and that was a little nerve wracking because I had read that male subjects are usually more difficult to photograph than females because the poses can be a little more challenging to achieve.  Well, either this session was going much easier than a normal one would, or I was actually pretty good at working with guys.  We ended up doing a number of wardrobe changes which gave me many opportunities to work different background colors into the photos.  I was really looking for color balance and it was the first time I really used color science in a portrait shoot on purpose.  I think I accidentally stumbled into some of that theory in the past looking back on previous photos, but this time I was constructing the image from the ground up thinking about the colors and how they would relate to one another.
This session took a bit longer to process than my last one because….well, there were a lot more photographs to go through, and so many more to edit.  However, when it was all said and done I looked at the body of work from that one session and remember thinking to myself that I might actually be able to pull this off.  I had been getting really into the art of portraiture over the previous month and I was really getting excited about photography once again because I had something so totally new to look at artistically.  After this shoot, I was all in…I wanted to be a portrait photographer.
I took some time and evaluated what I had just accomplished and thought about what areas were not working like I needed them to.  First and foremost, I realized that using the collapsible backdrops was limiting me to waist-up compositions at the most because I was really having a hard time including much negative space to the sides unless I was shooting at 135mm which wasn't going to be the best lens choice for everyone.  I was needing a way to shoot wider in the studio and I wasn't going to be able to do that with the 5×6.5′ backdrops.
It was looking like I was going to need seamless paper which wasn't that bad of an idea on its face.  The rolls were only about $60-75 and would last a while until doing full length shots that would require standing on the paper.  However, I was going to need something to hang the paper from and I was going to need at a minimum of 9ft in width.  That was going to about triple that cost at a minimum, even doing it on the cheap.  Then I would still be limited because I had carpet in my studio.  What in the world does carpet have to do with photography?  well, if I was going to use the seamless paper to its full potential, I would eventually roll it out and have the subject stand on it for a full length composition.  Have you ever stepped on a piece of paper that is on carpet?  Yeah, those wrinkles would be horrible and wouldn't go away.  It would be like photographing somebody in the snow and hoping that they didn't leave footprints getting into position.  Even though I had very short carpet, there was just no way to have paper stay un-creased while on the carpet.
Our house has hardwoods and tile floors all throughout except for the finished basement which is my studio.  I was really wishing that the previous owner had stuck with that plan down here, but for comfort he went with carpet.  If you have been keeping a tally of my expenses up to this point, you can understand that I was getting a little cautious with the credit card and the last thing I wanted to do was refloor the 900sqft studio space.  Well, I would actually have loved to have done that, but the price tag would have been much too much for this project.  Unless I could figure something out, I was going to be stuck having a very limited options for posing and framing of my clients.  I was still needing to get some more practice in as well which was more important than the floor issue.
I was able to set up another practice photo shoot with a female this time.  Picture it….I reach out to somebody via Facebook and say that I want to do a portrait session for free so that I can practice.  My studio is in my basement at home.  Those two points right there should probably cause anyone to run the opposite direction and binge watch Criminal Minds, but I have found that I enjoy working with eyes, and I had seen selfies posted where the eyes really stood out.  I made the leap and just hoped that I didn't come off sounding like a total creep.  Fortunately, I guess I didn't because she took me up on my offer.  I started to work out some plans for the portrait shoot with her because I now had more creative options available to me and I wanted to practice them.  Reading is dangerous for me because it keeps showing me all sorts of things that I might want to do with a camera.
While working out the concepts for this shoot, I started to really see a problem stemming inability to do full length shots in the studio.  We decided to go outside for some of the photos, but that was going to be weather dependent and I know from experience that the weather is rarely on my side when I try to plan in advance.  As it turned out, the weather was fine, but it was hot and humid which made for less than flattering expressions, not to mention sweat….and that was just the photographer's reaction to the heat!  I had to get something going for the seamless paper so I started searching dance floors because I knew that you could get interlocking tile floors for dancing.  I just didn't know how expensive those could be.  It was better than getting the whole floor redone, but for 100sqft of space, I didn't want to spend $1000.  The more I looked, the more discouraged I got, but I eventually landed on a flooring system from Amazon that worked out rather well.  It was available as dark gray which would not reflect much, if any light, and would not introduce any color casts which has always been a primary concern down here which is why the walls are painted as neutral a gray as I could manage.  The total price tag for my 10×10′ floor was $315.64 after tax.  It would give me a way to pull the seamless paper out for a full length shot and it would also define a stage for the subject to occupy.  I was liking the idea.  Now I could get what I needed for the much larger backdrop.
I started out with a backdrop support system that went 12′ wide, but was adjustable down to just 6′.  I finally invested in some Gaffer Tape to tape the paper down on my new floor when needed.  I just needed to figure out what color paper to get.  There are just about endless possibilities when it comes to paper color, but I wanted to get the best bang for the buck.  I did my research and found black and white are the most popular colors to get for high key and low key images.  That would mean getting two rolls of paper and switching between them.  I also found that gray is the most used for general purpose work like headshots and even group photos, so that would be yet another roll of paper.  I really didn't want to have that much overhead in backdrops so I started to dig a little deeper in my research.  What I found was that if I got a gray that was slightly darker than middle gray I could actually turn it black or white depending on lighting distance.  I could also use gels to change the color to just about anything that I wanted.  In short, if I got a middle gray paper, I would be able to effectively have the entire range of backdrop colors available to me.  I was able to order just a single roll of paper from Savage which is their #74 smoke gray on a 9′ roll.
Thinking ahead, if I was going to be lighting the background with a speedlite, I might actually need two of them which would just leave me with a single strobe for the subject.  I also knew that the strobe lights had a much longer recycle time compared to the Indra500LC that I had baptized on my last portrait session.  Having worked with the studio strobe, I really liked what it was doing and for the price I opted to get another one.  I had found that the product was being discontinued in favor of an updated version.  While I would have liked to have had the newest, the half price was allowing me to get two of these strobes for the price of basically one.  It allowed me to have a four light setup which was just amazing in my eyes considering just a few months ago I had a single speedlite tucked away in a bag that I never opened.
Since I was getting things set up for a full length portrait and I had also been told that I might be getting contacted for a family photo shoot in the near future, I wanted to have some different props to allow for different levels of my subjects and to have something to prop feet on to make for more dynamic poses.  From all of my research, it seemed like apple boxes were the ticket and they performed many different jobs around a studio.  I found a decent set of them at Amazon and paid more than I really wanted to, but it was the going rate for them anywhere I looked.  That was going to get me all set up without the need for anything else to complete my studio.
Well, I got most everything in before my next portrait shoot arrived.  I had the flooring which came several weeks early.  As a matter of fact, it was supposed to get here the first week of October so it was very early indeed.  I had received my apple boxes the day before which gave me time to stain them and antique them a bit.  I even had my second studio strobe, but the stand for the paper wasn't yet here and the seamless paper wasn't either.  I had hoped that it would arrive a bit early since the flooring was here and installed, but it didn't happen like that.  Now, the paper arrived during the shoot which was kind of funny because here comes Toni standing 4ft 13 inches tall carrying a 9ft long box down the staircase.  I just had to laugh at the sight, but I couldn't use the paper yet without the stand, and I was already well into the session.
This portrait session went very well, but it was also one of the most complex ones that I had done to date.  There were more outfit changes this time than the last which gave me the opportunity to change up a lot of things with the set.  I went with several different lighting combinations and even got to try throwing colored flash onto my gray collapsible backdrop to test the theory that I had used in selecting the gray seamless paper.  It worked surprisingly well and it made for several different looks during the session.  Here you can see the teal necklace being complimented with a similar toned background thanks to a teal gel on a speedlite positioned directly behind her.  With this and many other images, I made use of the four light setup that I now had access to.  For this , I had a key light positioned camera left with a softbox attached.  My second Indra light was used as a fill slightly camera right with a diffused umbrella.  One speedlite was set behind her left shoulder (camera right) and up high using one of the Strobistrips as a hair light.  It was just an experiment to have that modifier used in that way, but I am definitely a fan of the look and will do that again.  The last speedlite was gelled as mentioned and was the dedicated background lighting source.  If you followed all of that, then you probably know enough that I can learn from you.  I just went through the setup to show that there is a lot that I have learned which goes into these photographs.
When this session was over, I had learned a lot, and some of what I had learned surprised me.  First of all, I found that, for me, photographing women is actually more difficult than men which goes against the norm.  For some reason, I have much better ideas when posing men which really surprised me, but I'm ready to embrace that skill.  I'm also ready to up my game when it comes to working with females.  The shortcomings always fall on the photographer and I know what I need to work on for future clients.  That is the main reason that I wanted to do these free TFP shoots to get started on this journey.  The next thing that I learned was that I really enjoyed working with the two studio strobes because I was able to work faster between frames as the recycle times were much quicker at higher power than the speedlites which kept up very well at the lower power needed in a four light setup.
I also learned that I really liked the light from an umbrella when it comes to softening skin and since my two umbrellas were designed for my speedlites I needed to get a different diffuser for better light control when using my Indra lights.  I went back to B&H to see what a new diffuser sock would cost and found that it was rather pricey for the 46″ umbrella which was a little small for the big power of the new strobe.  For about the same money, I could actually get a different umbrella that was bigger and deeper for a more controlled path of light which I found to be of great help when using gels on the background.  I went ahead and ordered a 51″ umbrella with a diffuser to go over it for just a few more dollars than a replacement diffuser for my existing umbrellas.  I was building quite the collection of modifiers, but I was also finding that I was wanting different effects for different types of faces.  The large umbrella is going to be my primary modifier for females unless I am working with heavy makeup which will benefit from the beauty dish.  For males, I like the softbox or the beauty dish depending on the skin and the mood of the image.  The smaller umbrellas make for great fill light I've found, and work splendidly with the speedlites if needed.
As I was making this last order, I batted around the idea of getting a couple of V-Flats which seem to be an industry standard for both studio portraits as well as location shoots.  They are expensive, but I had reasons that prompted me to really consider them.  First of all, looking at controlling light on the backdrop I could really use some flags which these perform well at.  They are also excellent at reflecting light or subtracting light while using the black side.  This might seem odd, but for several of the images that I shot over the last session I had the overhead lights turned out to keep some of the ambient light down because I had enough light bouncing around from the flashes.  By using the black side of the V-Flats I can control that extra bounced light a little bit better.  They will also give me the ability to to a high key background or a low key background outside of the studio which can be very helpful.
There are a lot of benefits to these rather simple devices, but the one benefit that really hit home for me was in preparation for a maternity session that I had scheduled for mid October.  It was going to be a location shoot with an outfit change.  These things are big enough that they can be set up like a partition and will make for a decent changing room when paired with the wall of a building.  That was the final straw for my decision, but I still didn't want to spend $400 on two of these things.  Sure, I could have done a DIY version and there are lots of instructions on how to do that on YouTube, but in the end, I would be left with a bit of kit that looked like I cobbled it together myself which is not the image I wanted to go for.  The V-Flats are successful because they work.  They are also big, which means that more often than not they arrive damaged.  With that in mind, I decided that it would be OK to order used ones with minimal damage knowing that I would be receiving them damaged from shipping.  Had there been a place to buy them locally, I would have done that for sure, but I could find nothing at all in a reasonable distance to source them from.  B&H had two that were used and undamaged, one being just out of the original box and the other scoring a 10 out of 10 with no damage at all.  The savings were significant enough to offset the damage that I was expecting to have so I made the order.  Sure enough, they came damaged from shipping, but not enough to concern me for what they were bought for.
I was now officially done buying gear for portraiture.  I had ended up setting myself a budget of $1000 to get started.  I had more than that in my photography account so I was comfortable with that amount.  For those that have been keeping track with the math, you know that I'm looking at that budget in the rearview mirror, across several states, and possibly a few time zones.  Whatever you do, don't tell Toni how much has been spent because she will surely divorce me.  I honestly don't want to know how much I've spent although I'll figure it out come tax time in a few months.  Safe to say I'll be taking a substantial business loss this year though.
So, why did I do it this way?  If you know me at all, you know that I don't do anything half way.  I started out looking for a bit of side income from portrait photography to help keep me afloat with the workshops falling far behind as a source of income.  I could have done it with my existing gear, but I would have been so limited as to what I could do for clients that I would still be turning away work, and the work that I was putting out wouldn't be the quality that I would want from my vision.  In short, I needed to be able to capture a portrait that was on par with my landscape and decay work, or as close as possible considering the huge disparity in actual time spent engaged in learning the genres to date.  I wanted to be able to say yes when asked for a portrait session, and I wanted the yes to be without reservation.  I didn't want to limit the expectations from the client before we even got started.  I wanted the sky to be the limit and I needed to be prepared to live up to my end of that agreement.
Am I there?  No, I'm not there yet, but I am on my way.  At this point, experience is what will make the difference.  I am close enough to actually put it out there that I am a portrait photographer.  That is the announcement that this month's Behind the Camera is all about.  You will see along the top that I have a menu option of Portraiture which is a first here.  Feel free to click and check it out.  You can come back here after that.  Don't worry, I'll wait….
You were gone so long I ended up ordering a flash meter for the sole purpose of getting the right power on the lights quicker during a shoot.  I had been doing it through trial and error which is not a fast way of sorting it out when you have a client sitting there.  Now, I'll be able to get that incident light reading and know what exposure it is giving me.  This is totally different from using my histogram in live view during my landscape captures.  While I was at it, I added a grid set which will allow me some very specific control on light when I need it focused on something specifically.  Since I now had a large background to light, I was needing to double my gels, so I added a duplicate gel kit for my strobes which would be responsible for lighting that background.
I'm so glad you are back now…I can't spend any more money!
So you see how things are laid out.  You have seen that there is no price anywhere on that page.  In fact, there are no mentions of packages for you to examine and choose from.  You are right, and I didn't forget to include any of that information.  It was omitted on purpose.  Not to confuse you, or to try to avoid a comparison to whom else you are shopping.  No, I just decided that there was no way I could pigeon hole your portrait shoot into a package price which is put out there for all to see.  There is just too much to take into consideration because I fully plan on tailoring your session to meet your goals and how can I do that before I even meet you?  Sure, I could put up 53 specific options, but we both know that you would be overwhelmed by the choices and realistically won't know which of the options best fits your needs.  It could very easily be a combination of packages, but since I don't have that listed, you might think it isn't offered, or it would be too expensive to combine packages.  I would turn more business away if I put package prices out there and even if you saw a package listed you liked just seeing a price might turn you off because you have no perceived value for the money.  That is where my business model comes into play.
I've been researching how to go about doing this for a while.  As I mentioned, I started off with the one price for pretty much everything.  While that is simple and easy to quote, it wasn't exactly fair for the smaller jobs like the single headshot.  There is no way that should be the same price as a session that includes studio time, location time, multiple outfits, and the need of an assistant.  That just isn't reasonable to ask.  So, I am going to need different prices for different services that I offer and there is no way around that.  One quote that I love from Bambi Cantrell that I heard on YouTube was that if she could afford herself, she was too cheap.  That was a bold statement and while I would love to be there some day, I know I'm not currently.  It does allude to a pricing principle that I shouldn't ignore though.  Price yourself for what the work is worth and not based on the competition.  If you try and get work by being the cheapest on the block then you are underselling yourself as well as undervaluing photographers everywhere.  The takeaway from here is to charge what you are worth and what value you provide to the client.
Another great bit of advice comes from Lindsay Adler who is quickly becoming one of my favorite sources of information on all things portraiture.  I can't find the video I heard this in, but roughly what she was getting at was that she didn't like the photo package idea either.  She wanted to hear what was wanted by the client and then assign a dollar amount to it considering the work that was needed and the particular expertise that was being requested.  She wasn't selling a photo shoot with a ton of pictures in different poses.  What she was selling was the ability to capture a story through imagery focused on the client.  It was much more than just a picture, or in this case a boatload of pictures.  She was dealing with quality over quantity which resonated with me.  That is the way that I have been working for years.  I don't photograph everything that I see when I see it.  I will wait until the conditions are right, or when there is a compelling reason to get the image.  I believe that is one of the things that sets me apart from other photographers in my genre.  I'm not after just a colorful sky over whatever happens to be there.  I want the whole shebang, or I will pass it by.  I want to approach my portrait photography like that as well.
That is where my business model comes in.  I'm still fine tuning it, but I've learned over the past sessions that I have done that they are more successful the more we both know about each other before the date of the shoot.  One of the big parts of a portrait session with me is the planning beforehand.  I don't want you meeting me the first time in whatever random outfit you have put on that day and expecting something great to happen.  No, that isn't how this goes at all.  There will be a consultation before any of my portrait sessions where we discuss what your expectations are and what kind of photos you are after.  From there, I will start asking questions and making recommendations to solidify the intended themes.  We will talk about locations that will work for your needs as well as wardrobe down to accessories and even hair in a lot of occasions.  We will discuss styling of the photos and we will look at moodboards.  These are basically just a collection of images that appeal to the client and the photographer so that both parties are on the same page when it comes time to pull the camera out.
My goal is that this isn't going to be a by the numbers photo shoot where you the client is just another number going through a preset sequence of poses to get you in and out as quickly as possible.  To really capture a portrait, the photographer has to know the subject on some level and be able to relate to them.  Doing a portrait session is a terrible ice breaker when meeting somebody new so I want to get that initial introduction out of the way beforehand.  We will talk in person, through video chat, or at the very least in email before the session.  That will give us both a chance to get to know one another and how we like to communicate.  It will also let us know if we are compatible enough to make the portrait session work as intended.  We will discuss the different aspects of the shoot and I'll be there to answer questions and to review outfit choices with you to make sure that the colors will work together in the end result.
It is through this initial consultation that we will discuss how much your session will cost.  This is not meant to shock you, or put pressure on you.  By the time I put a price on things, you will know what I am able to do in order to arrive at your intended result and I know the time and effort that is going to be spent to achieve that goal.  I will have established a level of confidence as to what I can do for you and will have laid out a rough plan of action for your session.  All of this is with no obligation because I would rather spend that time with you for free than take your money and realize later on that we can't arrive at your goals, or that you don't like the way that I operate.
By the time the session takes place, you will know me, and I'll know you.  The end result of that will be a much more relaxed environment between photographer and subjects.  It will also give me that best chance to tell your story through images.  During the shoot, we will work through the different stages that we had discussed while leaving ourselves opened to those moments when something magical happens that wasn't planned or expected.  We will have a good working idea of how the shoot is going to proceed so there aren't any surprises which will keep the stress levels down.  The whole idea is for this to be a fun event for you and not something that you dread or get frustrated with during.
When the shoot is over, you can usually expect me to finish editing the images within a day or two.  This is another part of what sets me apart from other photographers.  I don't put unedited images out there for the world to see.  If I shot the photograph, I have an end result of that image in my mind and that is what will see the light of day.  I don't do mass preset editing where everything gets treated the same way, and I don't shortcut the edits, meaning only doing the bare minimum as a RAW process.  That means that you will not see every frame that is shot.  So many photographers will do a batch edit on all the images and send you the entire day's collection of images to pore over.  If that is what you like, then we probably don't need to work together.  You are hiring me because of what I can produce and you are basing that decision on a certain quality of image.  Why should I put the most important decision in your lap and have you go through 300+ images to determine which ones work and which ones don't?  I've been there with Toni sitting in the studio after family portraits when we go though all of them together and pick which ones we like best.  That is the most horrible experience I can imagine in this type of situation because you are looking at pictures that are obviously not right mixed in with ones that are good and some that are questionable.  By the time you get half way through the batch, they all look the same and you start making lousy decisions on which ones you want on that free canvas as part of the special.  That job should rest on the photographer…with the exception of which image should be put on the canvas (that should always be your choice!).  Unfortunately though, that is what happens when the photographer really doesn't know you and has no idea when they have captured you in that right light.  If that is what you are expecting from a photo session I'm not your guy.
However, if you just want to see those best of the best images and have substantially less photos to look through, I'm the photographer for you.  When you get the finalized collection of photos, each one will be a solid example of what we have achieved from the session.  The boring ones will be gone, the ones where I missed focus, or cut off your finger will be gone.  That strange expression you had because you started to sneeze as I tripped the shutter….oh yeah, that will be there and will be on your canvas….nope…..GONE!  You may have three photos, you might have 30.  Part of that will depend on what your expectations are from the session.  We might also find that we are both completely in the zone and are creating gorgeous photos one after another.  I don't like the idea of having a minimum number of pictures because invariably you have to pull in the second string to meet the quota.  Just know that for each look, or each pose that we are going for, I'll make sure that we nail at least one of them before moving on to the next.  I might see two or three in that series that are equally as good with different expressions which will each be processed and delivered to you.
Speaking of delivering the photos, just how will I go about that?  This is actually the simple part.  On the day of the shoot, you will get a photo license signed by both parties which will allow you to reproduce the images captured during your session.  That means you can have them printed anywhere you wish, but I'm happy to discuss making prints for you as well.  In some cases, I will include a 13×19″ print which can be determined during that initial consultation.  In addition to printing from the full resolution image (not reduced in size and fully ready to print), you will also have a smaller file suitable for sharing across the internet whether by email, text, or social media.  There will be no watermarks applied to these images as they will be your images to share and enjoy how you wish.  I will typically use Google Drive as the way to get the files to you, but I'm also happy to go with DVD, or a thumbdrive if requested.
The good news at this point is that I am working with introductory prices during these early consultations.  I know that I am not fully up to speed yet and my pricing should reflect that.  As I gain experience I will be updating my prices accordingly.  Even at the discounted price, you are getting the full benefit of more than 15 years behind the camera, roughly three months of education on specifically portraiture, and a laundry list of equipment which may or may not be divided up in the divorce should Toni ever find out how much I've spent to make this happen.  You are also getting an artistic eye which has been known to make a rusted hunk of metal look better than when it was brand new and in the showroom.  If I can do that with a Studebaker…well let's just say you already look so much better than that car.
I'm ready for that consultation so we can get you booked for your session.  I'm ready to capture your story!