Saturday, March 9, 2019
For a photographer, it is all about getting out there and practicing their craft.  I've been very fortunate here of late to be able to do just that.  Each time I go out, I get better and better which is the goal.  Of course, a major part of the recipe for a great image is the conditions that they are shot in.  After coming back from a very successful weekend at the coast, I was feeling an urge to get to the mountains and shoot some landscapes by the end of the week.  Looking at the forecast that was not looking to be too possible though.  It was another rainy weekend in North Carolina which is turning into a normal occurrence.  That would make landscape work in the mountains quite difficult as the visibility would be low and the rain would probably force me into a short day of it anyway.  With all the rain, and the cloudy and rainy forecast I was left with pretty much one option to get the best bank for my buck out of a trek.  Funny, I remember saying to Toni on Friday night, "I don't want to go to Hanging Rock again to shoot waterfalls."  I was serious too!  After planning my last workshop there and conducting a workshop that included pretty much all of the waterfalls there, the last thing I wanted to do this soon was to go back and revisit those same locations.  It was a close trip and something that I could easily do with a short window of no rain.  But I really wasn't feeling those waterfalls at all.
I juggled around a few other ideas in my head before landing on Widow's Creek Falls at Stone Mountain State Park.  This is one of my favorite waterfalls, and I have visited it a couple of times throughout the year for many years.  Normally when I go, the water flow is less than spectacular which isn't all that bad for this waterfall as it allows you to see the details behind the water.  I have always wanted to see it with a bit heavier flow though, and with all the rain that we have been seeing, I was pretty sure that this was going to be my chance for that.  It was looking like I had most of the morning without rain to work with, so I didn't have to plan to be there at a specific time which was nice.  I decided that I would just wake up whenever I did and check the weather again before deciding finally whether or not to go to Stone Mountain.
Sadly, I was awake before sunrise which was disappointing after giving myself extra time to sleep in.  Oh well, I was up and already thinking about heading out.  I checked the weather for Roaring Gap and found that things were still looking positive for shooting Widow's Creek Falls.  I got up and got ready to go.  After eating a bit of breakfast I heard that Sierra was waking up so I went down the hall and asked if she wanted to join me on a short hike at Stone Mountain.  She grunted (the limit of her verbal skills in the first 2 hours of being awake), and gave me the look of "I'll cut you if you ask me again!"  I took that as a no, and continued on my own journey out the door.  The minute I got outside I noticed a pretty heavy mist which didn't show in the radar image and it took me a bit by surprise.  Was I going to get rained out?  I figured that the weather at Stone Mountain might be different, and even if there was a mist I could handle that easy enough.  It was a full on rain that I didn't want to deal with.
I loaded things up and headed West with the wipers a going.  I do enjoy a rainy day every now and again, but it seems like every time I go out these days it is raining, or very densely clouded.  Maybe this is what its like to be in the UK as a photographer?  I was embracing the weather at this point knowing that I could make some really nice waterfall images with this lighting and having the rocks wet would help with the contrast in the scene as well.  Regardless, I was getting to my mountains again and would have a great time!
The closer I got to the waterfall the foggier it became.  I started to wonder just how much fog I could deal with for this waterfall before it became too dense.  The rain…yeah, it was still falling as well.  I was in the park by this point and was really starting to question my choices.  I started to look for woodland scenes that I could photograph with the fog and found a few that might work, but were not good enough to justify stopping the car just yet.  I continued on through the main road of the park just hoping that Widow's Creek Falls would be in a slightly better condition than what I was seeing here.  As I got closer, around Bullhead Creek, the fog started to lift.  The rain was still there, but it was just a mist.  The main thing was I wasn't having to worry about the fog obscuring my images.  Within a few more minutes I was at Widow's Creek Falls and found the little pull off parking area to be empty.
Now we were talking!  I had the place to myself and the weather was just about textbook perfect for waterfall photography.  I started on the short hike headed to the falls.  For those that don't know, when I say short hike, I mean a very short minute or two walk through the woods before you get to the lower pool of the falls.  Once I was there I could see that the water flow was much better than I had previously seen it.  This was going to be a good time!  I started off along the trail to the left which is the easiest access to the waterfall.  Once I got into position, I sized up the scene which actually had quite a few differences from previous visits.  This was looking better and better!
I have lost count of how many times I've been here when there was tree going across the water quite close to the waterfall.  That tree was gone now which made getting compositions as well as getting into position much easier.  I knew that most of the compositions were from the other side of the water which required a bit of walking through the water, but with the tree cleared away I wanted to try some new things from the left.  It has been years since I've successfully shot this waterfall from the left side.  I have always enjoyed the perspective of it with the smooth rocks to the right and the cascades to the right.  I picked out my composition and determined that my 16-35mm lens would be the best choice for this setting.  Of course, I added my trusty Singh-Ray Color Combo Polarizer to pull out the warm tones in the scene.
I started to work on several different compositions from simple to complex.  Probably my favorite shot from the day happened from this series of exposures.  Cradled Pool is one of those simple compositions that I started with.  I used the rocks as a framework in the lower part of the image while the woods provided the framing in the upper portion.  There is so much that can be used as foreground with this waterfall, and to reduce the complexity of the image while still adding a solid foreground takes a bit of work.  I was really happy with how this turned out, but I was just getting started with things.  I played around with other points of view to change foregrounds and compositions.  I found that my wide angle lens was doing the trick for me with this waterfall.  The lighting was also rather amazing with no highlights, but still very rich in tones.
As I started to run out of compositions I made the decision to cross the water.  I was very thankful for my boots, but the water was still quite deep and almost overran the Gortex line on my lower shin.  My feet stayed reasonably dry considering what I was walking through.  At least they were getting too cold.  Once on the other side, I started to work on variations of my typical compositions trying to do something a bit different from what I had done in the past.  I found that there were a lot of branches that were getting in the way on this side and I had to be very careful how I positioned the camera to avoid any rogue branches from creeping into the top of the image.
Strange thing was, even though this is the side I normally shoot from, I was not as happy with the compositions that I was coming up with on this side.  One thing that I had noticed that I was excited about was the actual waterfall and the way that the water was flowing over the unique rock formations below.  Since I was here and the angle was perfect, I went ahead and swapped out lenses to take advantage of that abstract parts of the waterfall.  I moved to my 70-200mm lens while keeping the Singh-Ray Color Combo Polarizer attached.  From about midway down the main section I was able to pick out some fantastic isolations on this waterfall.  This was the part that I was most excited about for the morning.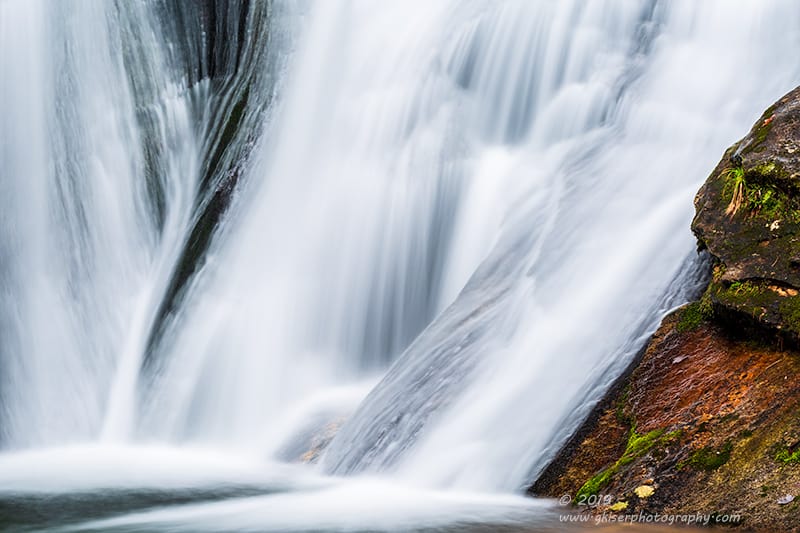 There was this section in the falls that was on the left side.  It had such an amazing curve to it…almost feminine when you studied it.  I spent a lot of time on that aspect of the waterfall and based most of my isolation shots on that section.  It showed enough of the mossy rocks behind it to give the stable anchor to the image, but I also found that by adding the rocks to the right of the waterfall, I could add more dimension to the image.  I tried many different ways of photographing this section and ultimately settled on two that I found to be the best examples of my vision.  There is just something about the moving water that inspires me every time I work with it.
While I was shooting these abstracts, I was also looking at things on a broader scope.  I was seeing other compositions that I had not shot before on a grander scale.  In fact, what I was seeing was several shots stitched together for a panorama.  After I was satisfied with the abstract work, I stepped back and regrouped my brain.  I positioned the tripod and flipped the camera on its side.  I racked the lens out to 70mm and started to sweep the scene.  I started to be able to see my composition come together.  The opening image to this entry was a five shot series that I started with.  It was up close and personal, while keeping the scene quite simple.  I decided to back up and try something a bit different by including some foreground.
When I got into position a good way downstream I started to see this tremendous composition that stretched from one side of the creek to the other.  I made one pass after getting everything set up that was five images wide.  The problem was the waterfall was slightly overexposed based on my exposure settings.  I narrowed the aperture by a third of a stop and started my string of exposures once again.  This time, I went a little further on both sides for a total of seven images.  I wasn't sure how it would turn out, but I saw nice framing elements on both sides that I wanted to capture just in case.  When I stitched them all together, I found out that this was just too wide of an image and I greatly reduced the scope of the composition.  What I ended up with was an image that cropped down to a 16:9 ratio which is a normal crop for a single exposure image.  It is still including parts of each of the seven images shot in portrait orientation, so this is a huge image file and I decided that I would keep it as a non-panoramic image knowing that I could print this one really huge without stretching the pixels any.
By the end of the last panorama, I was seeing that the mist that was still falling was starting to get on my polarizer.  Knowing that I was going to have to start wiping it down or suffer image degradation, I opted to just pack things up and walk along the creek looking for some isolations.  It had been a good morning at Widow's Creek Falls and I came away with some of my best images yet from there.  I didn't find anything else along the way to shoot so I was headed home maybe 20 minutes after my last panorama.  I had shot a total of 73 frames with 17 of those dedicated to panoramic compositions.  These translated into the seven images that you see here.  My goal was not to have so many images, but as I was going through all of them for the day, each of these said something different to me and showed enough merit on their own to be worth keeping.  The hard part is going to be what images to put in the gallery!