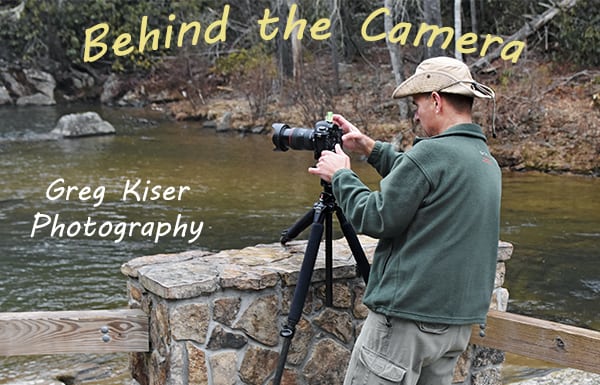 Welcome back for another installment of my monthly Behind the Camera series.  In this series I will usually pick a question that has come up over the previous month that deserves a bit more of an explanation, or I'll use it as an opportunity  to talk about what has been on my mind lately.  This month has been a strange one to say the least and there really hasn't been many questions that have come up, and for that matter I haven't been thinking much at all about photography to have anything on my mind to talk about.  Or….maybe that is just what I should be talking about here at the first of August.
Allow me to clarify just a bit.  For those that haven't been keeping up with all the things that have been going on recently I will bring you up to date.  The first part of the year I was very much focused on my Grandfather who's health was failing and after two visits to the hospital for Aspiration Pneumonia he was placed in Palliative Care and passed away peacefully on March 10th at the age of 99.  I'm sure that the early days of March will have a significance to those in the US for a vastly different reason.  That was the time when COVID-19 was just starting to make serious headlines in the US and we had a cruise ship being held at sea for containment.  I remember this because it was on the news on the TV while I was staying with my Grandfather.
Of course, after his passing, I had a lot of affairs to tie up and things to get settled which was quite difficult with the coming stay at home orders that would be in place a short time afterwards.  It took a few weeks to get things all sorted out, and by that point, it seemed as though the whole world was shutting down.  Nothing was open, and the different state and national parks were closing almost daily.  Yes, I could have gone out with my camera and been happy to stay away from everyone as that is how I usually prefer to practice my craft.  On the other hand, I kept reading about how everyone that was no longer allowed to go to work was out enjoying the places that I would have liked to have gone.  Not wanting to be a part of the problem, I chose to be a part of the solution and I stayed at home and avoided the crowds.
This down time had some interesting side effects.  While most everyone else was doing home improvement jobs around the house, Toni and I started to look at our "retirement home" options.  We had been wanting to get a cabin in the mountains, or somewhere out in the Western US.  With time on our hands, we investigated new home options and one thing led to another and we decided that we were going to have a home built in the mountains of WNC.  We found a builder that we both liked and started that process which brought us to the task of finding land.  We were in no particular rush as our timeline for this to happen wasn't for another couple of years, but with the decision to build, we were needing to get some of the variables ironed out before we could really set things in motion.
To make a long story short, we went out on our first excursion in the areas of Wilkes and Allegheny Counties to look for plots of land for our new house.  After seeing many plots of land we decided that wooded lots all looked the same from the street and that we were not good judges of picking out suitable parcels of land.  Getting a little frustrated with the process, I recalled seeing a house for sale in Purlear, NC, where were currently driving through.  Just for a change of pace I suggested that we go and see what the house looked like in person.
When Toni saw the dolphins etched in the driveway she was sold on the house.  It was nicer than the pictures suggested and we made a call to the realtor to get a look inside.  By the end of the weekend, we had made an offer on the house and we closed about three weeks later.  So much for the two year time table that we had for getting a new home.  Now we just had to get this one ready to move into which was going to include some fresh paint on the inside as well as some minor repairs.
That process brings us up to a week and a half ago when we actually moved into the house officially.  So why is all of this important to my photography you must be asking?  I've shared this bit of my personal journey with you because it has had a huge impact on my photography for the better part of 2020 thus far.  You see, photography is a very creative outlet for me and one that requires focus.  Not the focus of the lens, but that does help with the final image.  No, I am referring to my own focus.  Focus on seeing and interpreting what has been seen.  It also refers to allowing inspiration to hit.  I've had plenty of experience with creative blocks over the years as have all artists, but that is something else entirely.  That is not a lack of focus as much as a lack of drive and motivation.
What I was experiencing at this point was a complete redirection of my attention.  Being slightly OCD, I like to maintain my focus on a minimal number of things at once.  With a timeline of two months to get the house updated and ready to move into I didn't have the luxury of diverting my focus away from it for too long at a time.  It was the change of focus that prevented my photography from really taking place.  I wasn't actively engaged in any aspect of photography for the most part during that two months.  This was planned for well in advance as I had gone through and done some fresh edits on some of my Alaska images from 2008 which I was set to slowly release over the time spent preparing the new house.  I did manage to get out one day with my camera which happened to fall about midway through the process which was a nice diversion.  Other than that, little mental effort was spent with my photography.
I'm sure that many are wondering what has happened to me, and to be honest I've wondered what the long term effects of this change in focus will be as well.  At the time of this writing, July is coming to a close and the house is about 85% done.  Ironically, the biggest part left to do is to hang pictures on the walls.  Hmmm, I wonder where I can find some nice pictures?  As my life is getting back to normal once again, I have found myself in my least favorite season for photography.  It is hot, the greens are no longer vibrant, and the days are so bloody long with the good light either very early, or very late in the day.  My mind is out of the habit of looking for compositions and I find myself just wanting to rest.  The worry here is that this lack of focus will quickly turn into another slump like I found myself in at the beginning of the year.  To try and curb that, I made a quick trip out to the mountains on a morning when I had some time to spare.
I did have a very positive experience the day before I wrote this entry though.  After doing a service on Sierra's car I was taking it out for a test drive to bed in the new brakes and check for any problems.  I chose to drive on some of the roads by the new house where I have not yet been.  I was seeing some great old barns and I was getting ideas for photographs.  My mind seemed to know what to do even though I thought it to be well out of practice.  The lighting wasn't right, but I was seeing potential close by and I was getting excited about the chance to get back out with the camera.
That was very encouraging for me because during a slump, even beautiful scenes that are "picture perfect" as they say don't appeal to you.  Now that my focus was returning to normal, I was seeing the scene for not only what it was, but for what it could be in the near future.  Focus is just so important for anything creative, I think.  If you can't direct your mind to think creatively due to other more pressing issues, then art just can't happen as it once did.
It is that focus which I find to be so instrumental to my photography.  I have to immerse myself in the process and the art of the image.  My eyes are trained to see compositions as I am driving along the road, and when I am sitting idle at home, I am thinking about different ways to capture the images that I want to create.  It is ideally a very fluid thing for me so that when the inspiration strikes to create I already have a list of things to do and try which then fuels that inspiration.  The results of that inspiration leads to more ideas about future images and the cycle continues.  Creativity breeds creativity for those who are striving to improve their craft.
From the beginning of this most infamous year of 2020, my focus has been constantly interrupted whether it be from creative block, to the loss of my Grandfather, to a global shutdown, to an impromptu move.  All of those events have provided roadblocks to that creative cycle.  It is very similar to a car stalling out.  It can be restarted, but the momentum is no longer there.  It can be resumed, of course.  That is where we are today.  I am looking for that one event to spark the cycle of creativity once again.  I suspect that it will take just one good trek to get me back on track and I am looking forward to it.  If I am lucky, by the time you are reading this entry, I will have already gotten that cycle started again and the momentum will be quickly building.  It is only the 26th at the time of my writing.
Oh, that brings me to another slight hiccup in my creativity.  Oddly enough, because the house has never been wired for Internet and cable (previous owner had satellite), we found out three weeks before closing that we were going to have to have a line put in from the road.  That is a nearly 500ft journey for the cable and we are having to wait for construction before we can get internet connectivity.  How does this affect creativity you ask?  Well, part of my creativity comes from doing research online, but more importantly a very instrumental part of the creative process deals with writing these blogs and sharing my adventures with you.  Yes, you are reading this (hopefully), but that is likely because I have had to do this as a Word document which was saved to a flash drive, to be taken upstairs where my phone has some form of internet connection so that I can use it as a hotspot for the laptop to be able to upload this simple blog entry.  I have my doubts that I can upload multiple images in that fashion, so I am apprehensive about trying that part of the process and I don't want to be disappointed if it doesn't work.  We will potentially be without internet connections until the middle of August, but hopefully not that long.
What have I learned from my evaluations of focus when it comes to my art?  I've learned that life happens and there is nothing that can be done to prevent things from happening which divert focus.  You just have to take it in stride and allow your focus to be directed where it needs to be at the time.  Yes, you are shifting your focus from things that you enjoy, but if you try to maintain focus on everything, you will find that all aspects will suffer.  A friend of mine said it best years ago…"If everything is important, then nothing is important."  Of course, he was referring to the incessant emails from the chain of command that were always marked "Important", but the theory is sound and works well here.  Had I tried to maintain a creative focus during the preparation of the house, I would have not gotten nearly as much done in the short amount of time that we had, and what did get done would have been of lesser quality.  Sure, I might have had more images in my portfolio, and I would have been able to take advantage of the Saharan Dust Cloud that passed over the East Coast last month.  I might have even been out to photograph some of the most impressive stormy skies that I have seen in quite some time.  Sure, I might have gotten out to shoot those things, but I'm pretty sure that the photography would have been not up to my expectations because I would have been rushed, or my attention diverted.
For me, I have always been one to give my full attention to whatever project is at hand at the time.  I wish that wasn't the case, but when I commit to doing something, I want to see it through, and I want it to be the best quality that I can muster.  I don't want to shortchange any task in favor of another, so I am much happier putting things on hold and directing my all to the task at hand.  Now that the tasks are coming to an end, my focus will return to my photography and that was the plan all along.
In fact, I am sitting here in my new office typing away and looking at my personal collection of framed images all around me.  Not wanting to brag, but it is inspiring to see some of my finest accomplishments behind the camera surrounding me like this.  I have found myself in awe thinking "Wow, I created that image!"  That is part of the cycle of creativity for me.  It is a confidence builder to look back on things that you have done that still impress you.  With that confidence comes the drive to create better, and that drive leads to the focus which is needed to make it happen.  I am a photographer, and my soul is a part of every image that I have created, and every image yet to be created.  My heart still sees the beauty in the world around us even when the world around us is full of riots, protests, mayhem, and a pandemic that has caused society to change so much in so short a time.  I'm not a hopeless romantic, really I'm not, but I do choose to be an optimist.  That is a little easier now that I am in my own slice of heaven in the middle of nowhere removed, if only slightly, from the world.
I do thank you for joining me in this installment of Behind the Camera.  I hope that I have shed a little light on things from my perspective over this year so far.  I know that writing this has helped me return my focus just a little bit more.  One thing that I have always said about my blog is that it is more for me than it is for those who read it.  It is a place for me to organize my thoughts and track my journey as a photographer.  It is nice to go back periodically and read old entries and see what I was thinking at the time, or what things inspired me to create images.  I imagine that years down the road I will look back at this entry and it will bring 2020 right back to life for me.  I know that everyone would rather forget it but like all other times of our lives, this year will define who we are in the future to one extent or another.  In the grand scheme of things a few months is just a drop in the bucket to our lives, but what you make of those few months will have a butterfly effect on the rest of your life.
I have a feeling that my experiences this year will influence my photography in the coming years in ways that I don't quite know yet.  I have had a lot of introspective time between my slump and now the shift in focus to gain a much greater understanding about who I am as a person and as a creative.  I'm no longer as stressed over making images.  The focus is about the art and not so much the volume.  I have quite literally 10,000 images in my collection which at one time or another I have deemed to be keepers.  Of course, the first half of those are mostly embarrassing to me now, but that shows personal growth.  I don't need to continuously pad my portfolio now but instead; I need to focus on creating new and different images that say exactly what I want them to say.  They need to reflect who I am at the current time, and what I am feeling.  That is the focus that I am looking for from this point forward.
I don't know if this is more pressure on me or less.  I'm used to the stress of producing new images and content.  I'm actually fond of that stress whether you believe it or not.  Since I am not involved in the stock photography business, there is really no need to continuously pump new images into the mix.  My focus needs to be purely emotionally driven to create images that reflect me.  As I type this, I know that might be easier said than done and I know that I have tried it in the past without success.  I guess time will tell if my ability to focus on a very small scale will work this time.
Until next time…