Friday, May 17, 2019
I've been watching the weather kind of close this week and was actually starting to wonder if I was going to get a chance to do any photography at all.  it was looking like sunny for pretty much the whole weekend.  For normal folks that makes for a great weekend with plenty of time to get outside to do fun things.  For a landscape photographer, it is not quite as beneficial.  I love a cloudy day, there is just so much that I can do with the nice diffused light that comes from clouds. As the week drew to a close I was seeing that the only clouds expected were going to be around home with clear skies in the mountains.  This was find, and I had a couple of things that I wanted to work on around here, but I was really wanting to get to the mountains.  Specifically, I was wanting to get to Big Creek which is right at the Tennessee line.  The last time I was out here was in July of 2018 and I was missing it.  This particular park has some of the best white water I have seen, and lots of different places to shoot it.  In case you were wondering, there are also two waterfalls along the trail.  But the weather was showing a clear day on Friday as well as the rest of the weekend.
Throughout Thursday, I was considering what subjects I was going to work around my neck of the woods.  We were expecting high clouds and a slight chance of rain which was pretty good, but it was only for the morning hours unfortunately.  I was going to try and get permission to shoot at a local junk yard where I have not been before, but have been told that they have a lot of old Mopar metal out in the yard.  I was also looking at the possibility of shooting some old barns out toward Tobaccoville, and maybe….just maybe an old Firetruck that is sitting on the side of the road.  That was posing some problems for me when it came to figuring out how I wanted to shoot it.  If the clouds were good, I thought that I might be able to make something work with a long exposure from down low.  You see, I was thinking about the possibilities, but in the back of my mind, I was just wanting the peace and quiet of a nice long hike in the woods.
When evening hit, I looked one more time at the weather and saw that the clouds were gone for my area.  It was going to be clear all day which just ruined my plans.  I started to go through the different areas in my weather apps and started to see that there were clouds in the mountains now.  In fact, the further West I went, the more clouds I was finding.  By the time I got to Waterville, NC, there was good cloud cover until about 1100 with a slight chance of rain first thing in the morning.  That was enough to get me excited about going to Big Creek!  I started to work out an alternate plan just in case things changed in the morning though.  I checked out the sunrise forecaster and found that there was really not much color expected for the morning, so I wasn't all too worried about getting to the mountains for a sunrise shoot.  However, I thought that there was a good chance I would get some good clouds, so I made tentative plans to head out to the area of Boone where I knew of several places I could go pretty easily to take advantage of the clouds.
I got myself ready for bed as early as I could because in order to take advantage of the limited cloud cover in the morning, I was going to need to get an early start to the day.  Big Creek is just under three and a half hours from home.  I wanted to get there between 7:30 and 8:00 so that I would have time to hike out to where I wanted to shoot and still have clouds.  On the off chance that the weather changed and I ended up going to Boone, I wanted to be there in time for first light, but not sunrise.  My clock was set for 3:30am.  There is no sleeping in for a landscape photographer it would seem.
At 3:30 my clock went off and I looked at it like it stole my truck.  I wondered why in the world I was waking up so early.  Then I remembered that I was going to the mountains.  I checked the weather and saw that things were still in place.  It was currently clear, but it looked like a front was moving along the state line bringing a bit of rain with it.  If all went to plan, I would be getting to Big Creek as the rain was clearing out with just a few hours before the clouds started to thin out.  Things were looking good, so I got up and got ready to head out the door.  I was on the road shortly after 4am under a clear sky with a full view of the full moon as I drove down I-40.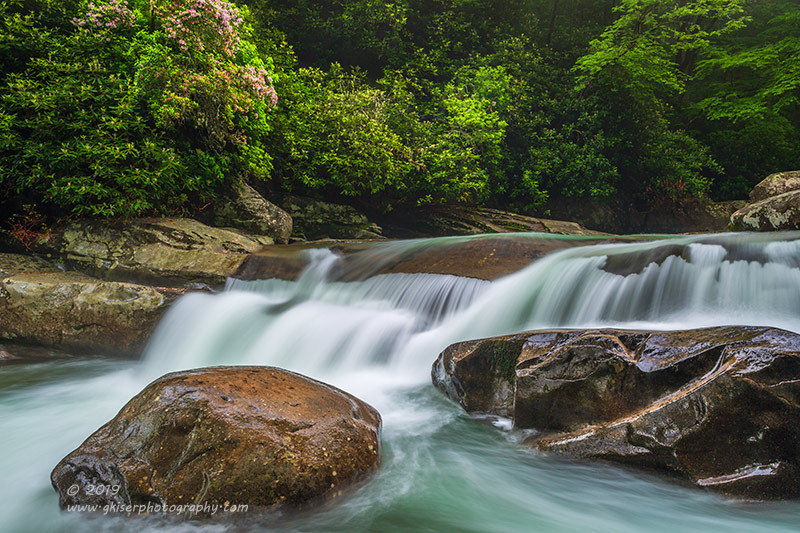 About 45 minutes away from Big Creek the clouds were starting to form in the sky.  That made me happy!  Then the rain started to fall which I was expecting.  Then the rain started to pour harder and harder.  This was not quite expected and I was hoping that it was going to pass like I was planning on.  The closer I got to the park, the heavier the rain fell.  By the time I got to the park entrance, the driveway in was a sloppy mess and it was still raining hard.  Of course, by this time, I had no internet connection on the phone to see what the weather was doing.  It was going to be a waiting game.  It was far to nasty to head out with the camera, so I just parked and waited in the truck.  It took about 15 minutes for the rain to ease up enough that I felt like it was actually going to pass by in a little while.  I took that opportunity to get out of the truck and grab my gear.
The hike was going to be about a mile before I would get to any of the photo locations I liked.  That was about a 20 minute walk which isn't bad, but with the rain drops still falling, I wasn't sure if I would be caught in a downpour or not.  Fortunately, I do carry a poncho and other rain gear in my Lowepro Whistler BP350AW backpack.  It was just a matter of crossing my fingers and hoping.  I did manage to get to my destination relatively dry which was good.  I worked my way down to the creek and found a composition that I liked before setting the camera up.  The water level was really good here and I was able to get a composition that I had not been able to do previously.  There were a couple of cascading drops surrounding a pile of rocks that then led the eyes upstream to an interesting tree that had recently fallen.  I have shot this area before, but I've never been able to really get this kind of drama in the creek before.
In order to capture the scene as I was seeing it in my head, I decided to mount the 16-35mm lens to the 5D Mk3 which would give me a great wide angle field of view.  In order to get the colors to pop I added my Singh-Ray Color Combo Polarizer and mounted it all to my Manfrotto tripod and Acratech GP Ballhead.  From here, I was ready to get a composition fine tuned and I had to work at it quite a bit.  It seemed that every where I stood the tree in the group of rocks was right in the middle of the frame which I wanted to avoid.  I would inch over to my left with every exposure to try and get a better relationship between all the elements.  I ended up with the tripod standing in the water covering the lower leg section while I was standing in the water up to my ankles braced on a root and a rock.  This seemed to work out quite well for the composition, but not so much for my comfort.  At least I can say that the light was superb and I was having absolutely no exposure problems.
When I was finally satisfied with the composition and had shot it both horizontal and vertical, I decided to pack up and go to the next section that I like to photograph.  It wasn't too far up the trail and only took a few minutes to get to.  When I got there, the water flow was perfect, and the trees were looking great in the background.  The part that I was most interested in was the oddly shaped rock right in front of the waterfall.  This has always fascinated me over the years and I've shot this section many a time with many different compositions.  Today, I was planning on getting in close to it and making that large rock the center of attention for the shot.  I was feeling dramatic I suppose.
For this section I wasn't needing the extreme wide angle of the lens I had been using.  My Canon 24-70mm would work just fine for this view with a more normal focal length.  Of course, I used the Color Combo Polarizer as well.  It is worth noting that I am working with a slightly different system over the last couple of treks that I have done.  Instead of having an 82mm round filter that I screw onto the lens, I am now using the Lee Filters Foundation Kit for all of my filter needs as it gives me two slots for my square and rectangle filters and I have added a 105mm round adapter to the front where I put the new Singh-Ray Color Combo on.  The reason I mention this here is that by this point in the morning, the sun was starting to poke through the clouds and was putting a little light on the landscape.  Something that I had been worried about with the new filter setup is light leaking in behind the polarizer.  Well, it was doing just that.  I was seeing flare in the LCD on live view which was good that I caught it.  It was a simple fix with my boonie hat positioned just over the filter housing to block the sun.  That really is unfortunate and something that I don't like about this new setup.  Also, I had a problem with the water from the trees dropping down and hitting the back side of the polarizer which was not the easiest to wipe off while mounted.  These are some growing pains I was expecting to have with this new system, and I wanted to let the photographers out there know that there is a trade off by using this really convenient landscape filter setup.
Anyway, back to my story.  I had the camera all set up, and the polarizer was cleaned from the drops.  I had to work my way out onto a rather slick rock to get in position to get the shot that I wanted.  This is half of the battle at Big Creek.  With all of the rocks, you really do have a hard time getting compositions without having rocks intruding into the lower parts of your frame when you don't intend for them to.  I did what I had to do and got out on the tip of the large rock to get these two shots.  The first one, I really wanted to get that touch of Spring in the shot and take advantage of the little bit of sun that was coming down onto the scene.  The other one was all about that long, interesting rock as a foreground.
Speaking of that last shot, I had full intentions of making it a color image.  However, when I was going through the shots of the day I really didn't want to have two images so similar and originally Awash in Texture was sidelined.  It was my second run through the images for processing that I thought about doing it as a black and white shot.  When I started the conversion, I knew I was onto something by stripping the color.  After some tonality tweaks in the image, I was really happy with how it presented without any color.  It seemed to have a lot of character which centered in on that beautiful rock that I wanted to capture.  The leaves even sparkled in black and white and gave this an overall light and airy feeling which I was after at the time of capture.  I ended up including both images because I really liked how they both turned out, and they are nothing alike at all.
After spending a fair amount of time at this section I figured that it was time to go since the clouds were still getting thinner and thinner and I still had places that I wanted to visit.  I had no intention of stopping by Midnight Hole as I have two images that I am really happy with from there that I have shot previously.  However, as I was walking by, I was looking at the water rushing over the rocks in the creek and thought that I might want to give those a quick shot as the sun was shining on them.  I worked my way down to the side of the creek and sized things up.  I figured that for this, I would need the reach of my Canon 70-200mm lens which I used along with the Color Combo Polarizer.  I tried a few different compositions, but none of them seemed to work as well as I had thought they would.  I just wasn't happy with them at all.  Since I was down here, I thought I would give Midnight Hole a try.
I set up several different compositions using the long lens that looked pretty much like anything else that I had shot over the years.  Then it hit me…I should try a panorama of this waterfall to really showcase the large rocks that flank the sides of the cascade.  I moved out to the edge of the shoreline where the famous tree has now fallen.  I leveled the Manfrotto tripod and got the camera leveled through the entire sweep.  I flipped the camera on its side to shoot a series of five vertical images to get this composition.  They were then stitched together in Lightroom.  I figured that this is just different enough to count as a keeper and it does have a nice flow to it.  Ironically, my only keeper from this section of the park was one of the subjects I didn't even want to photograph today.  That is the way my luck goes with landscape photography though.
I didn't stay at Midnight Hole for very long at all.  The sun was getting bright and I needed to get to the last location that I was wanting to shoot.  It was just a little ways up the trail and it didn't take me long at all to get there.  I worked my way down the bank and started to find out where I needed to stand to get the shot.  this actually took a good bit of doing since the rocks were littering this area and the sun was shining brightly in the section closest to where I would be shooting from.  I really didn't know how I wanted to shoot this one.  I got up close and thought about using my 16-35mm lens, but there was a tree that was in the way and the leaves would have been much too close in the upper portion of the frame.  If I shot further back, I was sitting up on a large rock with another rock down below that threatened to get into the composition.  There was another rock that was picking up the light from the sun which was going to be a large element in the shot if I composed it from back here.  Those were my choices and I had to decide on what I wanted to do pretty quickly while I could still count on the clouds to shield the sun occasionally.
I opted for the shot from a distance since I didn't have to worry about a limb obscuring the upper portion of my shot and blocking the depth of the image.  I once again worked my way out to the edge of a rock so that I could shoot over another rock and use the boulder to my right as a foreground interest.  I decided that I would use my 24-70mm lens to make it easier to crop out the rock below and use the water itself as the lead in to the image.  Of course, I used my Color Combo Polarizer to add a bit of contrast and punch to the colors which is becoming a signature of mine.  The Manfrotto tripod was splayed out on the rocks to get a nice steady point to shoot from.  Now it was all about putting together a composition that captured the elements that I wanted in the frame.  I worked several different versions of the composition and even shot a vertical frame or two which omitted the rock to the right altogether.
Again, when I got home and started to go through the images, Streaming Nature got sidelined because it didn't have the impact that I thought the other composition had.  However, on a second run through the images I thought about doing a monochrome conversion on it.  This seemed to make sense to me since it was the contrasts that I liked most in this composition.  I especially liked the dark rocks beneath the rushing water in the lower right of the frame.  When I started to do the conversion I was immediately interested in how it was developing.  This seemed to be the right call for the image and was having some very positive impacts on it.  After the conversion, I took a hard look at both images and decided that I liked them both equally and that they both had different stories to tell.  Because of that, they both have been kept in my collection.
While I was working on these compositions on that rock I was looking around at other potential compositions.  Something that really surprised me after coming here many times over the years was this tree I saw on the other side of the creek.  I had never seen this tree before, but the root system was just amazing.  I was fascinated by it, and decided that before the sun hit it, I would get some pictures of it.  When I was satisfied with the water shots, I moved my attention over to the other side of the creek.  My 24-70mm lens was nowhere near long enough to capture this tree though, so I was going to have to swap out to my 70-200mm lens for the needed reach.
I was thinking that I would capture this in black and white to really show off the textures, but after getting it home and looking at it, the color tones were just too good to pass up.  I loved the warm wood tones with the rather muted grass and moss.  That would have been completely lost in monochrome.  For me, that is part of what makes the image successful.  The textures here were really amazing and I was so happy that I was able to capture them as well as I did from as far away as I was.  This might actually be one of my favorite root pictures in my collection.  I'm still not sure how I missed this tree in all the years I've been coming to Big Creek, but I'm glad I saw it today.
By this time, it was about 11:00 and from the weather forecast, that was when the clouds were going to really start breaking up.  I was noticing that the sun was getting really bright and staying that way more and more.  Knowing that I had about 40 minutes worth of hiking to get back to the truck and more than three hours worth of a drive, I figured it was time to pack it in.  That was a good choice because as I walked back to the truck, the light was getting stronger and stronger.  it was no longer suitable light for the types of photography that I was doing along Big Creek.  I had 105 frames on my memory card, so I was really happy with the day.  I was wanting to come back with six images as keepers, and after all my culling, I was down to eight which is a big win for the day.
Not only did I get a lot of new images, I also learned some valuable lessons about my new filter mounting system.  It is going to be something that I will have to get used to for sure, but I don't think that it will be a terrible problem.  At least I always have a hat with me when I am out working with the camera.  They make great shades for a lot of situations.  This is just another one to add to the list.