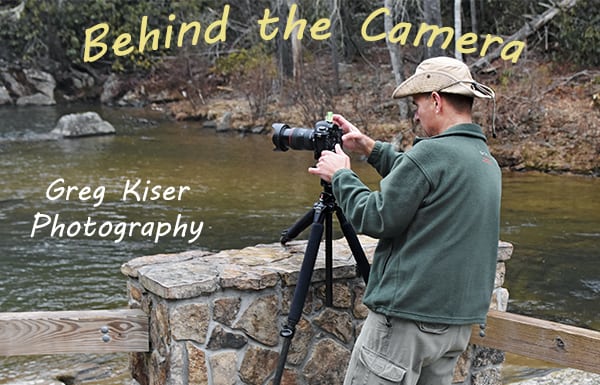 Welcome back for another installment of my monthly Behind the Camera series.  It is here that I will take some time to discuss something that has been on my mind over the past month or I'll use this platform to answer a question that popped up during the month that requires a little more than a simple comment to fully cover.  I've been doing a lot of entries lately that are kind of specific to photographers and I wanted to give that a rest this month and to do something a little lighter instead.  What I decided on was an "ask me anything" kind of thing.  I posted the question on Facebook and decided that I would answer whatever popped up.  If nothing else, it should give you a little more insight into me as a person as well as an artist which was the original intention behind this series when I started it several years ago.
Let's get started!  I'll go through the questions in the order in which they were received for simplicity.
"What is your big dream for your photographic work?"  –Susan
Talk about starting this off with a bang!  A great question from one of my clients and I would have to say that she is a part of the realization of that dream for my photographic work now that she has several of my prints in her collection.  What is that dream?  Well, to be totally honest the dream has changed over the years and unlike most of my other life dreams it changed because I achieved large parts of those dreams.  When I started out back in 2005, my dream was to be able to create images that I would want on my own walls.  That one actually happened pretty quickly and I was bitten by the photography bug.  From there, I dreamed that others might want to put my photographs on their walls.  Low and behold, I started selling prints to coworkers.  That was when the big dream happened.  I wanted to develop photography into something that I could retire on and leave the police department.  I really didn't see that happening as I was making a decent living as a police officer and in order for that work out I was going to have to do much more than selling a few 8×10″ prints to coworkers.
Well, I worked on that dream for a while, and through a series of events I was able to take an early retirement from my 20 year career with the Greensboro Police Department and start to do photography full time.  It wasn't quite how I had dreamed it, but I wasn't going to quibble over the details.  The reality was, I was self employed as a photographer and able to put all of my effort into creating those images which would end up on walls all over the country.  This has brought me to the point where I'm at right now when it comes to dreaming.  At each stage, I felt that the dreams were unreachable and they were just too much to ask.  My current dream falls within that category as well, and I hope that it follows the established pattern.
I have achieved what I have wanted through photography up to this point and I now need another goal.  The next stop on my journey will hopefully be a point where I am known outside of the social media community.  Social media has been a very powerful tool that I have utilized to get my name out there, but I feel that I have outgrown it and dream of being an artist who's work is sought after by art collectors across the country.  To be fair, I am starting to get into the local art collection scene which is really humbling to me.  I have a few of my prints displayed along with some really impressive works from other artisans from around the world.  It is a solid start for this dream to take hold.
I also dream of being respected by other photographers and included in the same types of conversations with the likes of Jack Dykinga, Edward Weston, Frans Lanting, Peter Lik, and Galen Rowell.  I dream that my art will live long beyond myself and be appreciated on a level that transcends the fact that it is a photograph.  This is a (real) world outside of Facebook, and Instagram, and even beyond Youtube.  There is no easy way into this world, other than to be "discovered" by the right person.  I can't just create an account and start sharing pictures, and there is no buy-in for this dream.  It is just something that I have to work for and keep dreaming which has worked for me in the past.  I have to create work that connects with people on a lasting scale.
A shorter term dream has also recently started to form as I have been experimenting with different ways to express myself photographically.  I've started to have a return to my still life photographic interests and have been slowly working on that genre of photography.  I've also finally given in to working with people as subjects.  While this is quite intimidating for me as an introvert, I am excited about the possibilities and dream of becoming proficient with managing light in order to capture some special photographs of people.  Both of these genres are outside of my typical outdoors and natural light work and will challenge me in different ways.  I hope that the knowledge that I gain from doing these side ventures will help me with my landscape and decay photography, as well as my dreams as a whole.
When it is all said and done, I just want my photography to have mattered in the world.  I want it to have touched lives and to have opened a passage to allow others to see the world in the way that I do.  It seems like an unreachable destination to me right now since my only claim to fame is through social media.  However, I remember when I thought that I would never be able to sell one of my photographs to somebody.  I'll just have to work harder at this particular dream, but I've already laid the groundwork for it so I'm at least working in the right direction.
"How has your work impacted your followers?"  –Ruth
I actually toyed with not answering this one because there is a lot of speculation within the answer for me because I honestly don't know how my work has affected anyone.  The term "followers" was also kind of a sticking point for me here, which wasn't meant as such by Ruth who has been a fan of my work for quite some time now.  The term "followers" really limits the scope to social media when you "follow" other accounts to see posts.  I am really wanting to get away from the social media aspect of this machine, but can't really see a way out of it.  I have developed an extreme love/hate relationship with the various platforms (see above, LOL!) and dream of a day when I can arrive at the same popularity within the real world.  Once I got past that part of the question though, I could see the question for what it was really asking.  I'm still not sure how to answer it as those who are impacted on the deepest levels rarely discuss that impact with me.
The few times that it has happened have probably impacted me more than I had impacted them.  One of my dreams that I alluded to previously was that I want to create work that connects with the viewer on a deeper level than just an aesthetic one.  Each time somebody has responded to one of my images and told me how it made them feel, I get a chance to realize one of my dreams.  That is something that happens every so often with individual images and is a treat each time.
On a grander scale, I have found that my work has inspired others to get out and create their own images around what they are seeing.  This speaks more to my body of work than individual pieces and I think is probably my most important impact.  By sharing my journey which includes highs and lows along the way I'm able to relate to other would-be photographers and I've given them the strength to explore their own creativity on various scales.  I remember being in that frame of mind where I was looking at some of the great photographs and thinking that I would never be able to achieve anything like that and it would be stupid to try.  It was by seeing the works of other notable photographers such as Mark Lucock which allowed me to see something that was more achievable in my mind.  It was just a simple book that I picked up that was an introduction to landscape photography which got me hooked.  He explained it in a way that wasn't intimidating and the images that he shared in the book looked like images that I could reverse engineer and do on my own.
Over the years I've had the opportunity to talk with many photographers who are trying to learn the craft and I've been able to encourage them to achieve their own goals.  Remembering how scary starting out was for me, I have made it a point to be very open with my process with others so that they can learn those skills.  I don't have a patent on what I do as I have learned all of my skills from other photographers along the way and fully appreciate those that are so giving of information.  That is how I hope to impact folks through my work.
In the last several years, I have formalized this part of my photography.  I have started to offer workshops as well as 1-on-1 instruction sessions for that specific purpose.  I've often seen workshops turn into a "watch the photographer do what they do" type of affair which really doesn't teach anyone anything.  My take is to help folks achieve their own visions and learn how to capture the art that they are after.  I have had generally great experiences with this area of my photography and pretty much everyone I have come in contact with has benefited greatly from the experience.  Many have come back for more which is a great indication that I am doing something right.
On a smaller scale, I have heard from several folks through social media that they are homebound, or unable to travel for one reason or another.  My blog entries, as well as the pictures that I capture have allowed them to see the world in a way that they might not have seen otherwise.  While on a small scale, this impact is probably the most significant to those that benefit from it.  I never really set out to to virtual traveling for those that can't, but I've heard enough feedback from that community that I know it is an important part of what I do.
How do you keep finding new locations, towns, or areas to explore?  Do you ever use Google Satellite View or other apps to get inspired about an area?"  –Maxine
This was an interesting question and one that I had pretty much answered at length in a previous Behind the Camera.  Since I have gone into this in some detail I'll just hit the high points here.  The locations that I like to shoot are usually tucked away and relatively unknown.  It is not that I don't like photographing well known vistas or subjects, but I feel that the more popular a place, the more often that it has been photographed and any photograph that I add to the collection will just be part of the noise of that location.  It will also cause others to flock to it for their chance to create something similar.  I enjoy the unique scenes that are not well known more than anything else.  Of course, that makes for a significant problem in finding these subjects.  Generally, I will just start driving around until I find something of interest and determine if it is ready to be photographed at that point, or if I should come back at a different time to get it just right.  With this theory, I tend to become an expert in my local area because that is where I spend most of my time.  I've long been a proponent of this and have even created a presentation on the very topic which I can present to camera clubs or any group setting.
I'll go out for a ride and just start exploring down roads that I haven't been on before.  I'll get familiar with the areas that have good subject matter and will return to them often in hopes that I will find the right conditions for images.  When I return to areas, I will branch out and go down more unfamiliar roads looking for more clues that will lead me to other areas where there are good subjects.  There is no fine science to this though and I will spend a great deal of time just driving around wasting good light in search of something to put in that good light.  It does pay off at times and I will go through periods where I am shooting many scenes in a day because it is a new area and I'm finding lots of great subject matter.  Then there will be days when I've exhausted those areas and I start looking for new ones.  These are the frustrating times as I will likely be gone all day long, and if I'm lucky I'll have found a single subject to photograph.
When I was living in Winston Salem, I was very familiar with the surrounding counties to Forsyth.  I had branched out to Davidson, Davie, Guilford, Randolph, Surry, Stokes, and Yadkin many times as each of these made for a decent day ride in the country.  These days, I'm still exploring the areas of Wilkes, Allegheny, Alexander, Watauga, Ashe, and Caldwell.  This is my new area of operation and you can see from the blog postings that I've started to hit the flat spot in my explorations.  I've worked the easier areas to locate and am now starting to do some deep diving into the surrounding counties in search of more subjects to photograph, but it will be much slower at this point than it has been for the last year when everything was new and different.
On the subject of using satellite imagery to find subjects, I certainly do that.  I will use the satellite images from the area to look for farmland and then I will go to street view to look at things in detail.  I'll also go back to a scene that I had spotted in my travels to look at the street view to see if I can find a composition after I've thought about the location for a while.  The most beneficial use of the satellite is when I'm in an unfamiliar area as when I was at the Outer Banks a few months ago.  I used the satellite many times to look for features along the coastline which could make for good foregrounds.  There was not time to really explore the area in the detail that I would need to find good images so I had to accelerate the pace.  My phone was invaluable for spotting things like the Avon pier which is shown above.
I'll also use Google in general to get inspired about an area that I will be visiting.  Since I won't be very familiar with it, I will let myself look at other images captured in the area and try to determine where those spots are.  I would rather not capture the same scenes as other photographers, but it will get me into areas that I might not normally find just by driving around for a short time.  The whole idea behind inspiration comes with understanding the area.  This takes time and it is usually a good idea not to take pictures when you first get to a new area.  You should give yourself time to engage your other senses which will allow you to get in the right mindset to convey the feeling behind the scene, no matter what it is.  Inspiration will find you, you will never find inspiration.
"What kind of music influences your art work?"  –Chris
This was probably my favorite question of them all because I never would have thought that anyone would have asked it.  The idea of the sense of hearing impacting the sense of sight seemed a little far fetched to me.  Now, that is not to say that I don't understand the question, far from it.  I think that this is a completely profound question and one that I have been seeking the answer to for years now.  I'm still not sure exactly how to answer this question, so I'm looking forward to the next few paragraphs as much as you are.
Hmmmm, is there a specific kind of music that influences my photography?  Not really….but music does have a huge impact on my work, maybe more now than ever.  When it comes to music I listen to and appreciate all different forms of musical expression.  I spent much of my childhood listening to swing music from the 30's and 40's as well as playing that music on a Clarinet or Saxophone.  I've listened to R&B, pop, rock, classic rock, alternate rock, metal, ska, jazz, rap, hip hop, dance, classical, country, hick hop, as well as hair bands from the '90's.  My IHeartRadio account looks like a group account.  My musical tastes are all over the place and I enjoy different things about each type of music.
I think it is the appreciation of these different types of music that has brought me to a place in my photography where the way I "see" a scene is directly related to where my musical tastes are at the time.  It is not as simple as it sounds though.  On the face, it would seem that since I'm listening to country music for the most part right now that I would be taking lots of barn pictures.  While that might be true to a point, I've spent a great deal of time working landscape images as well through this phase.  Looking back, I was listening to a lot of hip hop and rock during the winter when I was working on the same rural images.  Here's something that I learned about music long ago while working at a radio station as a DJ.  No matter the genre, there is a lot of crossover in music today.  Not only do the artists do songs outside of the normal like when a hair band did the slow ballad, or the country singer has an album with a very "poppy" beat to it.  Lets not forget one of the most powerful albums out there…Metallica's S&M when they paired with the San Francisco Symphony Orchestra where heavy metal meets classical strings.  For me, it is not so much the type of music, it is what the music says to me, and how it entertains my ears.
That is the part of music that I think influences my photography the most.  I can take a scene and I can present it in many different ways, but it is my current frame of mind that will dictate how that image is presented.  My current state of mind will dictate what I am listening to in general and that carries through even when I am not actively listening to the radio.  For the most part, I'll have the radio quiet while I'm looking for my subjects so that I can concentrate on the visual stimuli that I'm gathering in order to create an image.  I've found that if my auditory senses are engaged to listen to the music I have a hard time processing the visual aspects.  However, during the editing part of the phase that changes.  I used to edit in complete silence and I still do quite a bit.  That is changing slowly though as I've found that my edits are taking longer and longer which provides a need to free my mind in some respects.  This is where the music comes in and I've found that there are times when what I'm listening to will have an impact on the final image.
Taking the different genres out of the equation, there are underlying tones to all music which is what I respond to.  In the case of the image above, I was feeling a little down about some things and I was listening to country music (stereotypical, I know).  I was responding more to the slower and more downbeat songs that I heard.  I responded the same way to this scene that I had passed by several times before.  It had always interested me, but I had never really found the motivation to capture it before.  On this particular visit, it struck me as a story for the first time.  It was not exciting, it was not bright.  In fact, this scene was sullen and full of heartache for me.  It fit with the music that I was currently listening to which fit with my mood.  My eyes were now able to see this in a way that I hadn't been able to see it before and I captured that story.  While editing the image, I was actively listening to the music which fed into that same mindset which then dictated the tones that were used during the edit.  The entire scene is soft and has a calming green tint to it without any color really being saturated.  It is a thinking piece, and one that I think does a great job at portraying what I was feeling at the time.
This one was from a different type of headspace when it came to music.  I was listening to metal and alternative rock at the time and I was feeling kind of edgy  which caused this image to come across with a bit of a grunge look to it.  The tones were not happy and colorful, they were a little more muted so that the hard shapes would come to the forefront.  The long exposure to the background added to that straight line rhythm that was in your face and to to the point.  It was not a carefully crafted tour of a scene, there was a solid beat and a singular purpose to the piece.  Looking at this image right now, I don't think that I would have been able to capture this and put it together in this way with my current mindset.  I look at this and I'm in awe at the creation because I am just not in that headspace right now.  I still possess all of the same skills that I did on that morning, but the music for it isn't in my head at the moment.  I look at this now and think about different ways that I could have presented this and none of them would appear as good as this, but yet I can't see myself capturing this image again today.
We have Billy Squire to thank for this one.  I was out enjoying the morning as I was looking for a place to capture my fun car.  The radio was off so I could concentrate on looking, but in my mind I was singing several different Billy Squire songs which were upbeat and punchy.  When I found the scene I realized that it was the colors and the bright light that had prompted me to pick this place.  While I was editing the images, I realized that I didn't have any music playing, but I was still going through the same songs in my head which drove the final edit with the punchy colors and bold look to the image.  This was a rock and roll kind of shot and it fit my attitude for the morning quite well.
I kind of surprised myself here with this answer.  Like I said, I had no idea how this was going to turn out when I started hitting the keys.  It was a most excellent question and I really appreciate Chris for asking this one.  I've finally managed to put down in words what I have been starting to feel as a connection between music and photographs for some time now.  Now, after going through this, I am finding myself looking at the photographs that I have captured differently and trying to recall the music that I was listening to at the time I captured it.  As an extra bonus round, I can look at some of the new edits that I've done on old images and see if there is a difference in presentation depending on music.  There is a lot to this connection I think and I'm probably just starting to explore it.  However, if you look deep enough into my catalog of images, you will see that there has been a long standing understood connection here as I've titled some of my photographs after songs by artists that I was listening to at the time I captured the images.
"Do you know what you want to create, or find a place and the image forms?"  –Doris
This is another one of those questions that has kind of been answered in a round about way previously.  The short answer is that it is a combination of these two elements most of the time.  I'll have an idea of the type of image that I'm after and I will go to where I'm going to be best able to capture something similar to my concept.  Once I'm there, the image will form in my mind based on the conditions.  That being said though, there are many treks that I take with a specific location and image in mind.  I've pondered the composition for some time and wait for the conditions to be right in order to get the image that I had imagined.  Of course, while I'm there I'm also looking for other photographs to develop that I hadn't considered previously.
A good example of this is the picture above when I went out to Doughton Park to scout for a mini workshop on compositions in the landscape.  I had one tree in mind that I wanted to photograph which I did to great satisfaction.  When I was done with that subject, I decided to go explore around to see what else I might be able to find along the trail.  Not too far from the original location I found this other tree situated in a slightly elevated position.  The sky behind it looked really nice and I started to form up a composition with the foreground rocks.  I had never considered this scene before, but the lighting was so good that I wasn't able to pass it up.  Essentially, I found the place and the image formed.
A lot of the time I'll just be out exploring, whether hiking or driving and I'll see a scene that excites my imagination.  I'll stop and consider it for a moment and look at it critically which is part of my workflow in the field.  If I can create a good composition in my mind from that scene I'll get my gear and get started making an image.  If I can't get an image to work out in my mind, I'll file the location away for a return trip with different lighting and see if that will work out better.
I guess I really don't have a clear cut method when it comes to creating images.  Beauty is so fleeting and so subjective that it is hard to plan out things too much.  I will plan certain locations when I see them in less than flattering light.  If the composition looks good, I'm happy to return back under different light to see if I can make the composition work better.  It is those images that get me out of the house usually because I will need a rough idea of what I am wanting to create in order to get motivated to start a trek.  However, once I'm there, I will let the inspiration find me as it will.  I'll just keep my eyes open for anything and everything that is interesting whether it be landscapes, rural scenes, or even more modern compositions.
For the most part it is the light and the sky which dictates where I go and what I shoot.  Whether I have something in mind, or am planning on going exploring, I am very conscious of what the sky is looking like and the existing lighting.  I will find a place where the forecast is looking favorable for my style of photography and that is where I'll go.  How thick the clouds are will usually dictate what I am wanting to shoot.  There is a lot that goes into planning a shoot for me, but then that is part of the thrill of the ride.
"What made you decide to move from Greensboro to the mountains?"  –Delores
I'm actually kind of surprised that this question hasn't come up before.  I have spent my entire life living in Winston Salem, NC, and spent the last 20 years working in Greensboro, NC.  I knew the area and I was comfortable there.  Everything was convenient to get to and there were a lot of choices when it came to shopping and eating.  Having moved out to Purlear, NC, which is right at the base of the Appalachian Mountains and the Brushy Mountains, Toni and I have given up a lot of the convenience of living in the city.  We have a hard time even finding contractors to come out for repairs and improvements on the house.  Nothing is close by anymore and the weather is more volatile.  Why would we move?
Well, the answer is rather simple.  With both of us retired from working at the Police Department, I wanted to be closer to the mountains and further into the rural parts of NC, which suited my photography style much better.  It was nothing for me to put 200-300 miles on my truck in one day to go to the mountains for photographs.  I was also putting a lot of miles on it just going to find rural areas to shoot in.  In short, I was spending most of my trekking time driving to the location.  I wanted us to actually move into the mountains so that we were right in the middle of where I enjoyed shooting.  As it turned out, we found a perfect house and lot in Western Wilkes County which prompted us to choose that location over anything deeper in the mountains.  It got me a little more than an hour closer to the Parkway and landed us in one of the best rural areas I know of.  It is essentially the best of both worlds, I can still get to Winston any time I need to with a minimal of effort, and I am now in an area where I can go exploring for photographs and come home with only 50 miles on the truck.  My commute to work in Greensboro used to be 17.5 miles from garage to office.  I can now make it to the Blue Ridge Parkway at two different entry points only 15 miles away from my garage.  That helps for workshops as well as treks.  I'm able to adapt to the weather conditions much easier now since I am close to many different types of subject matter.
Barring something extreme, Toni and I will probably live out our days in this home.  There is a lot of room for growth here with my photography as well.  I have a 900 sqft office space in a finished basement which I have set up as my studio.  There is room to do studio photo shoots here as well as do classroom seminars or workshops which will open up the possibilities down the road should I decide to go in those directions.  I've also found a great deal of support from the folks in Wilkes County, especially the town of Traphill, where more and more of my clients are from.  This is a very proud area of the state and its residents love the area they live in.  I truly believe that The more I learn about the history and traditions from here the better I'll be able to capture the images unlike anyone else.  Having only lived here for a year now, I already feel more at home here than I ever did in Winston, or Greensboro.  Toni isn't quite there yet, but she is getting used to things gradually.
Thank you so much for joining me for this special Behind the Camera.  I hope that this one has provided a bit more insight into me and my photography.  If there are ever any questions that you would like answered, please don't hesitate to let me know.  I'm always looking for new topics to talk about and so many of the questions that I get posed really make me look deeper into myself and my work which is always a good thing for self growth.  I'll be back again next month with a brand new installment and we will look at something else Behind the Camera.