Saturday, April 13, 2019
It would seem that for the longest while, I have been focusing on decay photography with very little landscapes being captured.  When this weekend rolled around, I was thinking about going and doing some more old cars that I have scoped out recently.  However, in the last hours of Friday evening I had a change of heart.  I have missed my mountains over the winter and figured that there would be a little bit of color turning up along the Blue Ridge Parkway by now.  I started to look at the weather which actually was looking much better in the mountains than at home.  You see, we were looking at rain for the majority of the day close to home, but just cloudy conditions in the mountains.  That was just what I wanted to hear.  Looking at the cloud forecast there were going to be clouds at all levels with about 80% coverage in the sky.  While this wasn't really looking good for a sunrise, I was thinking that some nice moody skies with some rugged terrain might be in order.  I started to think about my options and came up with Rough Ridge which I haven't been to since summer last year.  There were a couple of different locations there that I could work on with some low clouds and fog.  I had an alternative plan of Price Lake with the low clouds possibly making some interesting long exposures over the water.  Sunrise was right around 7am so that was going to be a very early morning.
At 3:15 my alarm went off.  I turned it off and remember thinking to myself "why in the world am I awake?"  The morning fog in my brain finally cleared and I remembered that I was heading to the mountains for the morning.  I got the weather apps opened up on my phone and checked to see what was going on.  According to the basic forecast, the area I was going to be in was clear currently, but the clouds were still expected to come in.  The overall density of the clouds was a little less than what I was expecting, but I had two different options that would take care of that variable.  I went ahead and got up and got myself ready to head out the door.
I was looking at roughly two hours worth of driving before I got to Rough Ridge.  I couldn't make out how the sky was looking while I was driving, but there had been clouds at home which was a good sign.  I continued my way down the road and made it to the Parkway just off of US421 and was welcomed with a bit of fog at the entrance.  This was a good sign of things to come actually.  I continued to drive South watching the overlooks to the sides.  I was starting to be able to tell that visibility was really good off in the distance, and I was starting to see stars above in places.  This wasn't what I was expecting at all.  When I passed by Thunder Hill the clouds were a little thicker and there was even some clouds blowing over the roadway.  Maybe I was going to be able to salvage the morning if this kept up.  I was already thinking that Rough Ridge was going to be a no go for the morning with the lack of fog and clouds.  I started to work on my plans for Price Lake instead.
When I got to Price Lake I was all ready to take advantage of the sporadic clouds in the sky and was planning to use some long exposures to streak them over the water.  I wasn't expecting much color from the forecast, but with the lack of cloud cover there was a chance I might see some color.  When I got out of the truck and looked up at the sky I was really surprised to see nothing but stars.  There was not a cloud in sight.  This was bad.  Both of my plans were now no good since there was nothing in the sky to keep interest.  I started to look at alternatives really quick.  Fortunately, I had built time in for a hike, so I still had about 30 minutes before I needed to be on station.
Remembering the one sign of good conditions back at Thunder Hill, I got back on the Parkway and went back to the North.  When I got there, there were still clouds rolling over the road, and I could see some interesting textures in the sky.  It was too early to tell what the morning would bring, but I was at least hopeful.  I had some time to kill before I needed to get the camera set up so I sat in the truck and pondered what I was going to do here at Thunder Hill.  My plan was to get up on the ridge and shoot to the East along the Parkway.  I have done this composition before and know that it is pretty effective.  There should be some nice contrasts and hues before the sun actually came up, and that was what I was intending on capturing.
At about 6:30, I grabbed the camera and walked across the Parkway and found my position next to bit of interesting fence and rock that I was going to use as my foreground.  I figured that the best lens for the scene was my 24-70mm which I fitted with the Lee Filter Holder in preparation for the ND Grads I was expecting to use.  I got the composition fine tuned and shot a test image.  It was looking good, but there was just too much contrast in the scene, and I wanted to expose for details in the foreground.  I added a Singh-Ray 3-Stop Soft Edge ND Grad and that helped, but it didn't quite do what I needed it to do.  I added a 2-Stop Hard Edge on top of that for a total of 5-Stops with a very gradual transition.  This did the trick and the histogram was looking perfect.  I set up my exposure for 30 seconds as I was wanting to show some movement in the clouds, but there was no need to go further than 30 seconds.  I shot images back to back as the light changed, and just narrowed the aperture as I went to keep the shutter speed stable.  The money shot came with an aperture of f/16 and 30 seconds.  After that, the sky started to fade out and just get too bright for the image to work any more.  I picked it all up and went down the trail just a bit to where I could access the valley below.
The clouds were low in the valley and moving quickly, washing over the Parkway.  I got thing set up on the hill and composed an image that showcased not only the low clouds in the valley, but also the dense clouds in the sky.  The exposure latitude wasn't nearly as bad here, so I just needed a Singh-Ray 2-Stop soft edge ND Grad to make the exposure work.  That gave me the sweetest histogram I could imagine for this shot.  Everything was nice and balanced with nothing near either edge.  I only shot a few exposures of this as the clouds moved around at the bottom.  The one I finally decided to keep showed plenty of detail, but yet a nice section of low cloud that faded off before it got to the edge of the frame.  This has been an often photographed composition for me, but I have to say that this is the best one that I have gotten from here by far.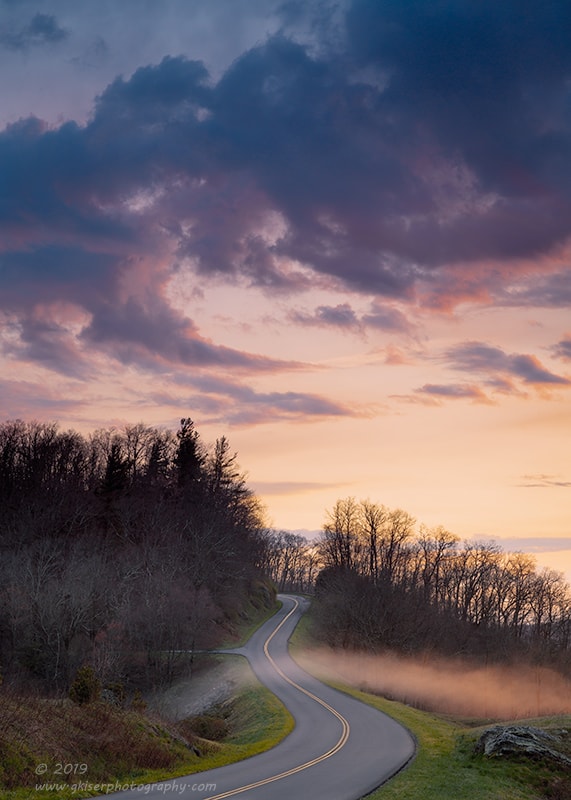 As I was finishing up that composition I noticed a Blowing Rock Police Officer stopped in the road.  He rolled the window down and made a comment about the clouds rolling over the Parkway.  It was the first time he had seen that.  I had a quick moment of thinking that I wouldn't mind working for Blowing Rock PD and having this as my scenery on a daily basis…but then I quickly remembered that the goal was to get out of police work, not jump into a different department.  He went on his way happy as could be, and I couldn't blame him at all for that.  I moved across the road and started to look for other compositions.  I didn't find any, but I did find another photographer from Charlotte on the other side of the ridge shooting the sunrise.  I stopped and chatted for a minute before realizing that I didn't really see anything that caught my attention on the horizon.  I bid her a good day and started back on my way to the truck.  The light was getting a little harsh at this point, and I was happy with what I had.
When I got back to the overlook, I turned and looked back down the road and saw some very interesting clouds in the sky and the cloud that was rolling over the Parkway was bathed in warm light from the sun that was fully up to the right.  I set the camera up right at the edge of the parking area and flipped it vertical.  This was going to need a 3-Stop hard edge to control the sky, so I slid one in the holder before composing the image.  I was really liking how the Parkway was snaking through the mountains and splitting the trees.  I was able to get the clouds in the sky as an upper frame which was just what I was after.  I shot about four frames of this as the sky changed and the clouds over the road changed.  When I was done with that series, I was done at Thunder Hill.  I had shot all I wanted to shoot here.  I was actually happy if I got nothing else in the bag for today.  I had like 45 images which is about normal for a sunrise where I am shooting the same scene over and over with different light.
With the clouds finally coming in nicely I decided to head back down to Price Lake to see about those long exposures.  Sadly, when I got there I was met with the same problem that I had before.  There was not a cloud in the sky.  There were also thirty or more folks out fishing which further killed the location for me.  I decided to head back to the highway and see if I could find anything on the way home.  I hadn't been gone from home long at this point, but I was tired and ready to get back.
I passed by several places that I have photographed many times over and gave each one consideration as I drove past.  Nothing really jumped out as being worthy of the time to pull the camera back out.  That changed as I got between the two 421 exits from the Parkway.  There is a section here that I have shot many time with a fallen tree just inside of the fence.  That wasn't what grabbed my attention though.  It was a lone tree on a ridge with a fence going around it.  The clouds had some texture and I thought that it had promise.  I pulled off the road and grabbed my camera.  Since I was looking at a decent distance to the tree, I mounted my 70-200mm lens and added the Singh-Ray Color Combo Polarizer to pull out a little more detail in the sky.  I wasn't expecting exposure issues with the soft lighting across the scene, so there was no need for the ND Grads that I had been using all morning.
I found the perfect location for the tripod and started to shoot the tree.  I was doing vertical and horizontal orientations with great success.  I was getting texture in the sky, and the tree was filling the frame nicely with a great silhouette.  I kept shooting variations though which told me something.  I wasn't quite happy with the composition.  It was simple, but I was wanting more out of it.  I saw an old fallen tree off to the side and tried to get a shot of that one with the sky.  It turned out fair, but nothing special.  It then occurred to me that putting both trees in the same composition would actually do so much more to tell a story than either one individually.  I moved over a bit to get the two closer together, and set the tripod exactly level on the ground.  After flipping the camera on its side, I started to swing it left to right checking to see if the camera was totally level.  I then got an exposure reading and set the focus.  It was then just a matter of making a sweep in preparation for a panorama.  The first attempt was six shots, but I was seeing that my exposure had changed since checking it.  I dropped a 1/3 of a stop in shutter speed and repeated the sweep.  This time, I only shot five frames to cover the entire area.  This was the series that ultimately worked for the final image.  I processed this one a little different from I normally would by keeping the saturation levels down significantly.  I did capitalize on the warm hues that were showing through the clouds from the still low sun.  With a little help from split toning in post, I was able to really bring those warm tones out which balanced with the cooler tones of the thicker clouds.
I wasn't sure how this would turn out when I was shooting it, but after looking at it finalized, I have to say that this is a favorite of mine.  It seemed to do the trick at the scene as well since after I shot the panorama series, I called it quits and was satisfied.  I then moved over to the other side of the road because I always shoot this fallen tree if the lighting is decent.  I looked at things and found that the warm light from the East was looking really good on the tree.  The problem was, I didn't really like the composition in that direction.  I moved to the other side and saw a much more interesting composition with lots of depth.  The problem was the light wasn't as good, and the exposure was going to be really difficult with the tree in the shade.
I could use an ND Grad to control the sky, but that wasn't the only problem that I had with this exposure.  I needed the tree itself to be brighter without having noise added.  My only option was to take three separate exposures.  I shot one for the sky, one for the grass, and another one for the tree.  They actually turned out to be about a stop difference each.  I only shot one series for this since I wasn't really convinced that it would work.  I've got other images of this tree in the collection so I wasn't worried if it didn't work out.  I then went to the other side and shot the well lit side just to have a point of comparison between the two ways of shooting this image.  When I got home and started to process the images, I found that the HDR had so much more information that I expected and it was a dream to work with.  The single shot from the other side was still boring, so I went with the more dramatic image with lots of tonal range in it.  I don't know how much longer this tree will remain here, but for the time being it is still looking really good.  I will always remember this tree from the first time I took my wife to the Parkway.  It was the first time I shot this tree, and every time I see it, I remember that trip which makes this very special for me.
When I was done with the tree, I was done on the Parkway.  I was tired at this point.  I've been doing a lot of photography recently and my creativity was starting to falter.  The last thing I wanted to do was force images, so the better option was to go home and give myself a break.  I was just a short distance from the highway anyway, so it was a natural time to throw in the towel.  I was well on my way and was very happy with how things had gone since really early this morning.  I was pretty sure that I had about four images or so that would end up being keepers.  Not too bad since I was only looking for a few new images today.  As I was getting comfortable with my drive, I happened to look over to the left as I was entering Wilkesboro.  There was an old store there that I've seen many times, but it has never hit me quite like it did today.  I had to get a shot of this place with this light!
I got turned around at the first place I could and pulled off the road in what I guess used to be the parking lot.  This building has stood here for many years vacant and has developed a great sense of decay to it.  I pulled the camera out and fitted my 24-70mm lens with the Singh-Ray Color Combo Polarizer.  I started working some isolations and tried an overall shot.  Nothing was really working out until I caught the left corner of the building including the doors and windows that really drew me attention.  There wasn't much in the way of color here so I was already thinking black and white which was exactly how I processed this image.  As with my other decay images, I was so happy to see how well the aged wood was captured.  There was so much personality here, and a story that has many chapters to it.  I was getting excited about this old grocery store!  Funny that I had never before stopped to even look at it.
Before I left the old grocery store, I went back for a straight on shot of the front door which had a wonderfully rusted grate over the window that matched the aged sign above.  I framed up a tight shot that included the window to the right with all the vines over it.  Just to balance out the warm tones, I added the small patches of grass at the bottom.  The rest of the image was pretty much devoid of color which worked well for me.  This image captured the essence of the closed store and pretty much says it all.  There aren't as many stories here as in the other composition, but there are more answers for those that choose to look.
With that, my day was officially over.  It was time to get home and process the images.  I had 113 frames on the cards which included three multi-shot images.  Honestly, I wasn't looking forward to another 15+ images to process and I was pretty sure that I wouldn't get that.  Landscape is usually not about volume as you are waiting for the light to develop in a certain way and you are making exposures all along the way.  When I was all finished with the processing, I was happy to have only seven images.  I thought they very well represented my day on the Blue Ridge Parkway.  More importantly, they got me really excited about my Summer Landscape Workshop coming up at the end of June.  With all the decay that I have been shooting, I was wondering if I would remember how to shoot a straight landscape.  I'm happy to say, I remember it quite well and I can't wait to share some of my tricks with those that are joining me at Doughton Park.  There are four spaces left, so why don't you grab your camera and reserve your spot today!